How a financial "gift" could turn into a nightmare

When preparing a gift letter, a solicitor should be involved to protect brokers and clients, writes Stephen Dinte
Why are the majors pulling out of SMSF lending, and what should brokers know?

Three non-bank lenders explain what's going on and what brokers should do for their SMSF borrowers now
SPECIAL REPORTS
2018 Commercial Lenders Roundtable
Top 10 Brokerages 2018
2018 Brokers on Aggregators
Specialist Finance Group's innovative software is equipping brokers for the future. Managing director William Lockett explains how
MPA: What is your new SFGconnect platform and how does it work?
William Lockett: SFGconnect is a feature-packed solution designed to reduce broker and staff workload, improve compliance and enable collaborative involvement during and after the loan application process. It works by organising a broker's leads pipeline and the ongoing stages of an application. Collaboration is possible using deal notes, tasks, live chat and visual status tools. Brokers can connect with clients using integrated solutions such as VoIP phone, SMS, email, live chat and the Client Portal.
SFGconnect also automates daily tasks, documents and notifications necessary for excellent customer service. Brokers can search for products from our lender panel and easily lodge applications through the ApplyOnline and Simpology gateways.
MPA: Why did SFG invest so much in researching and developing this platform?
WL: There has been a significant shift in how business gets done, and staying relevant means becoming an active part of a customer's digital life. With the rapid emergence of digital technology and automated processes, SFG recognised the need for brokers to embrace the digital future.
We were looking for a CRM and lodgement platform that would provide our members with a clear competitive advantage. We looked at all options available within the software industry, and SFGconnect provided the best solution for our business model and for all of our members.
MPA: What makes your customised CRM platform stand out from others in the market? How does it give brokers a competitive edge?
WL: It's built on the latest modular technology, with scalability in mind.
SFGconnect has full CRM functionality, with additional key features such as Client and Partner Portal access and custom reporting capabilities, while offering key features mortgage brokers are looking for, such as a transparent compliance process, simple broker tools that work, and a simple lodgement process.
It also has an in-built cross-selling capability and is the only solution in the market today ready for the digital future of mortgage broking.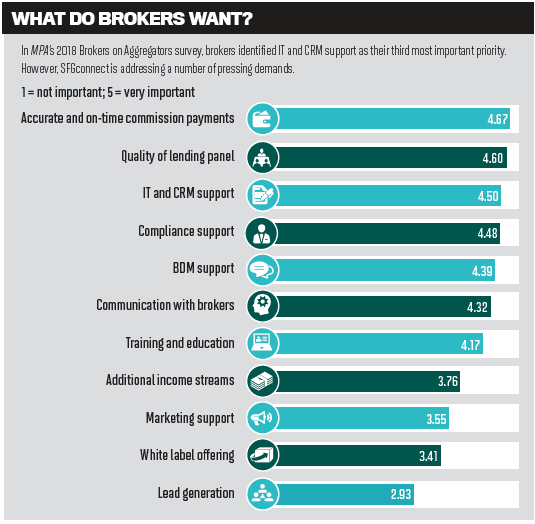 MPA: What are some of the best functions it offers brokers?
WL: Integrated video conferencing capability – This enables brokers to share a screen with the client; scan a client's ID and documents using their PC camera; invite clients to upload documents into the CRM from their PCs; request bank statements; and record and save meetings in SFGconnect.
Client Portal – Clients can access the SFGconnect portal via encrypted, secure access with two-factor authentication. This allows for documents to be uploaded, along with sharing of other documents. The portal also allows the client to view the current status of how their deal is progressing. This feature improves brokers' efficiency and enhances the customer experience.
Partner Portal – Similarly, partners can access SFGconnect through a fully secure portal. Partners can add new leads directly into the CRM and upload documents. As per the Client Portal, partners can also view the status of deals and share documents.
Workflows and automation – There is full workflow customisation and capability for residential, commercial, equipment finance, personal loans, insurance and financial planning. Automation is fully activated as each deal changes stage. This includes sending email and SMS notifications, along with the ability to create tasks and assign to different users.
Other key features include broker tools and marketing automation.
"Digital tools increase broker productivity and improve compliance, which is exactly what most brokers want" William Lockett, Specialist Finance Group
MPA: How does the system increase transparency and accountability while assisting brokers with compliance?
WL: SFGconnect is a loan management tool designed specifically with the broker in mind. It's simple to use but comprehensive enough to ensure that brokers meet their compliance obligations throughout the data entry process.
All data entry points are aligned with the latest policy and regulatory guidance to ensure the end result provides a loan that aligns with the customer's expectations and the obligations of regulatory bodies. With a seamless transfer of data from the CRM to ApplyOnline and Simpology, SFGconnect reduces the potential for data errors as a result of duplication.
Key features of the SFGconnect platform that assist brokers in improving their efficiency and regulator processes are:
custom compliance documents and automated generation
simple Client Portal for data fact-find that integrates into the CRM
video conferencing with screen share, document capture capabilities
e-signature capability
complete loan analysis and comparison tools
extensive back-channel messaging
integration with RP Data and Equifax, and development underway for integration with bank statement analytics
MPA: Can you explain the feature for mentors working with mentees?
WL: SFGconnect offers a mentoring function whereby a mentee requires approval from their assigned mentor in order to submit the loan application to the lender. The mentor can log in and review the mentee's entire application before approving or declining the application for submission. The mentee will receive notes from the mentor about what can be approved before lodgement.
This allows mentors to keep track of their mentees' loan applications, regardless of whether the mentors aggregate under Specialist Finance Group. This feature assists in accountability and transparency following the ongoing scrutiny and increased accreditation standards in the industry.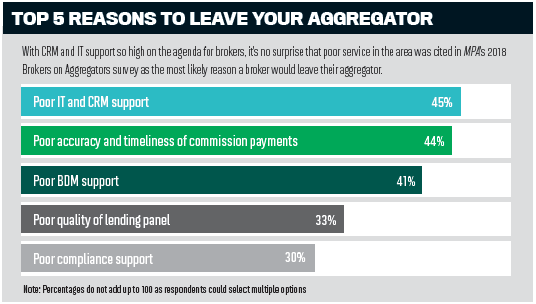 MPA: In MPA's Brokers on Aggregators survey, brokers ranked IT and CRM support as their third most important priority. Why do you think it's so important to them?
WL: Digital tools increase broker productivity and improve compliance, which is exactly what most brokers want. They want to exponentially increase the service they provide to their clients while simultaneously reducing processing times and improving the compliance process – all essential in the current climate of scrutiny.
MPA: Have you seen an increase in broker interest as a result of your new platform?
WL: Yes, over 100 brokers have joined SFG since the launch of SFGconnect in late 2017. Existing SFG members have also embraced the new technology, and we expect transition of all members by the end of 2018. We're consistently receiving excellent feedback from all brokers using the platform. The feature-packed platform, combined with our thorough software-training process and aggregator support from the rest of our team, has significantly increased broker interest.
MPA: What feedback have you received from brokers?
WL: Launch Financial (Qld) has been using SFGconnect for some time now and is happy with the efficiency our CRM has brought to everyday processes.
According to Brett Ryan, director of Launch Financial, "the initial set-up was easy, with a load of flexibility around custom documentation. Launch Financial is providing more information to clients easier, sooner and with greater accuracy than we have been able to in the past".
First Step Finance is another company enjoying the benefits of SFGconnect. Director and founder Dave Ward explains: "If you are striving to build a significant business and want an edge from a technology perspective, look no further than SFG. Having done the market research, it is my belief that they are the market leaders from a CRM and technology perspective, with many exciting updates in the pipeline."
MPA: Are there any changes planned for the platform in coming years?
WL: SFGconnect has many great features in the pipeline, and it will continue to evolve and remain the market leader in Australia. In the next few months, the asset, commercial finance and personal loans tools and integration will be completed, giving brokers the ability to search for a range of asset and commercial loan products and lodge applications to lenders from within the platform.
There is also work being done on the system's compatibility with accounting and financial planning platforms.
SFGconnect is a game changer for the modern broker.