BDM in the Spotlight: Daisy Yu

This MoneyPlace BDM enjoys assisting brokers with diversification opportunities
Top four tips for new brokers who want to make it big

Mentor and Top 100 broker reveals his secret recipe for success
SPECIAL REPORTS
2018 Commercial Lenders Roundtable
Top 10 Brokerages 2018
2018 Brokers on Aggregators
Bron in South Africa, Renee Tocco recognises the value of diversity. And as a female broker, when she attended her first business finance PD days in Australia, she remembers being one of only three women in a room of about 100 people.
That's why diversity and inclusion are a strong part of the culture at Loanezi. Among its eight staff members are those fluent in Arabic, Korean, Afrikaans and Filipino. The team was all female until recently, having just been joined by a new male employee.
Tocco founded the brokerage in 2016 after identifying a gap in the niche market of ICT asset finance while in an executive position at Telstra. She began the process to become a finance broker, self-funded her business and turned a profit within the first six months of trading.
SMEs make up Loanezi's primary client base, but two years ago the brokerage diversified into personal loans, and this is the area that much of the business has focused on since the onset of COVID-19. Recently, it began working in the larger commercial space of asset finance as well.
"The downturn in our core business as a result of COVID forced us to put in place growth strategies that I have been planning for a while," says Tocco. "In hindsight, I am sure this will end up being a crossroads and a blessing as we are now in the position to do all types of finance. We do not turn away any business as we can truly offer an end-to-end solution for our business and consumer clients."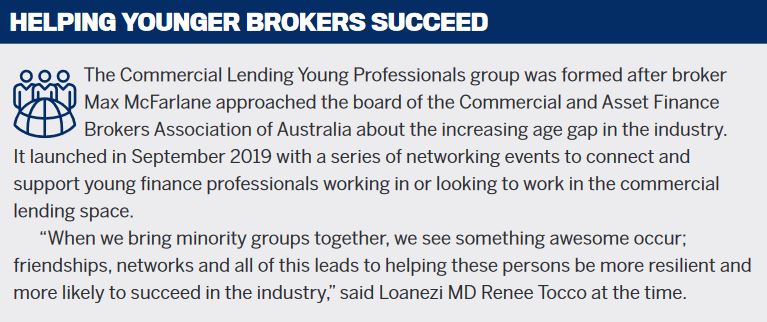 Focusing on the future
As the industry continues to face into the next few months of uncertainty with the second wave of COVID-19 making an impact, Tocco says Loanezi will remain focused on strength-ening these new arms of its finance business.
While this emphasis on keeping the business strong and profitable through a diversity of products is important, Tocco adds that it's also vital to have a happy team.
To achieve this, she makes sure she not only hires the right person for the job but the right cultural fit for the team. As an immigrant and a female, she recognises the need for diversity within teams, as well as in the broking industry more widely, to better service the society we live in.
She was shocked to see how few females there were in the industry when she first joined, but she says she was supported by her aggregator, Connective, in building networks and feeling like part of the team.
"When we bring minority groups together, we see something awesome occur: friendships, networks and all of this leads to helping these persons be more resilient"
"My love for people from all walks of life, and ability to network and form lasting relationships, is what I believe has led me through a highly successful career path and ultimately equipped me with the resources and skills needed to start Loanezi," she says.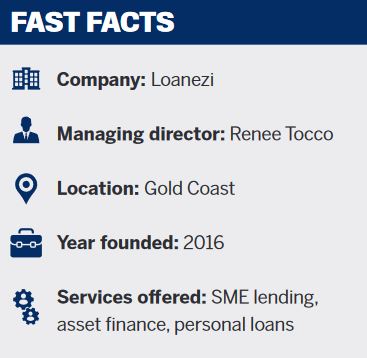 Getting the message out there
Tocco says it's been great to see the increased focus that the industry bodies and aggregators are placing on the need for diversity, adding that it is particularly important in the commercial lending space, which is much more dominated by Australian males than the mortgage sector.
As a member of the Commercial and Asset Finance Brokers Association of Australia, Tocco has been part of its push for equality and has used the platform to lead the charge. Alongside other members and advocates, she has helped organise events like the Women's Forum and the Commercial Lending Young Professionals initiative.
"We need more equality and female brokers, we need more culturally diverse brokers, and we also need to attract younger people into the industry," she says.
"Finance brokers need to be recognised as a profession by the young people of Australia. We need to get the message out there at the early school-leaving days when the young adults are looking for career options and education pathways to their future."
Beyond simply building a diverse workforce, inclusion, too, is a key factor.
"We need to all give each other a leg-up when we can and ensure newcomers are welcomed and supported," Tocco says. "When you have a network, friends in the industry and feel welcome, you will have higher resilience and a better opportunity to succeed."