Aggregation manager slams Aussie's direct to consumer product

He says it "de-values the broker proposition"
"Branches offer cheaper rates to direct clients"

Australia's number one broker calls out the differential in pricing between broker and branch
SPECIAL REPORTS
2018 Commercial Lenders Roundtable
Top 10 Brokerages 2018
2018 Brokers on Aggregators
In 2015, after eight years as a commercial manager at ANZ, Katie Scholes was approached by two property developer clients with a proposal to go into business together: her role was to take care of commercial lending for land subdivision finance and then look after all the finance for clients buying within the project.
Six years on, Scholes' property developer business partners have retired, and she is the sole director at AKORIN Finance. The brokerage's business comprises around 70% residential lending and 30% commercial, with the latter made up primarily of asset finance and cash flow lending.
Scholes has worked in financial services for more than 30 years. She spent 18 years as a residential lender at various credit unions before joining ANZ, and says her experience in both residential and commercial lending has helped her provide a holistic service.
"Residential lending was a great way to start lending. Moving to ANZ expanded my knowledge into the commercial side of banking. The two complement each other, and I wanted to be a one-stop shop for my clients," she says.
Over the past year, Scholes used COVID-19 as an opportunity to touch base with her current client base and ensure that everyone's circumstances were reviewed. Clients who needed support were directed to the right areas of the banks, and the team at AKORIN made sure they knew they weren't alone.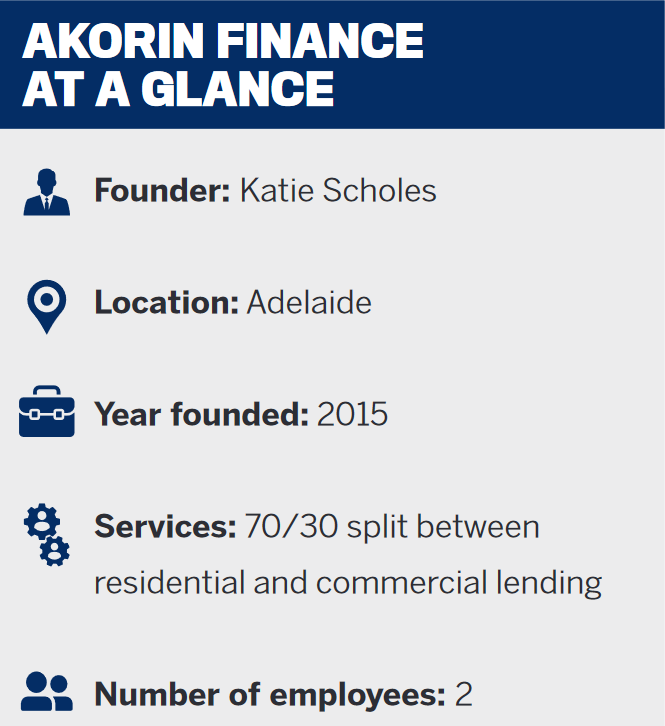 Scholes says she went from sales to managing clients' fears overnight, but once confidence returned to the Adelaide market the business switched back to sales mode.
"The Adelaide market is booming at the minute," she says.
"With changes due to COVID, there seem to be a lot more people at home in Adelaide and all looking for property. We also have a large number of first home buyers making the most of the additional grant."
When it comes to attracting new clients, Scholes says she has a good circle of influence, including accountants, financial planners, real estate agents and sporting clubs, who she works with closely. The bene-fits go both ways: they give her referrals; she refers clients back to them.
Keeping close to her existing clients, Scholes says she reviews their loans each year and sends them birthday cards.
"It's important that my clients never feel like a number. They are part of the AKORIN family; they can ring whenever they have a question," she says.
As the business looks forward, Scholes believes the biggest challenge for the industry will be the conversation around broker remuneration. In the wake of the royal commission, a review into this is due to take place in 2022. Scholes says the introduction of fee-for-service for brokers would be "detrimental" to the industry.
"I feel we have good competition and fair and equitable outcomes for our clients the way it is currently set up," she says.
The ethos of the Scholes' business is "good old-fashioned service", and she says its focus is to maintain this through whatever challenges it faces.
"As long as we have our clients' best interests at heart and front of mind, we will succeed. This has been, and will continue to be, our focus moving forward," she says.
As a former state basketball player, Scholes is also passionate about giving back to the community by supporting sport. AKORIN Finance is the major sponsor of the Southern Tigers Basketball Club and recently partnered with the Reynella Wine Flies Football Club as sponsor of its girls' program.
The partnership Scholes is most proud of, however, is the work the brokerage does with The Free Throw Foundation, which raises money for children in South Australia to play basketball.
"We're helping to remove the financial barrier families face with kids in sport. We fund fees, uniforms and assist kids who make state teams and can't afford to go," she explains.
"I don't want any kids in SA to miss out on playing the game I played all my life, so being able to assist financially to the program is very humbling to me."
GIVING BACK TO SPORT AKORIN Finance has partnered with The Free Throw Foundation to raise funds for and support kids in South Australia who want to play basketball.
Brokerage director Katie Scholes says she used to play state basketball herself and had a scholarship at the South Australian Institute of Sport.
"I was lucky enough to travel overseas to play through America; my parents always found a way to get me wherever I needed to be," she says.
"To find out that we have kids who miss out due to financial barriers, I had to get involved to help. The discipline and teamwork you learn from sport is character-building and sets you up for life. You certainly don't realise it at the time. "Being able to give back to the sport I played all of my life is very humbling. The Free Throw Foundation is the one I am most proud of. I have just stepped down from the board there but am still one of the major sponsors. I would love for the entire board to be made redundant, having removed all financial barriers from the sport, but I can't see that taking place."Original Article