Better Choice fills the gap in non-resident finance solutions

Despite international travel restrictions, there's still a significant market for non-resident lending
Aussie broker achieves rapid turnaround time

Coming from the United States, he had to get used to a new way of doing things
SPECIAL REPORTS
2018 Commercial Lenders Roundtable
Top 10 Brokerages 2018
2018 Brokers on Aggregators
Demand for alt-doc loans had been steadily growing prior to the COVID-19 pandemic in both residential and commercial lending, but Thinktank's Peter Vala, general manager partnerships and distribution, says there has been a marked increase in interest due to the economic instability of the last few months.
"We're expecting this trend to remain in the foreseeable future," he says.
With the pandemic changing the way Australians live and work, Vala says business owners and individuals are more stretched for time than ever, and he believes alt-doc lending is the answer.
"This is particularly important for SME businesses who have been severely impacted by COVID-19 but remain the heartbeat of the economy," he says.
"With Australians known for their entrepreneurialism and taking on challenges like we are facing now, we can only see the demand for alt-doc loans continuing to be solid, if not growing further."
Liberty's national sales manager, John Mohnacheff, agrees that the demand for specialist loans is high and will only get higher as the economy continues to evolve.
"In these past few months, our way of working has evolved faster than we could have anticipated – and it may continue to do so before the dust completely settles," he says.
"While we can only guess what the future will look like, specialist loans will continue to play an integral role in the Australian lending landscape."
COVID-19 has had a notable impact on the banking and finance sector, along with many other industries, and sparked significant changes, Mohnacheff adds. Some lenders have had to change their own practices while the impact is still being felt.
"In Australia, most lenders have revised their assessment criteria, at least until a certain level of normalcy returns," he says.

"While some specialist lenders have stopped lending altogether, Liberty remains committed to supporting business partners and customers with much-needed prime and specialist lending solutions."
Fellow non-bank lender Resimac has also seen an increase in alt-doc lending over the past 12 months, to borrowers from a broad industry background. The lender has more than 10 years' experience in alt-doc lending, and general manager of third party distribution Daniel Carde says it continues to find innovative solutions to meet evolving circumstances.
Carde says we can expect to see continual shifts in employment patterns and the way people are working. The self-employed sector is one in particular that continues to grow and would benefit from such lending.
"Alt-doc lending is a valuable addition to our product suite, as it enables us to cater to a broader range of borrower types and to fulfil a greater number of Australians' lending needs," he says.
"The self-employed sector is a growing sector, and it is important they have access to suitable lending products."
"We have continued to support customers requiring specialty solutions, and we will continue to find new ways to support financial inclusion" John Mohnacheff , Liberty
An alternative solution for many
Borrowers may be seeking alt-doc loans for a number of reasons. They are a fast and easy alternative, particularly if a borrower's financial structure is too complex, time-consuming or expensive to manage for a full-doc application, says Vala.
While borrowers may have to pay a little more, they are often happy to do so to make the process faster or for the greater flexibility of product choice if their financials or tax returns are not up to date.
Contrary to what might be expected, Vala says that, for a lender, alt-doc applications provide the benefit of being faster to process internally.
"It's in no way surprising we're experiencing a strong demand for this type of product within the broker channel and amongst clients," he says. "Our range of products are designed to service and support a broad cross-section of the market. Alt-doc loans off er this element of diversification and are now seen as an established loan type with proven performance over time."
With a market of millions in Australia, not all borrowers are alike, Mohnacheff says, which means there are many reasons why someone might require a specialist loan, such as irregular income patterns or a complicated credit history.
In offering alt-doc loan solutions, Liberty sticks by its mission statement "to help people get financial". Mohnacheff says the non-bank has long recognised that many who do not fit traditional lending parameters are still creditworthy.
"We have continued to support customers requiring specialty solutions, and we will continue to find new ways to support financial inclusion," he says.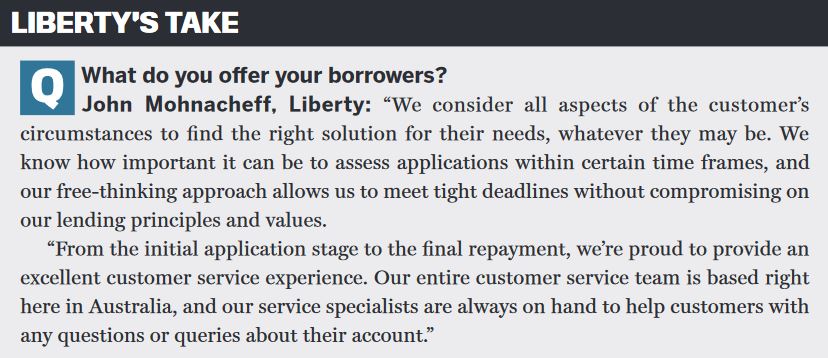 Liberty recently became the first non-bank lender to sign up to the Financial Inclusion Action Plan program, which aims to improve fi nancial inclusion, wellbeing and resilience in Australia.
"We know that there is often more to a customer's story than first meets the eye," Mohnacheff adds.
"This is why we invest the time to fully understand their current circumstances and find out more about their future plans. By looking at the whole picture and assessing each application case by case, we're able to support a wider range of borrowers to achieve their financial goals."
Self-employed Australians and business owners are really doing it tough right now, but even outside of the pandemic self-employed people can have more complex financial positions.
In lieu of two years' tax returns, Resimac accepts a declaration from the self-employed borrower with respect to their income, which is supported by either an accountant's verification, business activity statements or business bank statements.
"Alt-doc loans are an important loan product for self-employed borrowers as they allow applicants to provide alternative documents to the usual financial statements required by most lenders at a time when those financial statements are either not up to date or not representative of the current trading results of the business," says Carde.
Increasing opportunities for brokers
Realising the need for solutions for their self-employed and SME-owner customers, brokers have been the driving force behind the increase in specialist loans over the last few months. Thinktank works closely with brokers – who it relies on heavily as a distribution channel – to ensure they can maximise all of the benefits of alt-doc lending, supporting them with everything from accreditation, training and skills development to prospecting and mentoring.
While the lender makes sure brokers understand how Thinktank assesses its alt-doc loans, Vala says the documentation is far easier and faster to put together and manage with the lender than they might expect.
"Alt-doc loans are an attractive solution for brokers to offer over more complex products," he says. "The products themselves and pricing relative to full-doc have signifi cantly improved in recent years to offer greater confidence for the broker in conversation with clients."
Vala adds that alt-doc loans are a great way for brokers to broaden their service offering and satisfy a wider range of client needs.
"As well as increasing revenue opportunities by writing more loans, alt-docs can allow brokers to expand into new markets, such as the self-employed and investors, who are heavy users of this type of loan," he says.
Different lenders approach alt-doc lending in different ways, Vala says. ForThinktank it is about "clearing the way" and providing further options.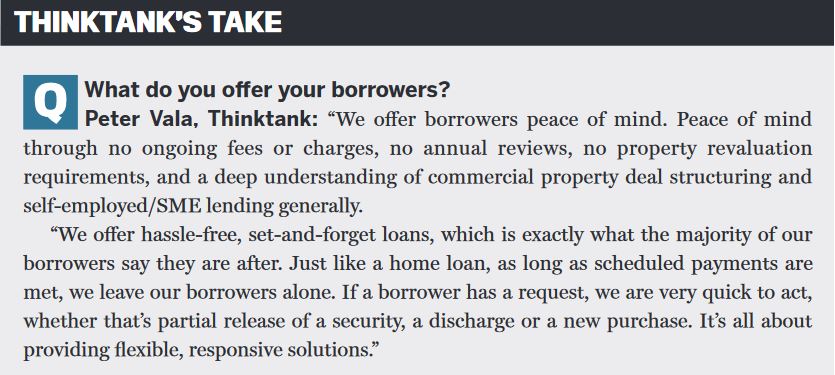 For example, an alt-doc borrower can later be converted to full-doc when their full financials become available to meet full-doc requirements. This provides a better rate of interest for the borrower without the need to refinance.
"And a better result for the broker and their client relationship," Vala adds.
Resimac has taken a different approach to helping alt-doc borrowers progress to the benefits of a full-doc loan.
The non-bank's alt-doc products have the same features as a full-doc loan, including off set and redraw, but some of them also offer a 'rate step-down' for a customer's satisfactory loan conduct. This sees the interest rate reduce by 0.25% per year for two years where the borrower makes all their repayments on time.
Carde says brokers are increasingly embracing the alt-doc solution, thanks to the size of the market segment and the range of lending options on offer.
"There are approximately two million self-employed people in Australia and most of these will have some type of financing need," he says.
With the continued shift in the way we work, which Carde expects to see, he says brokers have a great opportunity here.
"As employment patterns continue to shift, offering alt-doc loans enables brokers to take advantage of these shifts to build a sustainable business from diverse sources of revenue," he says.
"As well as increasing revenue opportunities from writing more loans, alt-docs can allow brokers to expand into new markets" Peter Vala, Thinktank
"Offering alt-doc loans enables a broker to build their business by helping a wider range of Australians with their lending needs."
In working with brokers to do just that, Carde says Resimac is committed to listening to feedback from the channel and developing new ways to help them.
"We're also committed to supporting brokers to enable them to meet their responsible lending obligations," he adds.
Brokers can use Resimac's QuickQuote tool, which helps them make an initial serviceability assessment of the borrower and a security location check. It also provides training sessions for both large and small broker groups, as well as guides and checklists on its BrokerZone to help brokers when they are submitting an application.
Liberty runs a training program to help build brokers' confidence, under standing that specialist lending can seem more complex. The non-bank also offers direct access to its underwriting teams "who can provide solutions to even the most complex scenarios", Mohnacheff says.
"This is something that not all lenders can offer, but we see the value in working with brokers as true partners and providing the support they need, as and when they need it," he says.
Mohnacheff believes that specialist lending is something every broker needs in their arsenal if they want to provide a comprehensive and diverse service. "For customers, perhaps the greatest benefit of working with a broker is that they can offer a level of choice that lenders alone simply can't match," he says.
"With this in mind, it is essential that brokers are able to support them with a range of solutions that can be tailored to their individual circumstances."