The women spearheading progress

Celebrating 12 women from across the lending and broking spectrum who are reinventing the industry's image and revitalising broking
Challenging childhood motivates this broker to rise above

He educates and helps his clients prepare for the future, so they always have a place to call home
SPECIAL REPORTS
2018 Commercial Lenders Roundtable
Top 10 Brokerages 2018
2018 Brokers on Aggregators
How PLAN's CEO began her journey in the mortgage industry and became a proponent for progress
Anja Pannek got her break in the mortgage broking industry while she was boarding a plane in Dublin, Ireland, in the early 2000s.
She had recently left her job at BT Financial Group, one of the largest fund management groups in Australia at the time, to take a year off to travel when she was spotted in the line-up by a former colleague. They talked and exchanged business cards and Pannek continued on her way.
Upon her return to Australia, she was approached by that same person about joining Challenger Mortgage Management, a division of Challenger focused on third party mortgages. She took the opportunity, then quickly climbed the ranks and was appointed CFO.

"This marked the start of my journey into the world of mortgages and broking, and made me realise the importance of relationship-building. You never know when your next opportunity will present itself," says Pannek, now CEO of PLAN Australia and one of only a few women leading a major aggregator.
"I would like people to believe it is possible to be truly passionate about what you do, to feel challenged, and also to make a difference to the people you work with"
While many people feel anxious about taking time off or spending money on a course or changing something in their business, Pannek believes it's important to embrace the unknown if you have the chance.
"It's scary to be brave, but if you don't like it you can always go back to what you were doing before. And you'll be surprised by how much you learn in the process," she says. "You can always keep doing the same thing, but you never know until you try."
Taking a break mid-career to travel solo allowed Pannek to learn more about herself and the world and to broaden her skills and knowledge, paving the way for her to switch tracks and step into a new industry.
"We live in a fast-paced world, so curiosity and adaptability are essential to helping you progress – as a business leader and professional. I have been given numerous opportunities to learn on the job, with different roles and responsibilities, and I think this has really helped me grow. I am a massive advocate of personal learning," Pannek says.
At Challenger, as with previous roles that she held, new ideas were welcomed and staff were encouraged to take ownership of them. Pannek rose to the challenge and became invested in the mortgage industry very early on.
"I don't mean this to sound cliché, but I fell in love with the industry and seeing it grow over time. It's been a brilliant journey."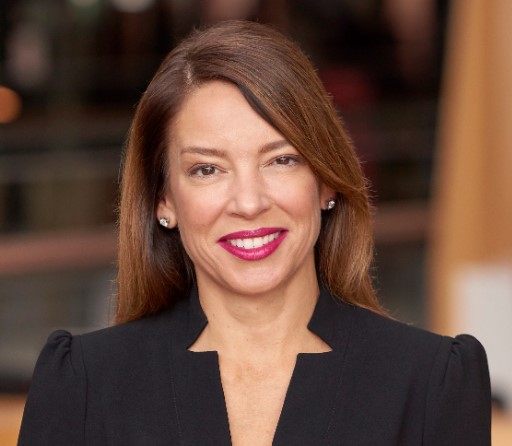 Over Pannek's 20-year career in financial services – which included several as CFO of NAB's Personal Banking division, with over 7,000 employees – she's come to enjoy and thrive in complex and uncertain environments. "I've been through multiple demergers and significant business sales and acquisitions over my career," she says. "I've become a lot more comfortable with that sort of ambiguous environment, and the ability to create something new and impactful within it."
In her years in the mortgage industry she's seen it become a massive driver of competition, with 17,000 brokers writing more than half of Australia's home loans and contributing an estimated $2.8bn to the economy in 2017.
But the industry is now in the midst of a new phase of disruption and uncertainty as brokers' commissions come under scrutiny.
"When women are active and equal in the workforce, everyone benefi ts. Not only are economies and living conditions stronger, but business outcomes can be improved"
"When I think about the future of this industry going forward, some of the answers we don't have at the moment. So for me, as a leader, it's about being comfortable in that uncomfortable position where you don't have all the answers and you need to get perspectives and views around how we need to shape things," Pannek says.
Creating diverse and equal workplaces can help businesses come up with those answers, and there are clear economic benefits to achieving a balance in broking.
"When women are active and equal in the workforce, everyone benefits. Not only are economies and living conditions stronger, but business outcomes can be improved by having that diversity of thought," she says.
While women now make up 55% of the total workforce in financial services, they are still under-represented in the broking industry at 27% of brokers, something Pannek says the industry needs to address.
"Diversity is not just an industry issue; it's not just a corporate issue. It's an issue right across the world that we live in, and we all want to work in businesses that are representative of the societies that we live in. We all need to challenge ourselves around the decisions we make on how we hire and recruit, and who we promote."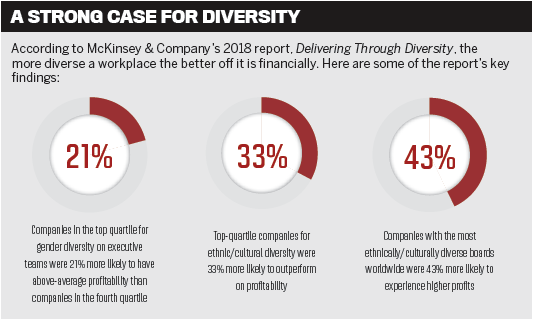 One way PLAN Australia is doing this is by supporting, celebrating and nurturing women to become role models in the industry.
This is one thing Pannek regrets. "If I was to go back and have my career again, I would have been a lot more vocal and proud of my achievements. … [I would have] shared more of my success stories, and how I achieved them, more widely so other people could have learnt."
Sharing knowledge, facilitating brokers' personal and professional growth and advocating for diversity are some of the things Pannek is passionate about.
Last year the aggregator teamed up with one of the world's leading universities, the Stanford Graduate School of Business, to o‑ er its brokers the opportunity to expand their skills during a six-month strategic leadership program. As part of the course, 13 brokers, including six women, attended workshops at the university's campus in California for a week in January.
In 2019, the aggregator will develop its diversity engagement agenda and start reporting on its progress, and Pannek says she's proud of the diversity of ages, backgrounds and genders that PLAN Australia is achieving in its broking network and leadership team.
"I hope to be a positive role model for women in the industry, and someone who is an advocate for diversity and equality in the workplace. I would like people to believe it is possible to be truly passionate about what you do, to feel challenged, and also to make a difference to the people you work with."