Better Choice fills the gap in non-resident finance solutions

Despite international travel restrictions, there's still a significant market for non-resident lending
Aussie broker achieves rapid turnaround time

Coming from the United States, he had to get used to a new way of doing things
SPECIAL REPORTS
2018 Commercial Lenders Roundtable
Top 10 Brokerages 2018
2018 Brokers on Aggregators
Getting used to a new way of working can take some time, particularly in the midst of a global pandemic. As most people have had to work from home over the last few months, everyone has had to adapt.
For a predominantly face-to-face industry like mortgage broking, this has meant huge changes to their normal working life. Brokers are not only working from their living rooms but having to forgo the many in-person meet-ings that would normally adorn their weeks.
"The one thing I would like to reinforce is, as a bank we are absolutely 100% committed to our broker community" Mat Patterson, ME Bank
ME Bank's head of broker distribution, Mat Patterson, says one of the biggest challenges for anyone moving to a work-from-home environment is maintaining productivity. As well as making sure they are set up for working remotely, potentially homeschooling, and navigating virtual calls like everybody else, brokers are increasing their communication with and education of customers.
"One of the things I have been impressed with is how brokers and aggregators have put their hands up to say they want to play a key role in helping impacted customers," Patterson says.
"Customers have got a lot of questions around what they should be doing in the current situation. Brokers have been really good at saying yes, we want to help triage our customers and play a leading role in doing that."
Digital innovation to help brokers
Patterson says that in the early stages of the COVID-19 crisis no one really knew what the lockdown rules were going to look like and what access brokers would have to customers. Once this became clearer, ME "jumped on the VOI piece pretty quickly".
The bank allowed brokers to do interviews via video calls but wanted to ensure its processes did not deviate from what brokers were used to.
"We wanted to keep the current process as much as possible without introducing new systems or processes," Patterson explains.
"Allowing brokers to complete VOI requirements over a screen without needing third party vendors was important. That was a good thing we got out the door pretty quickly."
While brokers are "busier than ever", what they are busy with isn't necessarily gener-ating any revenue, Patterson says. He believes brokers need to find a balance between continuing to seek out revenue-generating opportunities and being there to answer questions from existing customers.
Enabling brokers to reach out to new and existing clients alike, ME has launched a social media subscription service called ShareME.
Every month subscribed brokers receive an email with five articles they can share on their own social media accounts: one article around financial literacy and the others on lead management.
"It's based around our four core market segments, which are first home buyers, refinances, investors and upgraders," Patterson says. "It allows brokers to get really professionally curated content out to their customer base as a productive way to keep that contact there."
So far, ME has seen the click-through and share rates go beyond what it would normally expect from a marketing campaign.
"I'm really pleased we can leverage our content to hopefully add some value to brokers during a time when their traditional sales opportunities might be unavailable," Patterson says.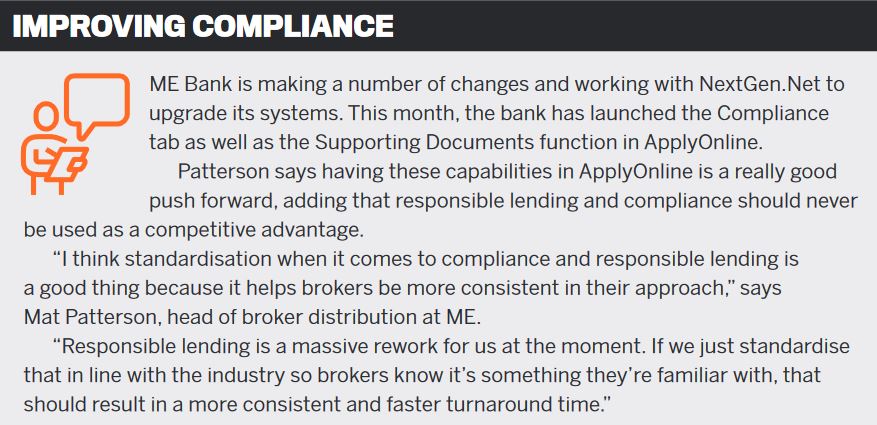 Making changes for the broker
For ME, assisting brokers goes beyond providing digital tools and support. In line with the remuneration reform developed via the Combined Industry Forum, which requires the value of upfront commissions to be linked to the amount drawn down by borrowers instead of the loan amount, ME has changed its commission model.
Instead of looking at a customer's drawn-down funds 12 months after settlement, the bank will also look at the account balance at six months and enable upfront payments to be made on additional funds drawn down.
"Brokers have been really good at saying yes, we want to help triage our customers and play a leading role in doing that" Mat Patterson, ME Bank
Patterson says the new model will provide a more flexible commission model and aligns with what brokers tell the bank about how its lending policies meet customer objectives.
"If a broker does a transaction for the customer, the initial drawdown happens and then there might be additional funds, whether it be for home improvements or for investment purposes or additional purchases," he says. "If that happens within two months after settlement, having to wait 12 months for that to be drawn down isn't ideal from a broker's perspective."
The changes ME has made are part of its wider commitment to the broker industry, which the bank also recently highlighted in a television advert. Patterson says brokers should rest assured that, as a brand, ME is out there representing them."
The one thing I would like to reinforce is, as a bank we are absolutely 100% committed to our broker community," he says.