How this new broker finds approach to industry

He managed to generate a "steady stream of quality clients" despite starting out during the royal commission inquiry
How this new broker finds approach to industry

He managed to generate a "steady stream of quality clients" despite starting out during the royal commission inquiry
SPECIAL REPORTS
2018 Commercial Lenders Roundtable
Top 10 Brokerages 2018
2018 Brokers on Aggregators
In the recent live-streamed interview with Australian non-bank lenders, seven representatives from lenders joined MPA to discuss topics such as technology, the assessment of living expenses and their strategies for the third party channel.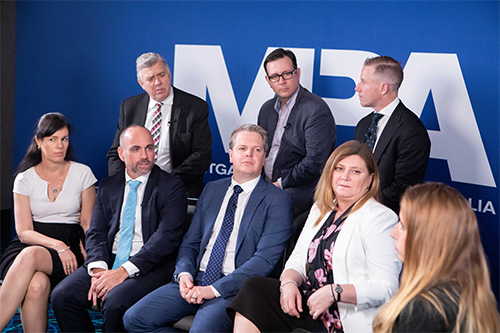 One question asked to the non-banks was what they were doing to ensure brokers have the right level of support. From MPA's research this year, brokers told us the biggest thing non-banks could do to improve was to increase their BDMs and credit assessors.
You can rewatch the session online now, or check out the report in the December issue of MPA.
MPA: The brokers on non-banks survey also said that the biggest thing non-banks could do to improve was to increase their BDMs and credit assessors. What are you doing to ensure brokers have the right level of support they need?
Although BDM support was lowest on the list of broker importance in the MPA Brokers on Non-Banks survey, just over 22% said non-banks could improve by having more BDMs or credit assessors. A little over 21% said they could have better trained BDMs or credit assessors.
Agamemnonos said Loanworks saw its BDMs as important because it helped brokers get the direct service and support they need, but the group actually allows brokers to talk directly to the credit assessors.
She said this direct relationship with the decision makers helps brokers to look at how they can do things differently. Loanworks also holds educational days so brokers can learn how the group packages deals and looks at credit.
"I think it's important," Agamemnonos said. "Of course you have to have a BDM presence for them to go out and feel the love, but as an organisation we've tried to find various other aspects where we can help these brokers and support them in various ways."
Placing a focus on investing in human capital, Bannister said La Trobe Financial had increased its sales team by 27% over the last year. However, he added it is not always as simple as "throwing people at the problem".
For him, he wants to focus on the credit staff and finding strong credit-skilled people. The non-bank has turned two of its most senior credit analysts into credit coaches and it quarantines new recruits for two to three months while they learn the processes in a live environment.
"One thing I think in non-bank business that's unique is that manual assessment process and if you're recruiting, and a lot of the time you are recruiting from banks, you need to be sure the answer that's getting back to the brokers fits with your credit appetite and the way you interpret your own credit policy," he said.
Agreeing that it was more than just about BDMs, James said that with the amount of products and options non-banks offer, it was more complex. She said Mortgage Ezy has around 1800 computations of products, so it was less about having BDMs to sit down face-to-face with a broker and more about having people available on the phone.
"We looked at a model where we could have desk-bound BDMs to provide that service and then as a business we're currently doing a huge review around the tools our BDMs need to then be able to train and educate and leverage and to help the brokers," she said.
Carde said that Resimac employed the same strategy and had expanded its relationship management team nationally. They sit close to the credit team so if there is a complex scenario they can talk face-to-face with the credit officer and if a broker needs a quick response, they are available.
"BDMs are busy at the best of times and quite often tied up from anywhere an hour in an appointment to two hours or three hours at a PD day and brokers are looking for a fast response," Carde said.
"Absolutely BDMs are important to spread the word, but I think in terms of service you can balance that with a really good relationship management team and we'll continue to expand that relationship management team over the years because it has worked quite well for us."
Providing the right tools is also important, said Milburn. Pepper has invested heavily in technology with the Pepper Product Selector, where brokers can select products and find out all the information within a couple of minutes.
"You can have as many BDMs as you like, but if they're not empowered to do anything, then really what value can you add?" he said.
"If you think about being a broker, where the cost of doing a deal now has increased because of the compliance, the time it takes, you've got 20 odd lender BDMs trying to get hold of you and get you to do different things – where's the time to do your work?"
From a different viewpoint of business loans, Burke said brokers were wanting to triage scenarios before submitting an application so he had employed in-office staff to e available to do just that.
Over the last 12 months OnDeck has tripled the size of its BDM team, he said, but it has been an area the lender has had to evolve in as it has scaled.
"What's interesting is there can be a level of confusion in our space as well, because some people do not think fintech means customer service and they actually go hand in hand," he said. "You deliver speed not just through actually processing the transaction but being able to call out to a broker early and quickly whether or not that scenario's going to fit our credit model as well."
With 73 BDMs on the road and a 22-year history, Liberty has learnt there needs to be an "amalgam of services". The large number of BDMs is necessary because of the amount of spaces the non-bank plays in, said Mohnacheff, but there needs to be a personal service underpinning that.
If the broker's BDM is busy, the broker can ring customer support or the underwriter, or they can go into the LibertyIQ platform to ensure they find the answer quickly.
"The investment is very much into human capital at every stage of the process, be it an initial engagement with the BDM, be it a scenarios team, an underwriter on the way through, or the settlements officers or post-service of settlement," Mohnacheff said. "Most of us here have a human person engaging with the broker and the consumer all the way through."
Related stories:
Non-banks to the rescue
Turnaround times, policy and support: Behind top non-bank's success
Special Report: Brokers on Non-banks 2019