Industry responds to Mortgage Choice takeover

Aggregator says brokers could see fewer choices if the balance of power is "held by just a few"
Westpac manager sues over broker kickbacks

Ex-Westpac worker denied she knew her spouse, tried to blame regional lending exec
SPECIAL REPORTS
2018 Commercial Lenders Roundtable
Top 10 Brokerages 2018
2018 Brokers on Aggregators
When the coronavirus pandemic hit last year, no one knew what to expect, but the financial services industry braced for a difficult year. As Australia was thrown into lockdowns, there were fears that demand for housing and business finance would slow. But while there was a large drop in the number of home loans in April, consumer confidence grew as restrictions eased, interest rates fell and the government announced incentives like the First Home Loan Deposit Scheme.
Mortgage brokers saw a huge rise in the number of enquiries from first home buyers, which, alongside refinances, made up much of their work over the last year. The increase in demand, however, resulted in bank SLAs dropping, and that is one of the biggest pain points mentioned throughout this survey.
It is great to see that the top two banks have maintained their positions from last year, but some of the other banks have not been so lucky. The major banks in particular have been badly affected.
Two years ago, the winner of the Brokers on Banks survey was ANZ. The major bank dropped down to fifth place in 2020 but scraped into the Top 10 list at number nine this year. NAB, which was in third position last year, has dropped to fifth place in 2021 – and is the highest ranked of the big four.
Despite winning some medals, including one gold, Commonwealth Bank was let down by its BDM support and turnaround times. It fell from third place to seventh this year. Westpac, which was in eighth place last year, did not make it into the Top 10 at all.
It's not just poor turnaround times that have led to these results. Amid all the challenges and mayhem of last year, brokers and banks needed clear communication between them, and while many banks upped the ante in terms of training and support, others fell behind. However, some of the highest scores in the 2021 survey were for the banks' BDM support. BDMs were on hand over the last year answering questions, running through deals and checking in on brokers.
With the royal commission leading to continued scrutiny of how the banks are performing, MPA added the new category of 'brand trust' to the survey this year. The results give a real insight into how not just brokers but their customers trust the banks.
Read on for more highlights of the survey and an analysis of the results. Thank you to everyone who took part this year and provided valuable insight into how the banks have worked with you over the last 12 months.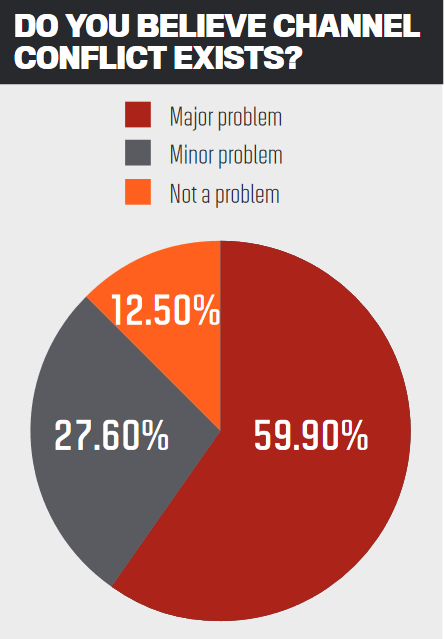 PRODUCTS AND PRICING
With the RBA rate cuts of the past 12 months, the pricing of home loans has certainly improved. One bank in particular has made great gains this year in the ranking not only of its interest rates but its product range, credit policy and diversification opportunities.
For almost three years the RBA cash rate sat at 1.50%, and banks still increased their rates out of cycle as they battled global funding pressures. Then, in mid-2019, the rate began to drop, and in November 2020 it reached an incredible low of 0.10%. Funding pressures eased and banks also began dropping their rates; now, mortgage rates are at lows never seen before. At the time of going to print, the lowest variable rate was 1.79% for 60% LVR or 1.99% for 80%.
With a lot of borrowers struggling in 2020, whether due to job losses, reduced hours or job uncertainty, banks also upped their customer recruitment strategies. They offered introduction rates and cashback incentives as the market saw a surge in refinancing.
Despite the drop in interest rates and the incredible offers from the banks over the last year, brokers remain cautious. Asked whether product ranges and pricing had improved or worsened in the last 12 months, they said the results were much the same as in the last two years.
Interest rates also had the lowest rating in the gold medal rankings this year, showing that while this category was voted second most important, brokers were not happy with the banks in this area.
The answer to the follow-up question – asking which banks were passing on the best savings to customers – suggested why that might be.
One of brokers' complaints, which is not a new one and was also highlighted in last year's survey, is that the banks are primarily helping new customers.
"Most banks are [passing on interest rate savings]; however, they are not offering the same products to their existing clients," said a WA broker.
And a broker from Queensland said, "All are still targeting new customers – smaller banks are doing well to compete considering they haven't had the government handouts that the majors have."
Brokers also said the banks, especially the majors, were simply not competitive.
"Despite the big four offering the lowest four-year rates, their comparative variable rates are so uncompetitive that it erodes any savings," said another Queensland broker.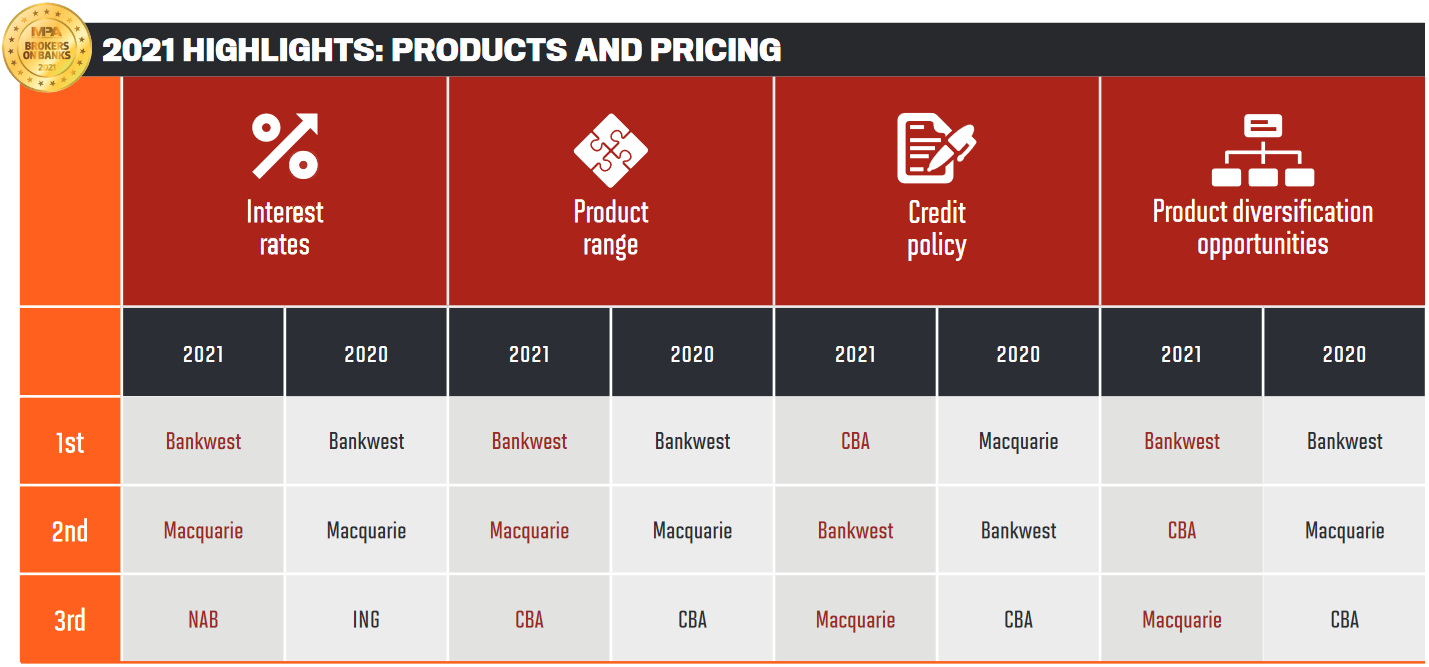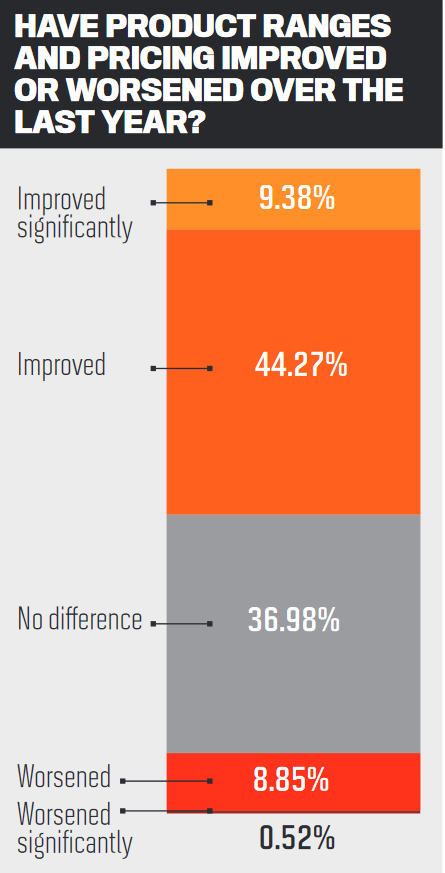 "Plus, the fixed rate offerings are usually very restrictive. So, while they appear to be offering great deals, they are actually more expensive than the smaller banks, who I channel most of my loans through."
In terms of best interest rates, Bankwest has remained in the top position for three years in a row. Brokers said they knew what they were going to get with Bankwest, and that was simply good, competitive rates.
Macquarie won the silver medal for rates for the second year in a row. Bronze was taken by major bank NAB, which replaced last year's winner, ING.
It was not just about pricing, however; brokers were also asked to rate the banks on their products. The top three banks in the product range category held their positions from last year, with Bankwest taking top spot It was not just about pricing, however; brokers were also asked to rate the banks on their products. The top three banks in the product range category held their positions from last year, with Bankwest taking top spot again. Brokers praised the ease of use, fast turnaround times and great product. Brokers praised the ease of use, fast turnaround times and great product features of its Complete Package.
Bankwest also won the gold medal for its diversification opportunities – an important area as brokers have had to spend time pivoting their businesses to deal with various challenges over the past year. Several brokers highlighted the bank's support of construction funding, praising it for not charging additional fees and for providing the same interest rates.
The only category under products and pricing in which Bankwest did not receive a gold medal was credit policy. Instead, for the second year in a row it took the silver medal, falling behind CBA, which swapped places with Macquarie.
This was the only gold medal received by CBA in 2021, and one of four medals it received in total – the most of any of the major banks.
SUPPORTING BROKERS
Off the back of a year of uncertainty and change, brokers are looking for greater clarity and communication from the banks.
The impact of the pandemic in 2020 completely shifted brokers' priorities. Last year, banks' commission structure was the most important consideration for brokers, presumably because of 2019's focus on potential changes to broker remuneration.
This year, commission structure has dropped towards the bottom of brokers' list of priorities as they place higher importance on turnaround times, interest rates and credit policy. Communications, training and development was also slightly further down the list, which is interesting because these areas were such a high priority for brokers in 2020.
Bankwest once again held the top spots in both categories, but notably, there were no major banks in the top three for commission structure this year.
NAB was knocked off its third-place spot, and instead Adelaide Bank joined the top three, pushing Macquarie out of second place. This was Adelaide Bank's only medal of the survey, although its overall rankings were still high enough to secure it fourth position overall.
Next year's Brokers on Banks survey will take place as the industry ramps up for the review into mortgage broker remuneration, so it will be interesting to see if this affects the results in this category then.
Two years ago, the major banks were much more successful in these areas. ANZ won gold for its commission structure, with NAB taking second place. ANZ also won gold for its communications, training and development, with CBA in third place.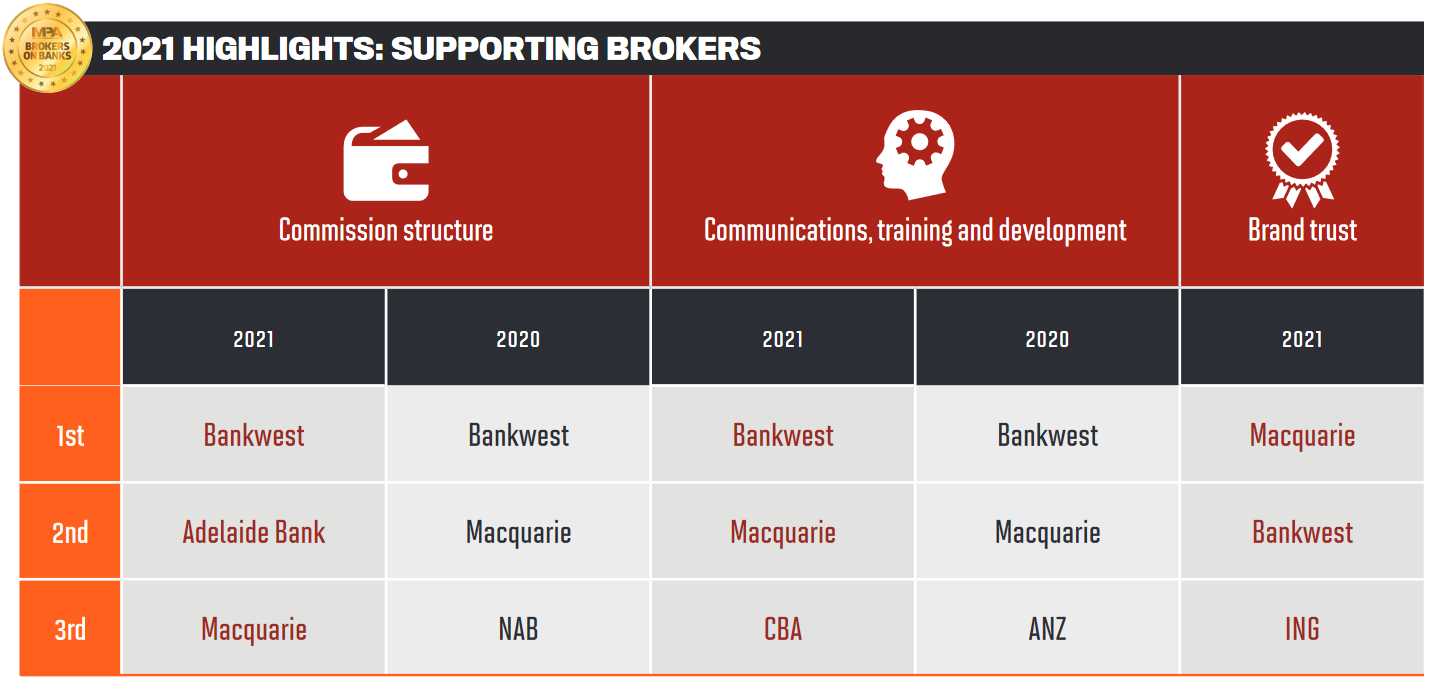 This year, CBA was the only major bank to get a medal in these categories, securing third-place position for its communication, after dropping off the podium completely last year.
While brokers did rank communications, training and development particularly highly this year, their responses highlight how important this support still is to them. Some brokers said they had stopped doing business with banks because of their low levels of support.
On working with one bank in particular, a Queensland broker said, "I got burnt with two or three different files for various reasons, mainly due to poor communication and terrible assessment times and processes in the background."
The number-one bank in this category received particular praise. Of Bankwest, a NSW broker said, "Very easy bank to deal with. Broker Chat online is great; my BDM always answers her phone or calls back quickly and has a can-do attitude."
A lot of other brokers also praised Bankwest's BDMs, while others commended the bank's "flexible policy" and "common-sense assessors".
"Their BDM is amazingly responsive, their products are very customer-friendly, their policies fit our clients well, and their assessment teams look for reasons to approve loans, not to decline. They're very proactive to deal with and have a 'can do' approach," said a broker from SA.
TECHNOLOGY, TURNAROUND TIMES AND SERVICE
The biggest pain point for borrowers and brokers over the last year has been lengthening turnaround times as banks fight to pull in new customers and struggle to keep up with their workload.
One of the biggest shifts in this year's survey is in the proportion of brokers who think turn-around times have worsened in the past 12 months – but that comes as no surprise. It's been one of the biggest problems of the last year, as banks had to deal not only with supporting their existing borrowers with repayment deferrals and refinances but also new business that came through government incentives like the HomeBuilder grants and the First Home Loan Deposit Scheme.
Seeing how they could benefit from the record-low interest rates, many banks also began offering customers cashback incentives to switch over to them as borrowers hunted for better rates.
While 28% of brokers in last year's survey said turnaround times had improved, only 7% said so this year. Almost 91% said turnaround times had got worse.
One broker described them as the "worst turnarounds in 30 years".
Lenders, banks and aggregators alike had to fast-track digital tools when lockdowns and restrictions meant in-person meetings became impossible. Although this should have helped speed things up, as technology not only saved brokers time but allowed for faster processing, it doesn't appear to have done that.
Asked what tools or technological improvements had helped with turnaround times, some brokers mentioned broker portals, digital VOI services and e-signatures. Many, however, were much more critical.
In fact, some brokers said technology had actually worsened turnaround times.
"The technology that has been implemented has all seemed to worsen our situation," said a Queensland broker. "BankStatements has meant a worse situation for us. The document lodgement platforms are extremely slow and cumbersome and are a far worse situation. IT has let us down and has not kept up with the industry."
In positive news for Macquarie, it kept its top spot in the turnaround times category. In a year when brokers felt let down by speed, the lender managed to maintain its reputation in this area. Bankwest lost its second-place position from 2020, swapping places with ING to come in third.
All of the major banks did poorly in this category, but NAB scored the best out of the big four and Westpac the worst.
BDM support received the highest gold medal score out of all the categories: Bankwest achieved 4.649 out of 5, holding on to its gold medal from last year. The bank's BDMs were highly praised in comments from brokers.
Macquarie held on to its second position from 2020, but ING replaced NAB in third place this year. While the major bank scored higher than the rest of the big four in this category, it fell behind Adelaide Bank, AMP and Bank of Queensland.
ING also made great gains thanks to its online platforms and services, jumping to gold position in 2021 from eighth in this category last year.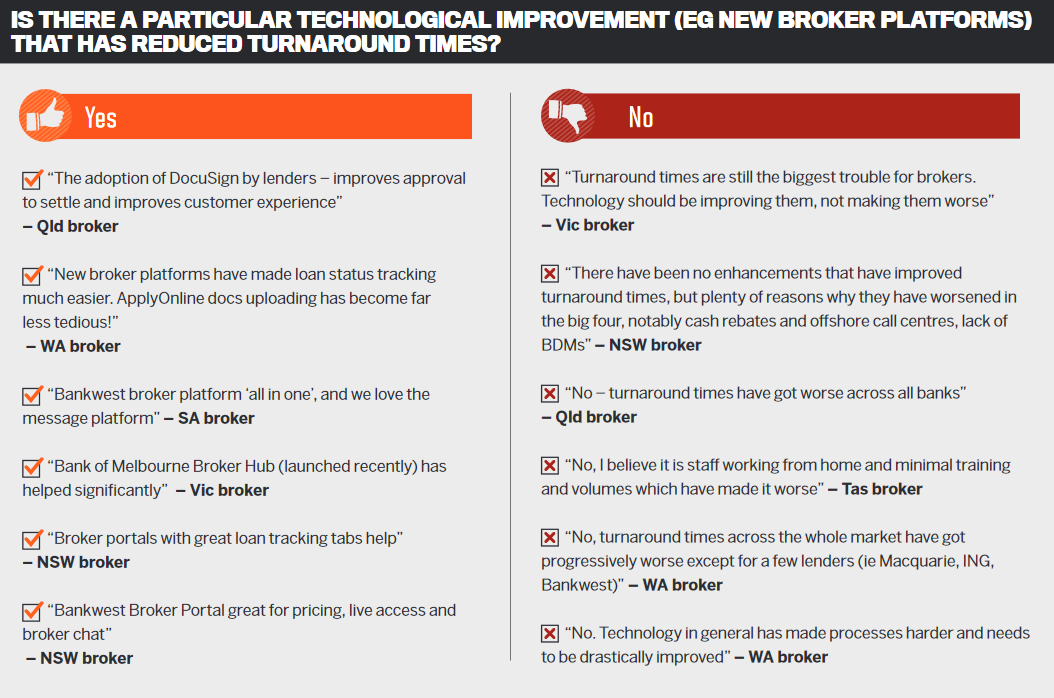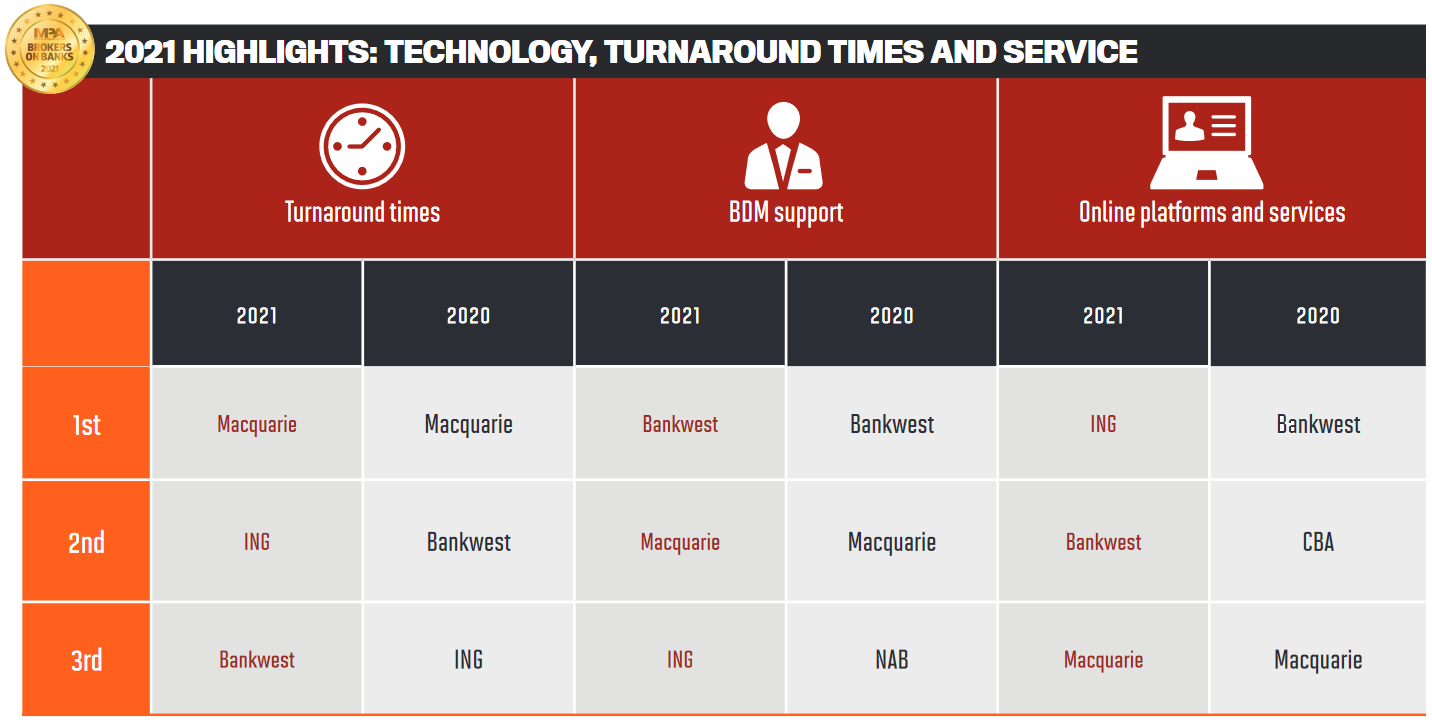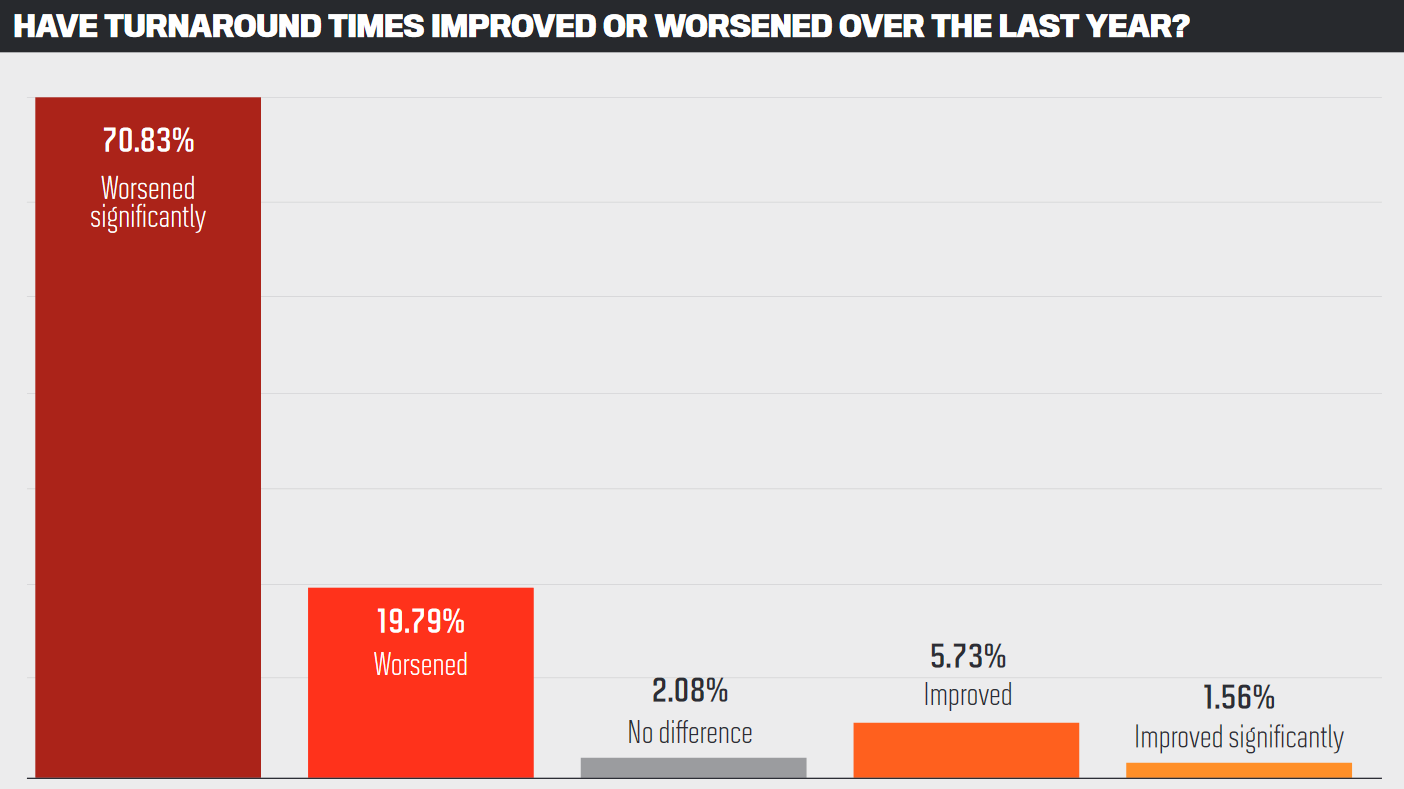 WHAT YOU'RE SAYING
Brokers have felt the impacts of the last year in many areas. Here's what they had to say about COVID-19, channel conflict, responsible lending changes, and the assessment of living expenses.
On top of the challenges of COVID-19 over the past year, brokers have been impacted by regulatory changes as well. The best interests duty came into force in January – a consequence of the royal commission report released by Commissioner Hayne in 2019.
The government has also been discussing the potential of removing responsible lending laws from the National Consumer Credit Protection Act (2009) in order to boost economic recovery. Brokers have often said banks are taking the assessment of living expenses to an extreme, another factor that has contributed to lengthy turnaround times.
These strict criteria have also meant that broker workloads have increased as they scrutinize details in customers' bank statements and do reworks. With changes to responsible lending, banks would continue to comply with APRA's lending standards requiring sound credit assessment and approval criteria, but the reforms would allow lenders to rely on the information provided by borrowers, "replacing the current practice of 'lender beware' with a 'borrower responsibility' principle".
Asked what they thought the impact of such changes might be, some brokers did not expect to see any difference. Others believed it would be a real positive for the industry and some said it would be a bad thing.
The survey also asked about channel conflict, a big concern of brokers in recent years. Their main issue this year was that direct-to-bank loans were being turned around much faster than through the third party channel.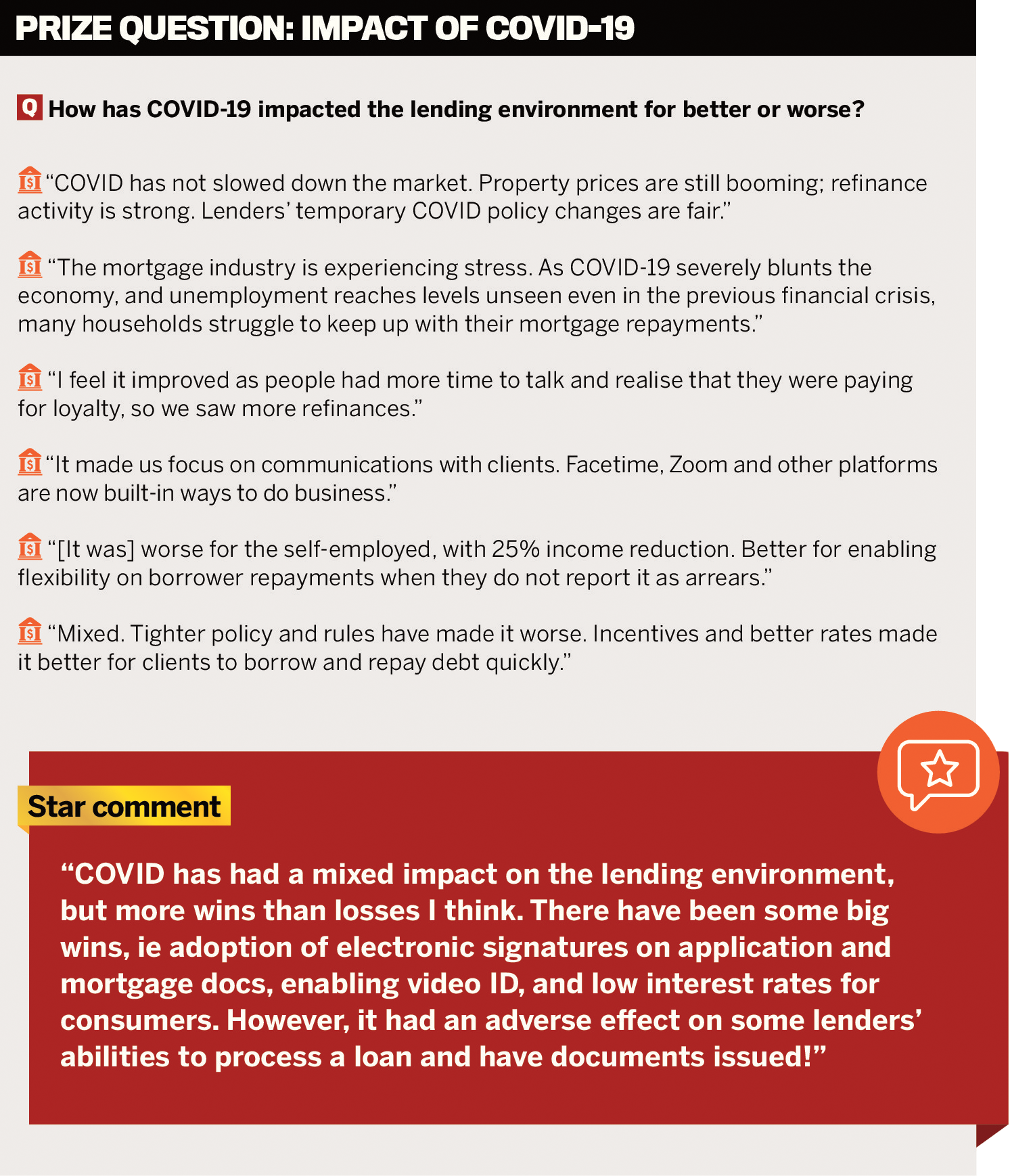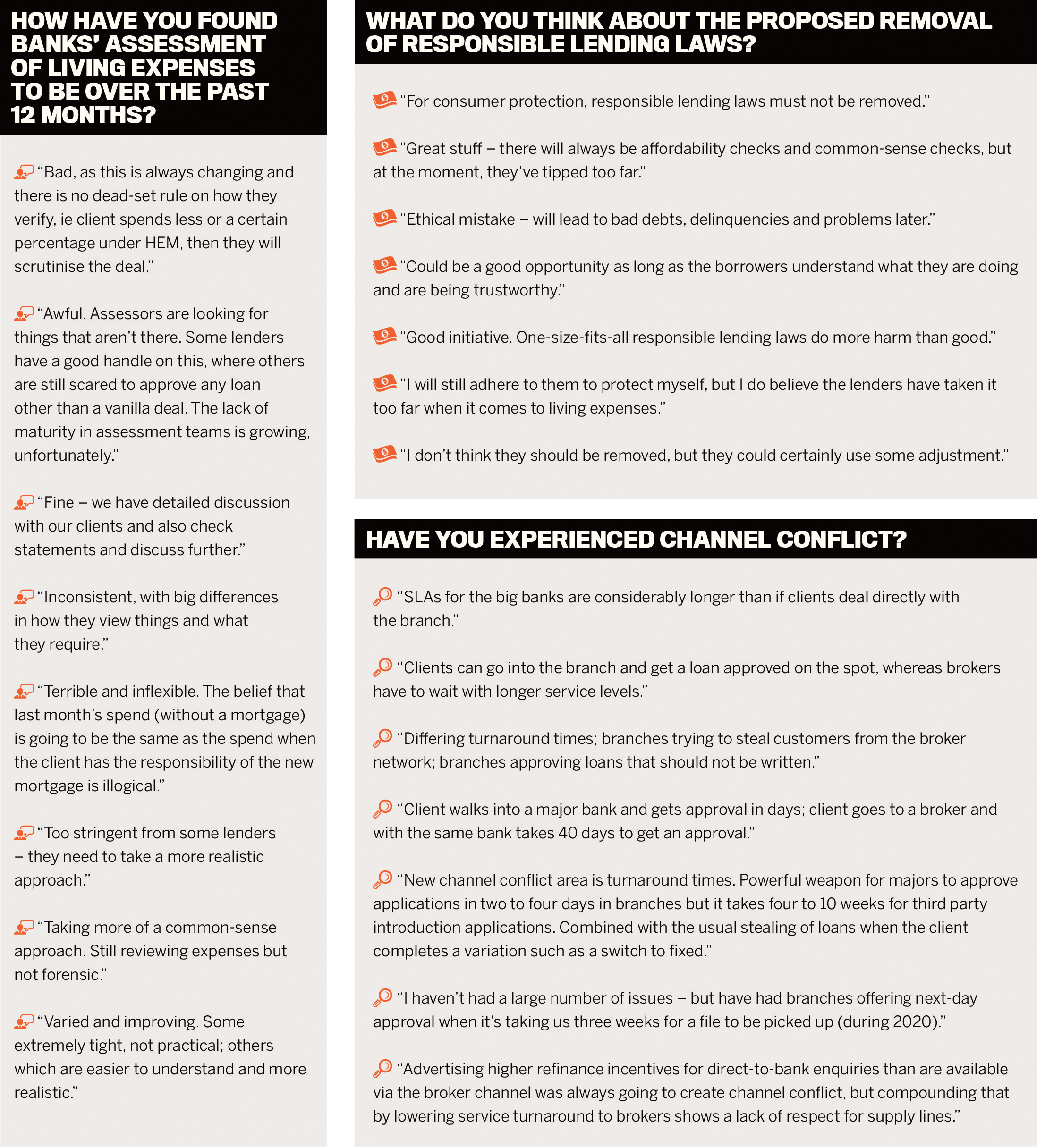 FINAL RESULTS
For those banks that held on to their medals or rose up the ranks after a year like 2020, it was a great achievement – find out how the overall winners earned their reputations over the past 12 months.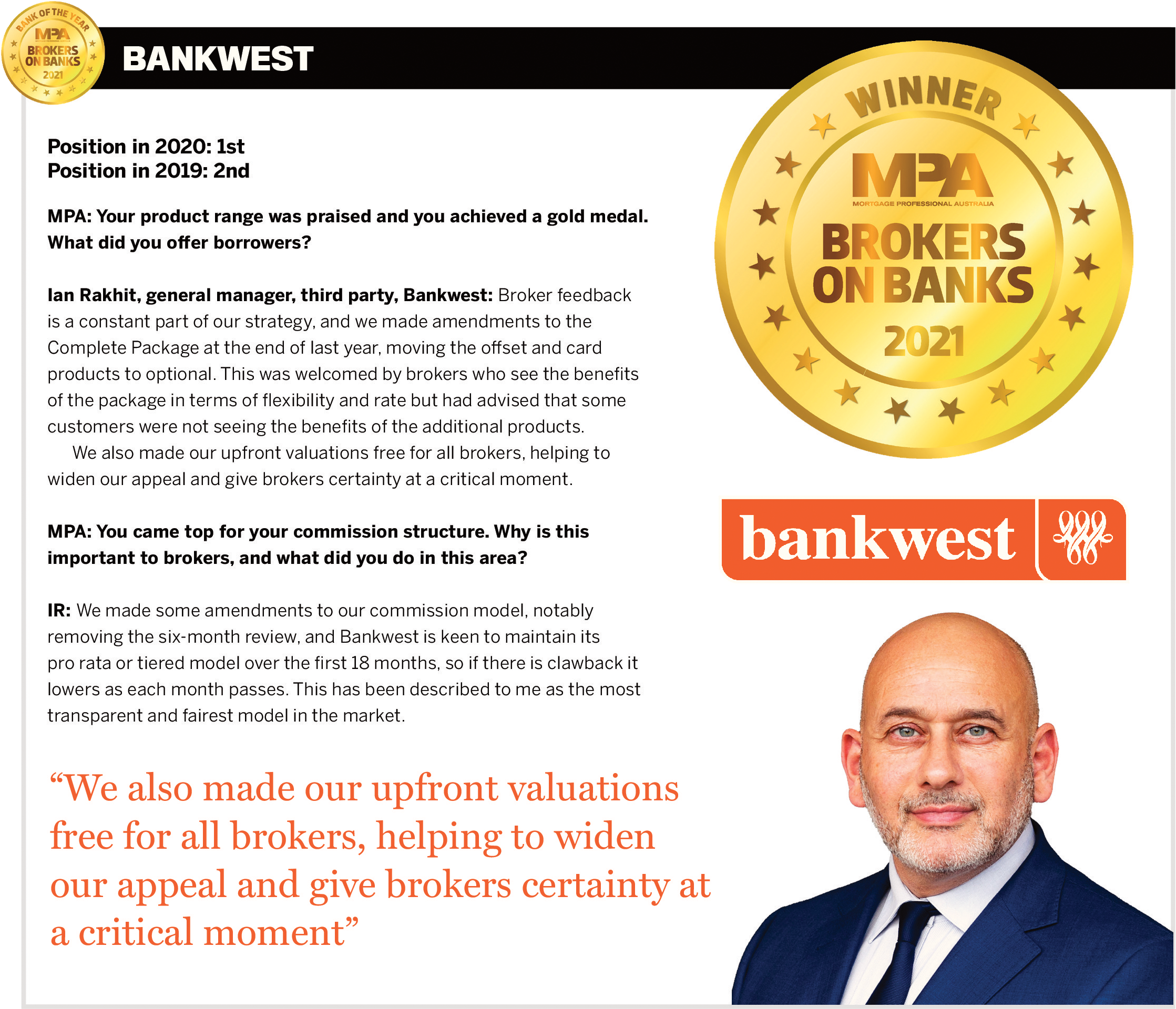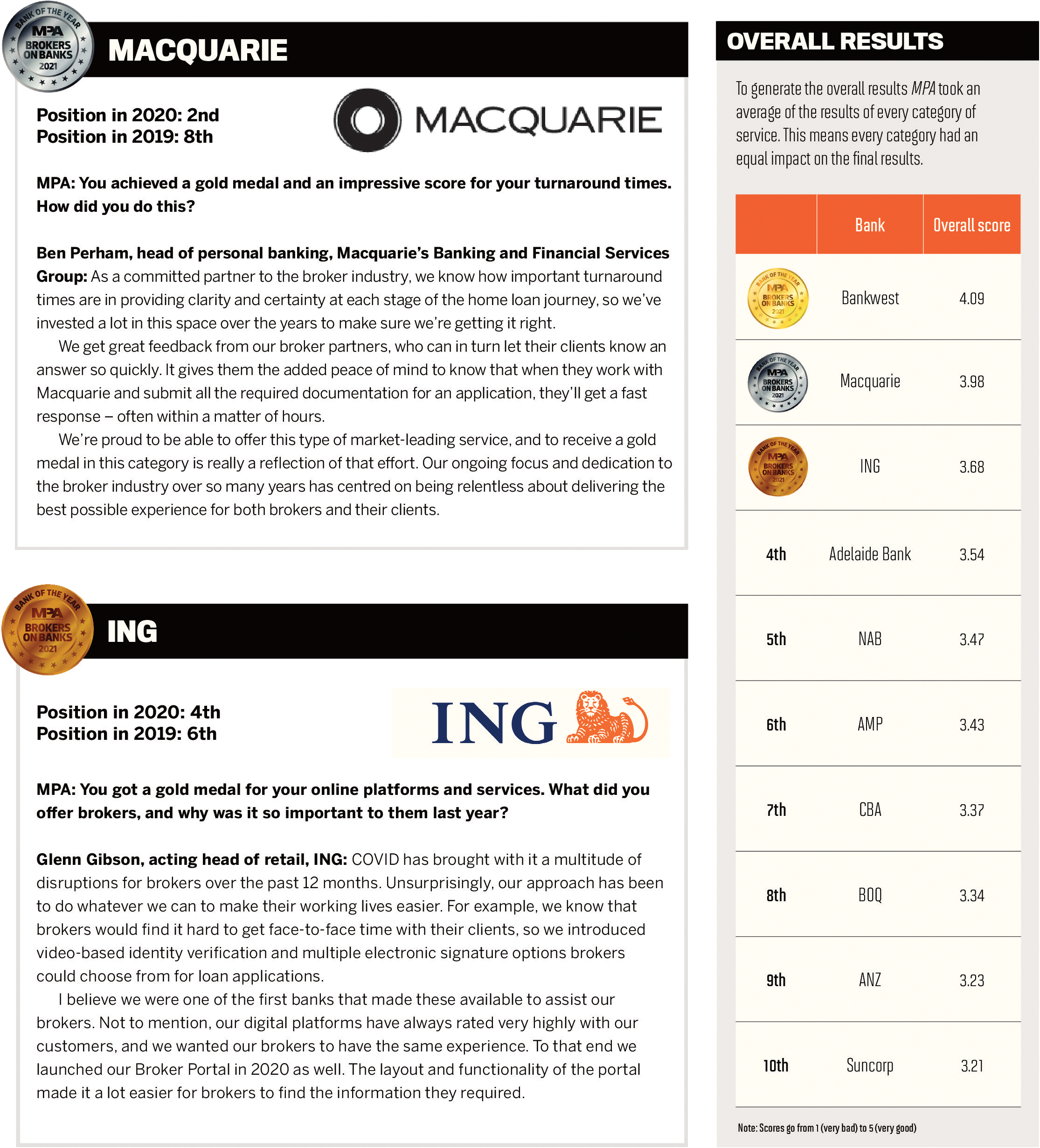 BROKERS' PICKS
As well as ranking the banks in each of the 10 categories, brokers were asked to name their favourite mortgage products of the last 12 months. These are the top four bank products as picked by brokers.