Other life: Battling the blaze

Fire volunteer and Extra Financial owner Mark Unwin is also involved in fighting issues that ignite depression
RC recommendations continue to become part of banks' "operating fabric"

Banks are moving forward to implement recommendations in order to win back public trust
SPECIAL REPORTS
2018 Commercial Lenders Roundtable
Top 10 Brokerages 2018
2018 Brokers on Aggregators
IN THE recent Brokers on Aggregators survey, MPA asked brokers to rank a number of aspects of the industry in terms of their importance. While white label loans were not considered as important as training and education, commission payments or BDM support, they were given higher importance than last year.
According to the MFAA's Industry Intelligence Service for the period 1 April 2018 to 30 September 2018, just over 7% of brokeroriginated loans go to white label lenders.
Lenders and aggregators know the importance of white label loans is growing too, as brokers continue to expand their service value to clients. One of the benefits for mortgage brokers is the exclusive deals they can get in the form of these loans.
Head of Connective Home Loans Michael Goerner says this is a real point of difference.
"The thing with any broker is they have access to a lot of different lenders, and some of these lenders are available in the retail space and are recognised retail brands," he says. "But a broker might say, I can take you through some products today and some of them you'll know, but I'm going to introduce you to some products and solutions that you don't necessarily know."
This is not only good for the customer and highlights the unique role a broker can play, but it also helps the broker from a business point of view. Goerner says when that home loan borrower is talking to friends about their loan, they won't name a retail brand but instead will direct them to their broker.
"The product and pricing matches consumer expectations, so it's not something sold as premium just because it's good for the broker; it's very worthy of being a competitor to the major banks" Michael Goerner, Connective Home Loans
"It positions the broker as a point of difference; it delivers a great solution, and if it's a great service the consumer is more likely to refer people back to the broker," Goerner says.
"The other thing that happens is that because we are really just delivering the home loan through the broker channel, we're not telling the consumer to come back into a retail environment through a customer call centre or retail branch. The chances of me as a broker losing that customer back to the retail option is significantly less."
The growing importance of white label has also encouraged better-quality loans. Goerner says the perception of these loans has changed; the cheaper price used to be seen as a sign of the quality of the product, but now there is confidence that it is the same product, if not better.
Connective relaunched its white label offering back in 2015, and its business has grown 35% year-on-year. In the last four years it has settled in excess of $6.5bn, representing around 14,000 loans for 30,000 Australians.
"I think it's a combination of a lot of things. One is consumer confidence. The fact is that the product and pricing matches consumer expectations, so it's not something sold as premium just because it's good for the broker; it's something very worthy of being a competitor to the major banks in the rates, the services, the products, all of the features," Goerner says.
Over the last four years since it relaunched into the white label space, Connective Home Loans has continued to add new products from various lenders to its offering, to ensure it can service the wide range of customer needs coming through.
One of its partners is Adelaide Bank, which also has white label partnerships with AFG Alpha and Tic:Toc.
"When you put yourself in the mindset of a broker … they're looking to sell and distribute those products for the right reasons for the customers" Darren Kasehagen, Adelaide Bank
Darren Kasehagen, head of third party banking, says there are a couple of reasons why the bank chooses to offer these products through aggregators.
"We're responding to the changing wants and the needs of our partners and the preferences of their customers, in terms of how they choose to access finance. Aggregators also help find and service market segments or customers that Adelaide Bank may not always necessarily be able to reach," Kasehagen says.
He agrees that the level of scepticism around white label loans has dropped over time, and brokers are starting to understand that aggregators do not want to put a product to market under their own brand that "doesn't stack up".
From the lender perspective it is important to know what those brokers are looking for in a white label product.
Kasehagen says there are a few things brokers are interested in.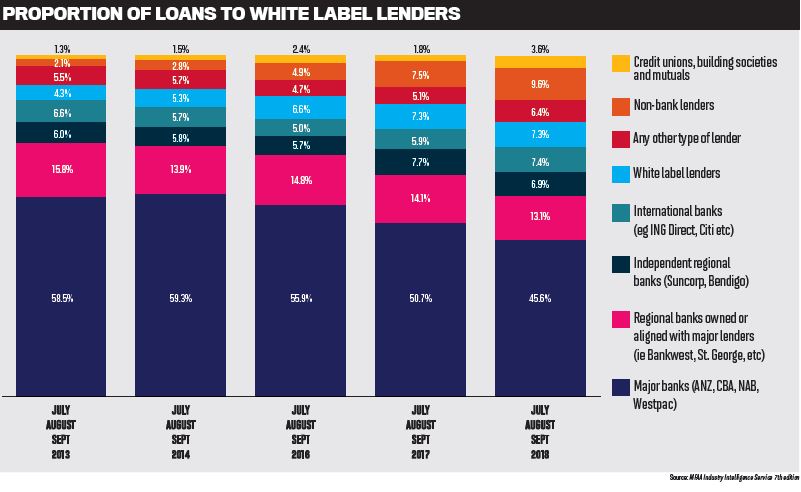 "The common misconception that white label loans are simple products limited to simple-use cases is slowly eroding" Brett Halliwell, Advantedge
"If there's a new-to-market white label product, brokers want to make sure the product will be well supported, that it's a competitive product range and complemented with competitive pricing. I don't think they're necessarily asking for anything more or less than that," he says.
"When you put yourself in the mindset of a broker who is out there every day representing themselves in front of customers, they're looking to sell and distribute those products that are the right fit for their customers. The last thing they want to do is put something in front of the customer that isn't the right fit or wellsupported in terms of back-office servicing and genuine care from the everyday all-round support of these products."
Choosing to fund a white label takes a lot of consideration for Adelaide Bank, which wants to make sure it is offering the right products in the right places.
"We will only add white label partnerships if we think it makes sense," Kasehagen says.
"We'll add another white label product at the right time, when it's the right fit, but there's no benefit to anyone, whether it's the broker or the borrower, of adding a white label for the sake of it."
Another lender that has seen the popularity of white label loans continue to rise is dedicated white label funder Advantedge. It offers a huge variety of products across multiple aggregators, and more than eight in 10 Australian brokers currently have access to its white label loans.
The increase in white label's popularity is not just about cheaper rates and simplicity but also down to the "faster turnaround times, increased ease of transacting, improved accessibility and superior customer service", says Advantedge general manager Brett Halliwell.
Brokers are also turning more to white label loans for their competitiveness and flexibility, he says. "The common misconception that white label loans are simple products limited to simple-use cases is slowly eroding, and brokers are now realising they can be used far more broadly and for more complex financing requirements."
Halliwell says he expects the growth and interest in white label loans to continue as the broker market share grows, and Advantedge aims to play a part in that.
"Advantedge remains committed to supporting and championing mortgage brokers as a channel of choice for consumers, which is why we continue to strengthen and refine our product and service offerings," he says.
"We support and work in partnership with brokers to provide a great experience and positive outcomes for customers. We do this by continually investing in improvements to simplify our service offering, and by enhancing our digital capabilities to make life easier for brokers and their customers."
While their popularity is growing, and brokers are gaining a better understanding of white label products, there are still some misconceptions and confusion. To combat this, Advantedge has a number of initiatives, as well as specialist teams and BDMs to provide support for brokers.
Advantedge's quality submission checklist guides brokers through the steps of lodgement, and it is also about to introduce Simpology's Loanapp to provide real-time assistance throughout the application process
"[These initiatives] have resulted in significant time savings for brokers and customers, with approximately 60% of digitally signed documents being signed by customers and verified within three business days – less time than it takes to send hard copy documents in the mail," Halliwell says.