Leadership lessons from top gun, Daniel Di Conza

Acceptance Finance CEO, named in MPA's Global 100 list, chats to MPA about his success story
Leadership lessons from top gun, Daniel Di Conza

Acceptance Finance CEO, named in MPA's Global 100 list, chats to MPA about his success story
SPECIAL REPORTS
2018 Commercial Lenders Roundtable
Top 10 Brokerages 2018
2018 Brokers on Aggregators
Mortgage Choice Dee Why has been serving the local community since 1999, helping clients navigate the mortgage landscape. MPA talks to franchise owner James Algar to learn more about the brokerage's plans for 2020 and beyond
For over 20 years, Mortgage Choice Dee Why has been providing prospective homeowners in the Northern Beaches with the services they need to secure the home of their dreams. Originally founded by Brad Anderson, it was first operated out of his home office until the business expanded to the point of requiring its own premises.
James Algar is a more recent arrival, originally hailing from the UK, but since joining the brokerage in 2014 he's firmly established himself as essential to its day-to-day operations. He's no greenhorn either, having worked for around 14 years in the broking industry, in addition to his experience in the banking world.
"We primarily deal with owner-occupiers," says Algar. "But as you might imagine, there's considerable diversity in that sector."
Algar himself has earned a reputation for working particularly closely with selfemployed business owners, helping them buy homes when the banks are unable or unwilling to assist.
"Originally my background was in banking in the UK," he says. "Things run a bit differently over there, but it's still given me an understanding of the inner workings of the system. I also realised that if you were a good loan writer, you were better off as a broker – it's an easier way to help more people than you can within the normal bank system."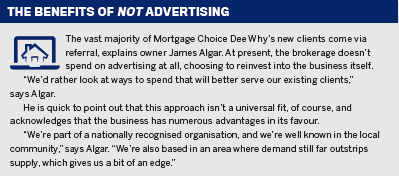 Shifting with the industry
During his time in the field, Algar notes that technology has been drastically overhauled for the better, enabling easier communication, faster approvals and better service.
"Mortgage Choice rolled out a new broker origination platform in 2018, which has been a game changer for our business," says Algar. "The broker platform has increased our productivity and improved the customer experience significantly, which will be even more important as we prepare for a best interests duty."
Algar believes that, in conjunction with these changes, the general public's perception of mortgage brokers has improved overall, in no small part due to people having a better understanding of the broker's role in the mortgage process.
"It's a good thing to see," says Algar.
"I think that now we're viewed more as a professional advice point, rather than simply as someone who can cut a customer a better deal."
The increased complexity introduced into the loan process by lenders has also contributed to this shifting perception, Algar notes. Product offerings are more multifaceted – partially due to newer consumer protections as well as more tailored options – which makes navigating the landscape a more daunting process for the average Australian.
"The more complicated lenders are making it, the easier it is for brokers to capitalise," Algar says. "In many ways, we've come to replace some of the functions that used to be handled by the retail arm of the banks."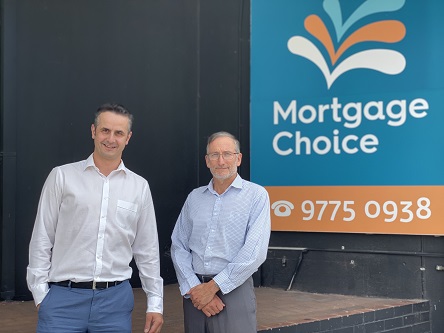 Emerging risks and future plans
This is not to say there aren't challenges ahead, of course. Algar sees two main risks as the industry moves into 2020: increased regulation and the broader economy.
"We always want to make sure we're doing the right thing by the customer," says Algar. "But we don't want to be in a nanny-state situation either. A lot of smaller brokers have concerns about whether they'll be able to continue operating on their own if prohibitive legislation is introduced."
The discussion around trail commission has heavily dominated much of the public conversation, particularly in the wake of the royal commission's report last year. Yet for Algar it's an issue that could be relatively easily solved with better broker behaviour. Having an ongoing servicing and maintenance plan for clients is essential.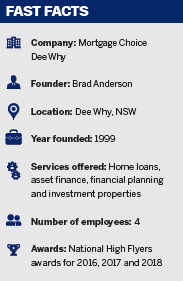 "Loans – especially home loans – aren't usually one-and-done affairs," says Algar. "That's why you have trail in place, because you can and should be servicing them in subsequent years. How often are you talking to those clients? You should be touching base to see if they're happy, and you never know what other opportunities are going to come out of it either."
The health of the broader economy also has a flow-on effect, but Algar remains optimistic about the future prospects of Mortgage Choice Dee Why. Plans are very much in place to continue to grow the brokerage's market share, and to continue to innovate to attract new brokers.
"We've set ourselves a goal in terms of what we'd like to be settling, but with sustainability in mind," says Algar. "We don't want to lose touch with our existing clients, and we always want to make sure that we're acting in their best interests."