The women spearheading progress

Celebrating 12 women from across the lending and broking spectrum who are reinventing the industry's image and revitalising broking
Vast majority of brokers opt to retain CBA accreditation

Brokers who hadn't settled a loan with the bank in more than 12 months were required to complete an e-learning module
SPECIAL REPORTS
2018 Commercial Lenders Roundtable
Top 10 Brokerages 2018
2018 Brokers on Aggregators
Suncorp's national manager for SME and commercial built a prolific career in finance on strong business relationships
1984: STARTS IN CREDIT
Robynne Frost began her career in ­ finance as a credit manager's assistant at Custom Credit in Rockhampton. Since then, she says: "What has kept me in ­finance is the opportunity to continuously grow and learn new skills across a range of diverse roles in many different organisations."
1989: CREATES STRATEGIC ALLIANCES
At Suncorp, Frost honed her leadership and strategic skills. A passion for creative thinking led her to initiate strategic alliances between multiple well-known organisations. In an early role as state manager, intermediaries NSW, she grew a high-performing team from just three to 65 people. Frost was later appointed strategic alliances national manager after presenting some partnership ideas she'd had as part of an assignment for her master's. "My passion and experience around strategic alliances has played an important part in my career."
2002: MOVES INTO MORTGAGES
Changing tack, Frost joined GE as a product development leader before being promoted to national operations leader. She continued to climb the ranks with a move into the role of national manager for strategic alliances and marketing development. Her objective was to grow GE's mortgage and branch business in Australia by partnering with external companies. "One of my job's highlights was establishing a national alliance with H&R Block and GE Capital, supporting customers with both their tax preparation and ­ financial needs."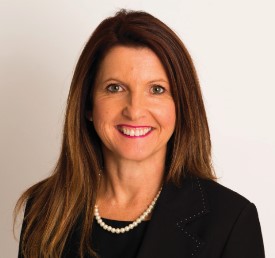 2012: RETURNS TO SUNCORP
Following a stint at ANZ in commercial banking, Frost was drawn back to Suncorp by its strong focus on improving the ­ financial wellbeing of its customers. She assumed the role of Suncorp's national aggregation manager for intermediaries.
2015: SPECIALISES IN SME AND COMMERCIAL
As national manager of SME and commercial at Suncorp, Frost has utilised her strong understanding and passion for SMEs to grow the sector to what it is today. "I wouldn't want to be anywhere else right now; SME and commercial is an exciting place to be."
2018: LEADS STRATEGIC AGENDA
SME lending via broker partnerships is a highly important and valued part of Suncorp's overall strategy. With Frost leading the way, the bank is doing an enormous amount of work on improving its broker proposition, exploring the landscape brokers play in and educating them on SME opportunities and diversi­fication.
"I was attracted to the strong people culture LEADS STRATEGIC AGENDA within Suncorp. I enjoyed managing the variety of relationships, and advocating for our community of 16,000 brokers"