How a financial "gift" could turn into a nightmare

When preparing a gift letter, a solicitor should be involved to protect brokers and clients, writes Stephen Dinte
Why are the majors pulling out of SMSF lending, and what should brokers know?

Three non-bank lenders explain what's going on and what brokers should do for their SMSF borrowers now
SPECIAL REPORTS
2018 Commercial Lenders Roundtable
Top 10 Brokerages 2018
2018 Brokers on Aggregators
Bendigo and Adelaide Bank's head of distribution, third party, is not known for standing still, or for being afraid of challenging the status quo
Darren Kasehagen became head of distribution, third party banking, at Bendigo and Adelaide Bank in July last year, at what was both a very interesting time for the banking market and a challenging time for him as a new team leader.
"At the time we were in the midst of reviewing our flows in order to meet the interest-only and investor caps, with volumes at very low levels and plenty of uncertainty around how we could adapt to those caps," he says.
Despite navigating the situation effectively, Kasehagen says there is still a level of uncertainty facing the industry as a whole, and the people who work within it.
"I don't think anyone knows precisely how the industry will be required to evolve."
The experience taught Kasehagen something important. "What I have learned is that this industry is very resilient and it promotes competition among lenders, which is great for the consumer. For those reasons, the industry will adapt and survive and be stronger for it."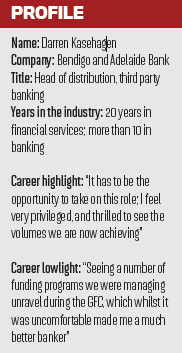 Coming home
Kasehagen has a refreshingly diverse background by industry standards. Following early stints in public sector finance and treasury departments as an economic adviser and analyst, he worked his way up to senior investment roles at Mercer Investment Consulting and super fund Plum, before embarking on his 11-year career at Bendigo and Adelaide Bank in 2007.
Taking on his current role was a bit like coming home, he says. "Aside from a brief stint in the risk division heading up the commercial credit policy team, the majority of my experience within the bank has been in and around the third party business, so it seemed like a natural step to take. When I returned to the third party business three years ago, it certainly felt like I was back in familiar surrounds."
"We are in a really good place to remain very competitive and continue the significant growth in volumes we experienced over the last 12 months"
Now responsible for managing the 12,000 accredited Adelaide Bank broker relationships that exist across the bank, he says that – thankfully – he's in a position to execute a growth agenda with the full support of brandnew managing director Marnie Barker.
"It doesn't get much better for a head of distribution," he says.
"I think we are in a really good place to remain very competitive and continue the significant growth in volumes we experienced over the last 12 months. Our value proposition is unchanged and we are very comfortable with our credit policy metrics, which we have reviewed extensively over recent years. We are very much open for business, and brokers should be comfortable knowing we are not going anywhere."

Going for broker
Brokers are expected to play a key role in realising Bendigo and Adelaide Bank's growth aspirations, Kasehagen says.
"Brokers are incredibly important to us. We simply don't exist without a healthy broker channel and a network of loyal broker partners. Growing our broker channel was a significant focus of ours in the last financial year, and it is also a key priority this year too, with a specific goal to increase our customer base in that market segment," he says.
That doesn't mean brokers will see wholesale change; instead, it means dealing with the same Adelaide Bank that brokers have come to trust over the years. "For brokers, we continue to do what we've always done. That includes offering simple, relevant products that resonate with our brokers and their customers."
Kasehagen names the bank's go-between bridging loans and 100% offset account feature as two favourites that have been popular among the broker population.
"We've also added construction loans to our mix and will continue to take every opportunity to improve on our offering, both in terms of product and service levels."
Kasehagen says the bank consistently seeks and acts on feedback from its partner network, and that – together with the third party broker channel – the opportunity exists to capitalise on the chance to deliver exactly what customers need.
"Brokers have an opportunity to offer even greater value to their customers by helping them weave through the everchanging landscape," he says.
"Now more than ever, customers need the professional advice of a good broker."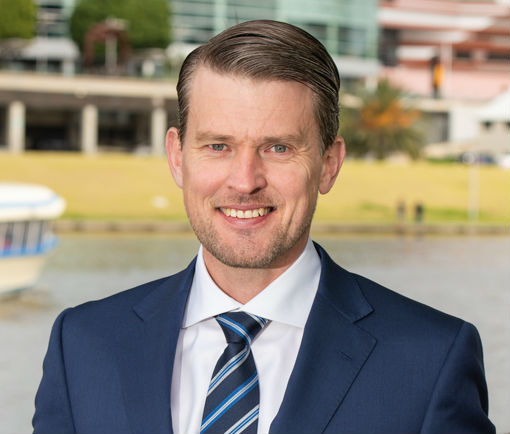 Better together
Kasehagen has some strong personal goals in his new role. Firstly, he's dedicated to increasing the team's overall footprint within the bank when measured by financial contribution or customer numbers, and secondly, he wants to "continue the great partnership legacy" the bank has built up over a number of decades, to put distribution in an even better position. At the same time, he hopes to make the division a place where staff are happy, so others come knocking on the door.
The challenge? Making all this happen at a time when there are more unknowns than ever. "The industry will be under ever-greater scrutiny in the years to come," Kasehagen says.
"Brokers have an opportunity to offer even greater value to their customers by helping them weave through the ever-changing landscape. Now more than ever, customers need the professional advice of a good broker"
"Changes in bonus commissions, soft-dollar benefits, and greater clarity on ownership structures are the obvious changes coming, and there will no doubt be changes in some form – some we know now, some perhaps not – in the way commissions are calculated and paid more generally. I think there will be less vertical integration and perhaps some consolidation as those brokers struggling to cope with increased scrutiny and regulation will exit the industry."
These possibilities are not viewed negatively by Kasehagen. "I don't see any of this as a bad thing. Rather, they are an opportunity for the industry to evolve and become stronger and provide even better customer outcomes."
Regardless, he says there's at least one bank brokers can rely on. "Whatever happens, our bank will be there ready to support our brokers and our partners through these changes."