MPA Young Gun hits the ground running

Smartmove's Jessica McLean successful start in the broking industry has earned her a spot on this year's MPA Young Guns list
Prospa bolsters Queensland team with new appointments

Prospa add two new recruits who are hoping to take Prospa to new heights
SPECIAL REPORTS
2018 Commercial Lenders Roundtable
Top 10 Brokerages 2018
2018 Brokers on Aggregators
In an industry in which money is the name of the game, some organisations are committed to giving back and supporting those in need, whether due to homelessness, mental or physical health problems, or domestic violence
As we have seen in recent times, lenders, broker groups and other industry organisations have rallied together to support Australian communities affected by bushfires, and the firefighters risking their lives. This generosity is not strictly limited to recent events, however, as the industry has been 'giving back' to various causes for some time.
ANZ, for instance, is one major bank that has been working closely with a charity that helps homeless people in Australia. The bank partnered with LADDER in 2018 after a discussion about its "core purpose". It recognised that as a large corporate it could genuinely help young people become job ready.
LADDER aims to lift young people out of homelessness by helping them build key life skills such as self-efficacy and independence, and gain education, employment and training.
In September, ANZ and LADDER hosted an AFL Grand Final dinner with more than 420 members of the broker industry in attendance, raising $57,800 from brokers and aggregators through donations, table sponsorships and a live auction.
But it's not just monetary contributions ANZ gives; volunteers from the bank donate time to the charity by offering mentoring services and other forms of assistance.
Trent Jollow, ANZ commercial state manager for Victoria and Tasmania, says it's a "humbling process".
"They're genuine people that are looking for help," he says. "I know I'm in a privileged position; I've got a good job and I've got a young family who have first-world problems, and I think when you go and you meet these young people who genuinely need help and are genuinely willing to listen and take your advice, it just reminds you of the position you're in.
"Everyone in my business who has gone through this process [of mentoring people in need] has been extremely humbled by it" Trent Jollow, ANZ
"I think everyone in my business who has gone through this process has been extremely humbled by it. We go in there because we think we can do something to give back to the community, but the benefit that it's had for my broader team has been far greater than I ever expected."
The major bank has also formally joined LADDER's six-week Step Up program, which aims to help young people aged between 16 and 25 become more job ready. Participants visit the ANZ offices, where they learn new skills such as interview preparation and receive career advice.
An obligation as human beings
While many organisations may choose to dip in and out of charitable giving, or pick different charities each year, ANZ intended its partnership with LADDER to be ongoing. Jollow says the bank really felt there was an obligation to "do something more".
"Leveraging the opportunity and the skills that we have to provide value to the people who need it is the minimum that we could be doing," he adds.
"It's mutually beneficial, and the more you can do the better. For me it's not around giving up time; it's something you have to do, and it's good for everybody. From my perspective, in terms of running the business, my team appreciate it so much that they give back tenfold; it's our obligation as human beings."
This is not something ANZ is simply doing internally either. The major bank invited mortgage brokers, commercial brokers, aggregators and others in the industry to join in at the AFL Grand Final dinner – even other banks were invited.
"When I handed over the cheque to Doris Women's Refuge, I was reminded about why I was doing it. It was well worth it" Deanna Ezzy, More Than Mortgages
Jollow says that if any brokers out there want to take part and help with either donations or mentoring, they simply need to get in touch.
"This was not about ANZ; this was branded LADDER. We're the premium partner, and yes, we do all the logistics and organisation, but people aren't attending an ANZ event; they're attending a LADDER event," he points out.
"I think that was a big learn for us. When we first went out there, it was an ANZ and LADDER initiative, and we very quickly realised it shouldn't have anything to do with ANZ; it should all be about LADDER and the young people."
Organisations fighting health issues
Understanding the severe impact that health problems can have on Australians, insurance provider ALI Group has supported several major health campaigns. In 2019, these included heart health, breast cancer, and men's health through November.
The group has also backed broker-led charities such as the Cooper Trewin SUDC Foundation, Brokers Ride to Conquer Cancer, and Live in the Now Foundation.
Through the nature of its business, ALI has a close-up view of how health problems affect Australians, regardless of age, gender or race. Heart disease, heart attacks and other heart-related illnesses make up a big portion of its claims. As of April 2019, ALI had paid more than $9m in claims for heart attacks and over $1.3m in claims related to coronary bypass operations since 2003.
"Giving back, working with purpose and protecting Australian home and property buyers is truly at the core of what we do," says ALI Group CEO Huy Truong.
It is not only physical health problems that impact Australians: mental health is an increasing concern, and the broking industry has rallied behind initiatives to raise awareness of this.
Choice Aggregation Services is just one of the organisations that support mental health charity R U OK?, which holds an R U OK? Day each September.
It's also been highlighted that brokers themselves are at risk of mental health problems, because they often work alone, travel long journeys and deal with the pressure of running their own businesses.
"In an industry that is service-led, brokers are often commended for putting client needs fi rst," says Choice CEO Stephen Moore.
"However, it is also important for brokers to take care of their own needs in order to stay mentally healthy. A key part of this is putting time in the diary to spend with friends and family, carving out personal time such as time to exercise, and maintaining a positive mindset."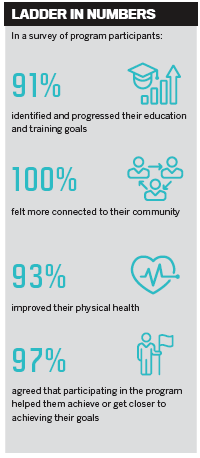 Supporting brokers
Providing mental health assistance for brokers has been a focus of Choice in recent years, and it offers support services such as a Broker Hotline and discussion groups.
Moore says partnering with R U OK? was a "natural fit". "We want brokers to feel optimistic and excited about the future, and this can only be made possible by maintaining a positive mindset, highlighting the importance of peer-to-peer support in the workplace, and encouraging everyone to better support those around them," he adds.
Brokers themselves are taking giving back into their own hands. MPA Top 100 Broker and director of More Than Mortgages Deanna Ezzy organised an event called Domestic Abuse Needs Community Evolution (DANCE) in March 2019.
The idea of raising funds for an outreach charity like Doris Women's Refuge resonated strongly with Ezzy, who was personally affected by domestic violence as a child in New Zealand and also had experience as a dance instructor before becoming a broker.
Although her team raised over $7,000, Ezzy considers time as her biggest contribution to the event. She dove into the project while running a business that requires over 60 hours of her time per week.
"This was such a time-consuming and stressful thing to organise as it involved daily action and follow-up, and of course anxiety around wondering if anyone would turn up," she says. "Again, this was a huge success, and when I handed over the cheque to Doris Women's Refuge, I was reminded about why I was doing it. It was well worth it."