The women spearheading progress

Celebrating 12 women from across the lending and broking spectrum who are reinventing the industry's image and revitalising broking
Chinese real estate investment in Australia drops by nearly 30%

The decline partly has to do with banks restricting funds to offshore buyers and increased taxes
SPECIAL REPORTS
2018 Commercial Lenders Roundtable
Top 10 Brokerages 2018
2018 Brokers on Aggregators
Coinciding with the writing of this magazine on women in broking, my older sister gave birth, to the first baby and boy in the family.
I've always had great respect for women, but seeing someone I'm so close to in their first few days of motherhood was truly inspiring and eye-opening. It also made me realise that as much as it's an incredible gift, it's also an utterly draining, daunting and emotional journey to go through labour and then find yourself responsible for a fragile new life.
It made me feel in even greater awe of all the women out there who somehow manage successful businesses that deeply and genuinely care about their customers while also balancing their family lives, athletic pursuits and volunteering initiatives. Despite all the directions they're pulled in, they still made time to answer our questions.
I owe all of those featured in this magazine a great deal of gratitude for being so eager and willing to participate, especially the women who courageously shared deeply personal accounts of the toll their jobs have taken on their personal lives.
We are thrilled to present MPA's inaugural Women in Broking issue. It is the product of many conversations over lunches or drinks and at events where the microphones were turned off, the pens were still and women felt free to talk and be themselves. Those discussions unveiled that, while progress has undoubtably been made in the industry, and women are incredibly grateful for their success and to the men in their lives who have helped them, there are still many issues simmering under the surface.
We've dug into some of those issues in this magazine and featured some of the women role models who are making changes. We hope this becomes a staple of our editorial calendar because we think this conversation is an important one and we'd like to be part of the movement that sees more diverse voices, faces and opinions reflected in the industry and the media.
Thank you to everyone who took part and helped make this magazine a reality.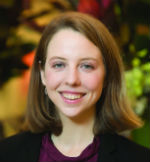 Otiena Ellwand
editor,
MPA