Mortgage Choice broker Anthony Knight on the big difference in broking

After two decades on the job this Central Coast broker says one major thing has changed
Merger a "very powerful combo"

Brokers share their thoughts on the union between Aussie and Lendi
SPECIAL REPORTS
2018 Commercial Lenders Roundtable
Top 10 Brokerages 2018
2018 Brokers on Aggregators
Following much speculation in the media, the Commonwealth Bank of Australia yesterday announced the merger between Aussie Home Loans and Lendi – a deal that would see CBA retain a shareholder stake of 45%, with the majority 55% stake held by Lendi shareholders. MPA spoke with Lendi co-founder and chief executive officer David Hyman (pictured) on what the merger will mean for the group and how the two brands will operate once the deal goes through.
Growth and consolidation
It has been a year of mergers and acquisitions for the mortgage broking industry. Just last month, Loan Market told the nation about its acquisition of NAB owned aggregation groups Plan, FAST and Choice, while, earlier in the year, a merger between Connective and AFG was also announced.
Read more: Sam White reveals why Loan Market acquired NAB-owned aggregators
While the industry appears in a period of consolidation, Hyman said both Lendi and Aussie are on "massive growth trajectories at the moment."
"We're both having record months and record years – and for both businesses, this (the merger) is an acceleration case," he said. "We're both excited to continue on the same growth path."
Lendi has been significantly growing its books, settlements and customers over the past 12 months, the group posting about 40% growth year-on-year – an acceleration Hyman attributes to its heavy investment in technology.
While the company doesn't publish growth forecasts externally, Hyman believes both brands will continue on the same upward trajectory following the merger, which will allow them to take advantage of the unique skills, capabilities and assets of each brand and leverage these across both businesses to "accelerate the current growth rate."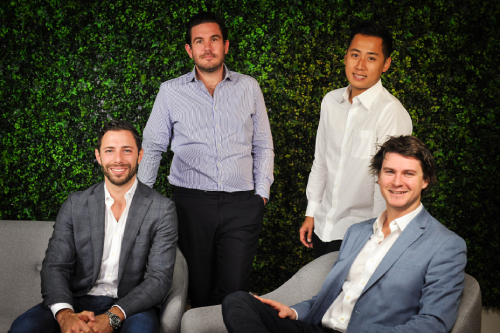 Lendi founders (clockwise): Sebastian Watkins, Martin Lam, Mark Kalajzich, David Hyman
A multi-brand strategy
While there are still a lot of unknowns at this stage, Hyman was able to confirm to MPA that the brands will continue to operate separately once the deal has been finalised.
"We'll continue to operate a multi-brand strategy," he said. "Today we operate two brands, Lendi and Domain Home Loans, our joint venture with the Domain Group, and Aussie will very much be operated as a separate brand.
"It's really at the platform and capability level that we'll look to integrate things together."
This is something Aussie brokers are sure to reap the benefits of in time – Hyman explaining that Lendi plans to roll out its technology to Aussie brokers in a "consultative and very much opt-in way."
"That should allow them to deliver better experiences to their customers, create better local connections, and ultimately drive their businesses forward," he said.
Read next: Lendi could halt IPO as Aussie deal looms
When asked if Lendi brokers would notice any difference to their business following the merger, Hyman said: "The short answer is 'no'. The long answer is, as a combined entity, we're going to be at a much higher level of size and scale.
"That should allow us to invest at a deeper level than we are currently in product and technology. So, Lendi brokers should actually be net beneficiaries over time through increased investment."
He expects Lendi customers to benefit from the deal too, explaining the group is working on initiatives with lenders that will add to the value the merger will bring in terms of increased size and scale.
"This is an opportunity for two great businesses to come together and put more technology in between the customer and the broker to really take advantage of that positive market sentiment," he said, citing the recent increase in broker market share. "We think it's an exciting time to be in this space and are really looking forward to what 2021 and beyond brings."
The Commonwealth Bank declined to comment on the merger beyond its ASX statement, however it did confirm that Aussie and Lendi would continue to operate as separate brands under the merged business.
Related stories:
CBA confirms sale of Aussie Home Loans stake