The women spearheading progress

Celebrating 12 women from across the lending and broking spectrum who are reinventing the industry's image and revitalising broking
Vast majority of brokers opt to retain CBA accreditation

Brokers who hadn't settled a loan with the bank in more than 12 months were required to complete an e-learning module
SPECIAL REPORTS
2018 Commercial Lenders Roundtable
Top 10 Brokerages 2018
2018 Brokers on Aggregators
Why do women often feel like they have to make more of an effort than their male peers to stand out?
Women often say that in order to stay on top of their jobs and their families – and meet society's expectations – they have to devote more than 100% of themselves to both.
For someone like Ebony Maxwell, state manager of Victoria and Tasmania at Bluestone, and the mother of an eight-year old boy and a 12-year-old girl on the autism spectrum, that is certainly the case.
"It seems like sometimes we need to prove ourselves a little bit more than men. In all the roles that I've been in, women have always been the minority," Maxwell says.
In financial and insurance services, women make up only 22% of senior leaders, according to a recent report from the Workplace Gender Equality Agency. Maxwell wonders if that's one of the reasons why they aren't always taken as seriously as their male counterparts in leadership positions, something she's experienced first-hand.
That lack of representation does explain why women feel more pressure to be perfect. "We really need to give 120% for us to get noticed," she says.
Despite the extra effort that many women put in, they still don't get the recognition they deserve. Often it's actually the opposite: they may feel uncomfortable about working long hours, travelling for work and being away from their children, and they struggle to achieve that elusive work-life balance that everyone seems to demand of them.

As a 35-year-old state manager, Maxwell sometimes encounters people who doubt her because she appears young. However, she says, "When I have conversations with brokers and talk them through the application process, they realise that I have expertise and experience and I've earned my stripes. I have credibility behind me as well."
Maxwell may be young, but she started in the mortgage industry early, working with La Trobe Financial's settlements team at the age of 18. A move to Gawler in South Australia prompted her and a business partner to open a Wizard Home Loans franchise, where she worked as a broker for four years and took a keen interest in the specialist space.
After selling her half of the franchise, Maxwell returned to Melbourne where she worked at GE Money as a branch manager and then sales development manager, before joining Bluestone's team as a BDM four years ago.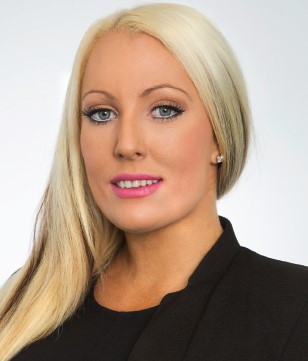 Like most people, Maxwell's path to professional success hasn't been without sacrifice – such as delaying taking a promotion to focus on family – but she's confident that it is possible for women to achieve some form of balance between the two.
"I like to share my story to tell women that they can have both worlds. If they have the support network, they can have their career and be around for their children," she says.
As a mother, Maxwell has honed her organisational and multitasking skills, adeptly juggling multiple people's schedules – abilities that also come in handy at the o­ffice.
Being able to rely on her partner, family and friends is integral to getting her job done, Maxwell says, especially since it's anything but a standard nine-to-five role.
"It seems like sometimes we need to prove ourselves a little bit more than men … We really need to give 120% for us to get noticed" – Ebony Maxwell, Bluestone
At the same time, having a flexible and understanding employer like Bluestone has allowed her to work her children's specialist appointments around her job.
Maxwell believes it's important for employers to offer women that sort of flexibility and support, but men and women shouldn't be treated like "chalk and cheese".
"I think it's about empowering women and making sure that they can pursue their careers and they're able to take that next step," she says.
Many people don't know what's going on in the personal lives of their colleagues and acquaintances. When Maxwell's story about raising two children on the autism spectrum while working full-time was shared on LinkedIn, she received an outpouring of appreciation and support.
"A lot of people look at you … and think that your life's wonderful and hunky-dory, but little do they know that a lot goes on behind the scenes," she says.
A little bit of compassion, patience and understanding goes a long way.