Good times are coming to WA after years of population slump

Families are moving to Western Australia, increasing rental demand and discretionary spending
Broker donates portion of funds to combat violent crime

His team was able to raise $20,000 over the last 18 months
SPECIAL REPORTS
2018 Commercial Lenders Roundtable
Top 10 Brokerages 2018
2018 Brokers on Aggregators
Nancy Youssef's helped budding brokers, aspiring homeowners and communities abroad find a better way forward
In Nancy Youssef's mid-20s, while her friends embarked on Contiki Tours, she walked into a bank and applied for a loan. She had a bit of money saved, but no knowledge of property or finance. All she knew was that she wanted to be financially independent.
"I think I was too naive to be scared," Youssef tells MPA.
She bought a two-bedroom unit in southwest Sydney. One thing that stood out from that experience was the female bank manager who guided her and gave her a crash course on finance.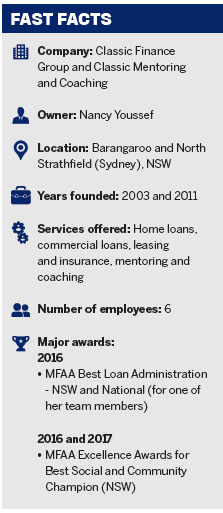 "Coming from an immigrant family from Lebanon, my parents worked really, really hard when they came out here to get where they had. I wanted to work smarter, and so I got into property."
Sometime later, she had a meeting with another bank manager about a refinance. "I was the client from hell," she says.
Youssef wasn't willing to accept the first offer that came her way; she was keen to shop around and find the best deal. She was relentlessly inquisitive. By the end of that meeting, after he'd "had an earful from me", he offered her a job as a BDM.
She told him she had no experience in banking, but he didn't care. "He hired me on attitude more than experience," she says.
It took some convincing but finally Youssef accepted the job. Within the first 12 months she started exceeding her targets.
"It was a whole new world and a steep learning curve," she recalls.
After three years of working closely with brokers and referral partners across three roles encompassing BDM and training and education, Youssef developed a deep passion for education. She realised that, had she known better when she was buying her first property, she would have done a lot of things differently. She knew then that broking was her calling.
"Mentoring is not just fulfilling a requirement; it's investing in [brokers'] growth and development" – Nancy Youssef, Classic Finance
In 2003, and before turning 30, Youssef launched Classic Finance 10 years earlier than she'd originally planned to be her own boss.
She started her brokerage without any entrepreneurial experience and before the establishment of any formal mentoring programs. Brokers at the time weren't willing to part with their trade secrets. "It was very much a tight and competitive industry … There wasn't a lot of room for collaboration," she says.
Youssef learned the ropes by building good relationships with BDMs and other industry leaders who she looked up to. She also networked with professional business owners outside of broking to learn how they attracted clients. Having studied marketing, Youssef experimented with creative campaigns to make her business stand out.
In the first couple of years, while income was lumpy, Youssef took a side gig teaching the Cert IV and diploma courses to brokers. "That was great for two reasons. One, it got me out of the office where it's quite lonely as a solo operator; and two, it gave me insights into how really good brokers ran their businesses."
Youssef ended up teaching the course for six years across three states. Her reputation as both a broker and an educator blossomed.

When the MFAA released its new requirements for mentoring, Youssef was approached about becoming a mentor. Initially she said no. She was too swamped with running her own business, doing everything from broking to bookkeeping. But as her business's 10-year anniversary dawned, Youssef began to ponder a life beyond broking. M
any new brokers were still reeling from the GFC and the introduction of the NCCP Act and were having difficulty staying in the market. "I knew I could do more. I just didn't know what," she says.
In 2011, she founded Classic Mentoring and Coaching, an MFAA-approved mentoring program that aims to empower and teach new brokers how to build and grow sustainable businesses. In the last seven years, Youssef 's program has enrolled more than 130 brokers, many of whom have gone on to receive high praise and awards.
"Mentoring is not just fulfilling a requirement; it's investing in their growth and development. They've got a support network, so when they're going crazy and are about to throw in the towel because it's too hard, they can come in and we talk."