Royal Commission impact will be "far and wide"

An SME lender has voiced concerns about the future of business lending
12 banking trends to anticipate in 2019

Artificial intelligence and attracting multi-generational talent are some of the things we should look out for
SPECIAL REPORTS
2018 Commercial Lenders Roundtable
Top 10 Brokerages 2018
2018 Brokers on Aggregators
How two brokers learned to juggle family, business and turbulent times to find satisfaction and success in different ways
Deslie Taylor and Caroline Jean-Baptiste are two of Mortgage Choice's most successful franchisees. Taylor has been on the MPA Top 100 list five times and wrote $148m in loans last year, which makes her one of the top female brokers in the country. And Jean-Baptiste has won numerous state business awards for her work. She was recently recognised by the 200-strong entrepreneur group Abundance Global as Entrepreneur of the Year and received a Profitability Award.
The Queensland-based brokers are friends, peers and business owners, but when it comes to how they got into broking and their approach to running their businesses, they are anything but alike.
They sat down with MPA to discuss how they grew their brokerages while raising children, and how they each overcame different obstacles to find success and satisfaction in their own ways.
Different beginnings
Jean-Baptiste had been working on a cruise ship in the Caribbean for eight years when an explosion in the boiler room set her life on a new course. She had returned to Australia to try to figure out what to do next when she saw a broker on morning television talking about how she'd donated $40,000 to charity. "I thought, 'Wow, for somebody to do that, there must be opportunity in it'," she says.
The broker made an impression on Jean- Baptiste, who decided she wanted to buy a broking franchise. "I never had a home loan; I didn't know what equity was. I had no idea what I was doing, so I just figured that buying a franchise was a good idea so they could teach me. It meant that I could watch my family grow up. … The appeal initially was the flexibility."
What Jean-Baptiste didn't anticipate was that by buying a business she'd also bought herself a career for the long term – one she ended up falling in love with.
Taylor, on the other hand, got into broking via a much more traditional route. She'd been working at a non-major bank as a teller and then as a lender for more than a decade when she found herself becoming increasingly frustrated by the lack of emphasis on customer service and the limited solutions she could offer her clients.
"Every small business owner experiences this overwhelming sense at some point in their career where they ask themselves, 'Is it worth going on? I should just pack up and sell'" – Caroline Jean-Baptiste, Mortgage Choice
"The bank was so driven by profit; there was absolutely no appreciation for the customer service and the customer at the end of it," Taylor says. "At the end of the day, I was working 12- to 14-hour days at the bank and all they were worried about was the bottom line." There were times when she'd still be at work at 6pm taking calls from her boss who was out playing soccer with his mates while her children were at home doing their homework with her over the phone or taking the washing off the line and preparing their own dinner.
"There was no balance," she says. Taylor was so overworked and under-resourced that she often wouldn't be able to return clients' calls until late in the evening after they'd already tried to get through to her three times.
That poor standard of customer service didn't sit well with her moral compass. She figured the only way she could provide the customer experience that she wanted was to buy her own business. After researching different franchise models for six months, she finally settled on Mortgage Choice because it paid the same commission rate no matter what was offered by the lender, which she felt eliminated conflicts for the broker.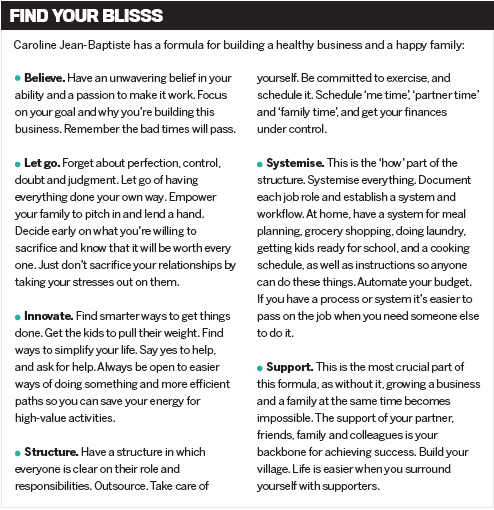 The middle years
While Taylor and Jean-Baptiste started their brokerages for similar reasons – they desired flexibility and a business they could call their own – they encountered very different challenges.
Like most brokers, they both started their businesses from home.
After just a year, Taylor's business was already growing quickly. She outsourced processing and hired a part-time staff member. After seven years of running her business from home while raising three teenagers, and becoming far too comfortable wearing active wear when she wasn't at meetings, Taylor decided it was time to move out.
"It got to the point where my husband would come home from work and it was like he had five wives," she says.
Jean-Baptiste spent 11 years working from home while raising four boys under 11. Having grown up in a self-employed household herself, she knew how to create some separation between her personal and professional life. Working from home gave her the flexibility to set up a strong business while also doing the daily school runs.
But eventually it also became too big an operation to contain at home. "I had a broker, a packager, a processor and a marketer at home, so we had to move out. There were four people at home, plus me. So I didn't have a desk to sit at," she says.
After Jean-Baptiste moved her business and her staff to a shopfront in Fortitude Valley, some team issues began to emerge. A pivotal staff member started going through some tough stuff personally, and it began affecting her performance and behaviour at work. That negative energy seeped through the entire team. Jean-Baptiste had to make the difficult decision to let her go, despite her loyalty and hard work over the previous four years.
"My entire staff changed within three months. It was an awful time. I had to change the culture," she says. She realised then that, in order to safeguard her business for the future, she needed to remove the risk of losing pivotal team members and their corporate knowledge. She ended up hiring two staff members in the Philippines for half the cost of an Australian worker.
"It felt like [my business] was imploding at the time; but the customers wouldn't have known," she says.
For Taylor, growing her business from a one-woman band to a team effort brought its own set of challenges, mainly in letting go, relinquishing some control and delegating tasks. At the same time, she was trying to steer her daughters safely through their teenage years. She soon realised that trying to be everything to everyone was unsustainable.
"The bank was so driven by profit; there was absolutely no appreciation for the customer service and the customer at the end of it" Deslie Taylor, Mortgage Choice
"When my son finished Year 12 – he's the youngest – I remember driving down the highway, and I had this overwhelming sense of relief. It was like a wave coming over me. My shoulders laid back and I remember feeling like, 'Wow, I've done it. I've got all these kids through school. I no longer have any dependants on me'. But soon after that, I had this feeling of dread that I was not enough for them," she says.
Taylor started questioning whether she'd been present enough for them during their childhood. "I had this overwhelming sense of dread in regard to that.
"It was a regret. When I delved deeper into my emotions, it was that level of presence. So when I thought about how present I am for my kids, then I considered how present I am for everyone in my life. And unfortunately I think anyone who is in the corporate environment would suffer [from not being present enough]."
Jean-Baptiste is one of those rare and unusual business owners who has tried not to become consumed by work. "The reason I bought this business was for my family, and everything I do is for my family. So if I allow work to become more important than the reason I'm doing it, then it just becomes a little too transactional.
"I don't think it's a very healthy attitude for me to have to always want to work," she says.
But as hard as she tried to keep work from affecting her mood at home, she admits that last year it did get to her as she was making some structural changes within her business.
"I remember shouting at my oldest son, and I just thought, 'What am I doing? I'm allowing work to take over all my emotions. I didn't like the person that I turned into," she says.
"It's so hard being self-employed to really separate yourself. You can't just close the laptop up and go home; you have to deal with all of the things that are going on in the business. … I think every small business owner experiences this overwhelming sense at some point in their career where they ask themselves, 'Is it worth going on? I should just pack up and sell'."
The future
Taylor and Jean-Baptiste have both been in the industry long enough to see how the market's changed and evolved. Women brokers and business owners are more prevalent; paperless processing – which Jean-Baptiste adopted early on – is now standard; and brokers are now the avenue of choice for most consumers for the very reasons that prompted Taylor to leave the bank.
During their careers, both learned how to take risks, overcome their doubts and prevail through turbulent times, offering hope and inspiration to others who are going through that now.
Reflecting on the challenges ahead, Taylor believes broker businesses will become even more important.
"We just need to move with the times and adapt accordingly and make sure our businesses are buoyant."