An unexpected risk of broking

This broker experienced firsthand the need for a client's renovation finance when he came to do the doc sign up
Open banking and the future of broking

A combination of open banking and best interests duty could help to bolster the broker proposition says FBAA managing director Peter White
SPECIAL REPORTS
2018 Commercial Lenders Roundtable
Top 10 Brokerages 2018
2018 Brokers on Aggregators
While the HomeBuilder scheme intro-duced by the government is already seeing interest and has been welcomed by many, there are concerns that the effect of the stimulus may not meet expectations.
The government announced its $688m HomeBuilder grant in June, offering select owner-occupiers $25,000 towards the cost of building or renovating a property by the end of 2020. According to the government fact sheet, "HomeBuilder is a time-limited grant program to help the residential construction market to bounce back from the coronavirus crisis".
HomeBuilder complements Australia's First Home Loan Deposit Scheme and First Home Super Saver Scheme, as well as existing state and territory first home owner grant programs, stamp duty concessions and other grants, and data shows an increase in enquiries from first home buyers.
Aussie CEO James Symond welcomed the HomeBuilder scheme but said it was important for potentially eligible borrowers to speak to brokers to understand their finance options, particularly considering the range of conditions and timelines imposed by the grants.
He said Aussie brokers had experience with schemes like this and could take the time to get to know a customer's specific situation and decide whether this option was right for them.
"It's important for eligible customers not to hesitate, but also not to rush in without understanding their financing options. Taking up the scheme could involve refinancing, which brokers can help customers navigate," Symond said.
"Since the HomeBuilder scheme was announced, we have seen a spike in enquiries from first home buyers, and those who have already been saving for a deposit and are primed to buy are likely to commit to a property purchase within the next six months."
Mortgage Choice also saw a "surge" in enquiries after the scheme was announced. CEO Susan Mitchell said based on the interest so far "the scheme will be in high demand", but it was hard to say what the impact would be.
"Customers run the risk of rushing into land contracts because of a limited supply of opportunities without all the facts" Susan Mitchell, Mortgage Choice
"The scheme has been designed to stimulate the economy and construction in the short term, but we don't see it having a long-run impact on demand for property other than bringing some consumer demand forward," Mitchell said.
She added that brokers would play an important role in helping borrowers under-stand the scheme, warning that a rush to make decisions could leave borrowers worse off.
"The last thing we want is for borrowers to be left short of funds because they expected the grant, or the customer doesn't qualify for a sufficient loan amount to complete the build."
With lenders' loan processing times backing up, Mitchell said brokers may also need to recommend lenders based on the customer's exact situation. If a borrower needs to transact quickly and secure land sooner rather than later, brokers will need to find a lender that can turn the application around fast enough.
"The other issue with the tight time frame is that customers run the risk of rushing into land contracts because of a limited supply of opportunities without all the facts," she added.
"We could also see prices rise on existing land packages available for sale, and customers who were in approved build contracts before the government announcement may be reconsidering their previous plans to build and seek alternate pathways to now qualify for the scheme."
"Where this policy may create additional construction lies in the fact that it is pivoting decision-making from established property to new housing" Eliza Owen, CoreLogic
In a recent post, property expert Michael Yardney also commented on the short time frame being a flaw.
"While I appreciate what the government is trying to do in kick-starting the construction industry to help the economy bounce back, the reality of building and renovating is that it's never a quick or easy process," he said.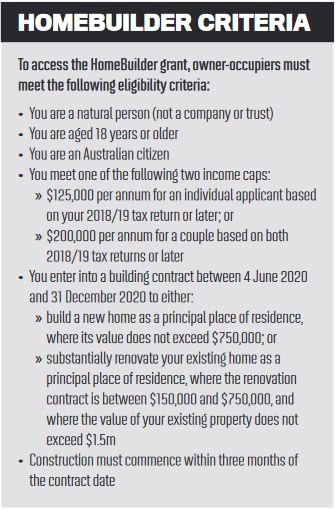 Beyond the time limits, Yardney said the scheme also missed the mark for "those planning a knock-down/rebuild in the inner suburbs", where property values tended to be over the $750,000 limit. Additionally, the minimum cost of $150,000 was too high for everyday Australians who weren't already planning a significant renovation.
"A $150,000 outlay is not just the budget for an updated kitchen and bathroom; it's a large-scale renovation or, more likely, a dramatic extension," Yardney added.
"I have a feeling that these projects will be in the minority, and new builds will make up most of the HomeBuilder recipients, which would be much better for the economy and the housing crisis."
CoreLogic has looked at the HomeBuilder scheme to see what the impact might really be. With one of the grant's criteria being that the value of a property to be renovated must not exceed $1.5m and it must also be owner-occupied, CoreLogic estimates that there are around 4.4 million owner-occupied homes across Australia with a high confidence valuation below $1.5m, but the government says the scheme may only support about 7,000 renovations.
Echoing the comments of Yardney and Mitchell, CoreLogic's head of research Australia, Eliza Owen, said many had noted that the policy would largely create stimulus for those who were planning to build or reno-vate anyway. So, instead of creating additional work, it may just bring it forward, producing what Owen called "a vacuum effect".
"It reflects a surge in buyer activity soon after housing grants are made available and a significant drop in activity thereafter," she said. "The implication is that rather than stimulating sustained new demand, stimulus is simply bringing forward activity to a certain date, where it would likely have occurred over time anyway."
She added, "However, where this policy may create additional construction lies in the fact that it is pivoting decision-making from established property to new housing, likely to be skewed towards house and land projects."