New fintech lender answers calls for home loan alternative

The co-founder wants to help Aussies pay off their mortgages
Young broker breaks through industry despite pushbacks

A client he successfully helped told him to get grey hair to gain advantage
SPECIAL REPORTS
2018 Commercial Lenders Roundtable
Top 10 Brokerages 2018
2018 Brokers on Aggregators
How brokers can make the most out of the ban on flex commissions
FOR LIBERTY, the company's long-term success as a lending business is predicated on trust – between lender, broker and customer.
While the recent ban on flex commissions means that brokers can no longer inflate their commissions by setting an unduly high interest rate, business overall is likely to improve due to the more consistent, efficient, and transparent provision of services.
"By increasing standardisation around pricing, brokers are able to offer motor finance with greater certainty.
Through this transparency, brokers are now better placed to compete with car dealership financiers," said John Mohnacheff, group sales manager at Liberty.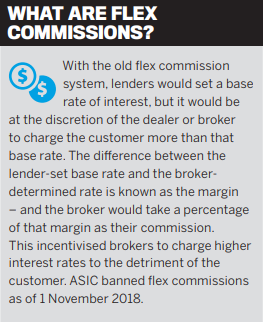 A more streamlined process means more streamlined transactions.
Because lending interest rates will now be determined with reference to a customer's financial position and credit score, time wasted in back-and-forth negotiation will be reduced, and the broker will have more time to explore further opportunities to expand their own revenue stream, as well as provide additional and more precise services to customers.
New fields of financing are opened up.
"With more clarity around pricing, those brokers that have not explored asset and equipment finance can approach it with more confidence.
This makes it easier for them to expand into this new and growing revenue stream," Mohnacheff said.
Importantly, Liberty believes the changes will not significantly impact how motor brokers conduct their business.
All the same considerations apply, although brokers may have to adapt to the increased pace of business.
Mohnacheff said "brokers new to this type of lending should be aware of the speed and efficiency that is required and expected by customers".
While he concedes that the ban on flex commissions may "have a small impact on a broker's bottom line", the increased efficiencies and savings for customers will open up opportunities mutually beneficial to broker and customer.
"Astute brokers will recognise the opportunity this presents to offer other services, like loan protection insurance. This will not only provide another level of service for the customer but help broaden the broker's revenue stream," Mohnacheff said. Sounds like a win-win.
"With more clarity around pricing, those brokers that have not explored asset and equipment fi nance can approach it with more confi dence" John Mohnache , Liberty
How does Liberty help its brokers?
Much as a broker needs to be continually engaged with their customers, Liberty also emphasises engagement and "face-to-face meetings" with its brokers.
That way it can keep brokers informed of all the latest developments and varieties of loan scenarios. "One example of this approach is our current 'Do More' presentations, which brokers are responding well to.
These sessions are designed to help brokers understand how they diversify and best o­ffer their services.
We've also invested in putting more BDMs on the road to make motor lending even more accessible to our broking partners."
We asked if Liberty had made any new innovations in its product offerings.
Although the lender is justifiably proud of its current products, Mohnache­ made special mention of "a new facility for private motor sales which empowers the broker and the borrower to facilitate the loan".
This is achieved in part by identifying "multiple points in the customer journey to increase user-friendly tools to move the deal along", he said.
Ease of use for both customer and broker means better and more efficient outcomes, and, for Liberty, technology is indispensable in the development of its business.
"Technology is playing an increasingly crucial role in the way brokers operate, and that's why we've invested heavily in these capabilities over the past 20 years," Mohnache­ said.
Building broker resilience in the new environment
When asked how brokers might build resilience and diversify their businesses this year, Mohnache­ stressed the importance of the fundamentals.
"Brokers should stop thinking that diversifying is complex or complicated," he said.
"Although experience always helps, the fundamentals are similar, and it's easier than many may think. If you take the time to understand the customer's needs and financial position, then all the broker has to do is work with various lenders to find solutions."
Diversifying isn't a matter of complex strategy, then, but rather a commitment to knowledge, research and big-picture thinking.
One example cited by Liberty is that of Jason Campbell, an adviser at Liberty Network Services, who "has successfully used motor lending to find more residential customers".
Instead of thinking about a loan in isolation, he works hard to understand the customer's overall life situation.
This fosters a relationship between broker and customer, and means that their work together on the initial loan "helps ensure customers return when other financing requirements arise". After all, the "majority of my mortgage clients also have motor loans and other forms of credit", Campbell said. His emphasis on accuracy, transparency, and the constant updating of his knowledge, and his commitment to always "o­ffer better solutions to my customers" is what builds client loyalty, he said. Greater loyalty, more referrals, better business. It sounds like a winning model.
For Campbell, as for Liberty, it's all about trust and the fundamentals.