Working with savvy people: Why this broker prefers complex deals

His team focuses on four areas to achieve continuous growth
Working with savvy people: Why this broker prefers complex deals

His team focuses on four areas to achieve continuous growth
SPECIAL REPORTS
2018 Commercial Lenders Roundtable
Top 10 Brokerages 2018
2018 Brokers on Aggregators
Over the last eight years, Foster Ramsay Finance has established itself as a notable player on Victoria's mortgage broking scene. MPA talks to principal Christopher Foster-Ramsay to find out what drives the business to greater heights
2011 was a milestone year for Christopher Foster-Ramsay. Already a veteran of the finance industry, he decided it was time for a change. Years spent in call centres, then in lending and assessing, had given him a desire to help people, but it wasn't enough.
Broking seemed a natural fit. As someone who enjoyed both working with people and a broad variety of day-to-day challenges, Foster-Ramsay realised he could channel his existing skills in a new direction. And thus Foster Ramsay Finance was born.
"Broking was an emerging area at the time," says Foster-Ramsay. "And I'd found that wherever I worked, I had a need to meet with people day-to-day and work for their benefit. Foster Ramsay Finance was the end product of all of these desires and ambitions."
Today, as the company's principal, Foster- Ramsay has continued to build upon these initial principles to create a company that's geared towards serving the local community.
Working through the elastic market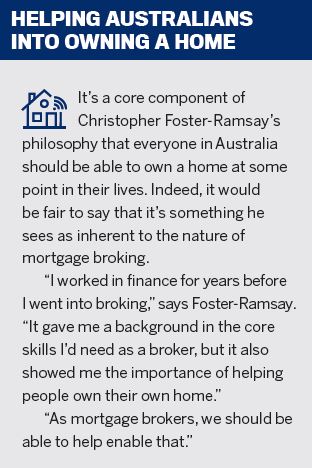 During his time in the business, Foster- Ramsay has come to believe that brokers must be prepared for a wide variety of market conditions. When the company was founded, the housing market was just beginning to emerge from the devastating effects of the GFC, and it's faced any number of changes over the years since.
"Every three or four years there seems to be some sort of major event that acts as a bit of a cleanout in the industry, as well as the normal market ebbs and tides," says Foster-Ramsay.
"The financial services royal commission is one example, but there've been a number of others over the last few years – changes to loaning and licensing laws, for example."
The key to not only surviving but thriving during such times is to have effective policies, processes and people in place within your organisation, he says. Best practice should ideally go above and beyond legislative requirements and be human-focused in order to keep the company relevant even through the most difficult periods.
"The market is elastic – it grows and shrinks," says Foster-Ramsay. "But with the right tools, you should be able to run to its parameters."
He also points out that diversification can be a valuable tool for businesses looking to expand into new areas, but it isn't something that should be done solely for novelty. Most brokers are best served by focusing on their strengths rather than diversifying merely for diversification's sake.
"If you look at our books, you'll see it's primarily owner-occupiers, who are either first home buyers or upgrading the family home," says Foster-Ramsay. "But from there we also get a lot of related referral business – car loans, small business and personal loans. It's been a pretty organic process."
Future risks and rewards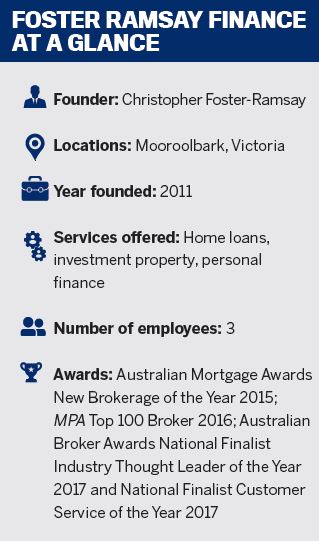 To succeed in weathering storms is also about keeping a close eye on changing market trends and future risks. Foster-Ramsay points to several risks around equity, with homeowners and clients potentially unable to grow their wealth through equity release as loaning agents become more conservative. There are other factors too, especially at a micro level. Living expenses are being heavily scrutinised, and clawback issues remain a major topic of discussion.
"There's also likely to be increased regulation around serviceability, especially in the wake of the royal commission," says Foster-Ramsay. "That will influence lenders' comfort levels around debt exposure too."
Yet he's optimistic, both for the industry and Foster Ramsay Finance. Though he describes 2018 as "difficult", Foster-Ramsay is positive about 2019 – and, perhaps even more importantly, the plans for the firm's future that still lie ahead.
"2018 was all about looking at ways to make the business as efficient as possible, which brings its own challenges," he says. "2019 was about continuing to steer things in the right direction and ensure we were looking after what we'd put in place. For example, we've got a significant rate of referrals for new clients coming from existing ones – we needed to make sure we had systems in place to make sure they were being looked after."
2020, he notes, will be about growth.
"We've had several new hires in the last three months, and more are scheduled for the coming months," says Foster-Ramsay. "We've funnelled extensive resources into developing the business so we can fully realise what we've been building over the last two years."