A snapshot of the broking industry

An overview of the figures in the MFAA's latest Industry Intelligence Service report
Create the right cultural expectations to get the most out of your team

Workplace culture has more influence over behaviour than many think, writes Ross Judd
SPECIAL REPORTS
2018 Commercial Lenders Roundtable
Top 10 Brokerages 2018
2018 Brokers on Aggregators
Mortgage broking has traditionally been a siloed profession, focused primarily on property rather than finance per se. But Ben Kingsley of Empower Wealth believes brokers of the future will be geared towards helping build wealth far more broadly
BACK IN 2007, Ben Kingsley had a vision – a brokerage that could serve as a holistic firm, providing buyers with specialist property investment lending while also acting as a wealth advisory firm. With experience running a broking franchise, as well as years spent in sales and marketing, Kingsley was confident he could bring his combined skills to bear in tackling this new challenge.
"Essentially, we wanted to be able to do the lending and provide advice to clients simultaneously," Kingsley explains. "We had visions of financial planning and acting as buying agents, but we thought it was probably best to get the broking aspects right first!"
Empower Wealth was born out of this vision – and almost 13 years later the company has expanded its services to encompass all of those initial goals and more. Today, its clientele are primarily made up of investors who are looking to make their mark in property and build their wealth in the process.
"We've got a lot of repeat purchasers who are expanding their portfolio," Kingsley says. "Those who don't fall under this umbrella are usually referrals from our investor clients, though. Sometimes they're looking to refinance, or maybe to buy a family home."
"A mortgage is just one part of a person's wider financial solution or solutions, and we need to make sure that we're offering a better value proposition for people accordingly" Ben Kingsley, Empower Wealth
Given that Kingsley also sees Empower Wealth as a wealth-building and financial transformation consultancy, not simply a brokerage, the focus has been mainly on residential property, rather than commercial.
"We want to help households organise their money and invest wisely," says Kingsley. "We want to be as reliable as possible on our returns, so that means we naturally gravitate in that direction. Residential properties are always going to be essential – people need somewhere to live, after all."
Since Empower Wealth was founded, Kingsley feels the industry has matured and the average consumer is much more educated about how the market operates and the role a broker plays in the process.
"In 2004, when I first got into broking, you had to explain what a broker was, how they worked with lenders and how they got paid," says Kingsley. "But these days over 60% of home loans in Australia are carried out via brokers, so we have a much greater presence in the public eye."

That said, Kingsley is swift to point out that while consumers have a better baseline understanding, the complexity around mortgages has also expanded. Offset accounts, redraw, introductory rates and fixed versus variable are still cryptic concepts to many.
"When you look at the best interests duty legislation that's being implemented later this year, it's clear that we need to look at mortgages much more holistically," Kingsley says.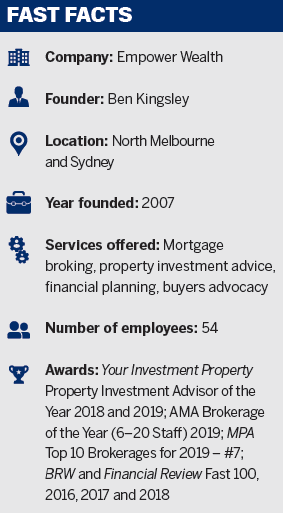 At a very basic level, this means looking after the customer by keeping eyes on factors such as interest rates and ensuring they have the most competitive rates possible. But the wider value propositions that brokers offer need to be enhanced for brokers to truly be effective in the new marketplace.
"A mortgage is just one part of a person's wider financial solution or solutions, and we need to make sure that we're offering a better value proposition for people accordingly," Kingsley explains. "It's going to put more pressure on brokers, though – how can they get into those conversations?"
Kingsley believes that trends like open banking and the attendant tech that grows around it will be among the key drivers. More data will flow around managing money and finances, enabling multifaceted financial services agencies to thrive. The future of broking, as Kingsley sees it, will be about attracting customers into a wider financial ecosystem – an end-to-end experience that he likens to a smartphone's operating system.
That future isn't quite here yet, says Kingsley, but it's something that will prove to be exciting for customers and brokers alike when it does arrive. It will need to provide customers with an entertaining experience at the front end, while also fulfilling crucial needs at the back end. The power of automation will enable customers to focus on the larger, more pressing issues, while the rest is handled in the background.
"Data's the new oil, as people like to say – so how can we use that data to provide clients with insights that will help impact their financial behaviour positively?" says Kingsley.
"Wealth transformation starts by grappling with surplus. If we have tools that enable us to look at a client's surplus more holistically in the context of their family situation, that gives a better foundation to look at where they can best use it for building wealth."