Commercial Lenders Roundtable

Representatives from across the commercial lending space joined MPA to talk about the market, how they're working with brokers, and the opportunities moving forward
Commercial Lenders Roundtable

Representatives from across the commercial lending space joined MPA to talk about the market, how they're working with brokers, and the opportunities moving forward
SPECIAL REPORTS
2018 Commercial Lenders Roundtable
Top 10 Brokerages 2018
2018 Brokers on Aggregators
New research shows that small businesses have a positive outlook for the year ahead, but BizCover's Michael Gottlieb says it is important to do a health check on the business to avoid being underinsured
Small businesses are looking at the year ahead with a much more positive outlook than in the last 12 months, but as they make plans to expand it is important that they ensure they are prepared for any risks.
According to the recent BizCover Small Business Bravery Index, about 60% of small businesses interviewed predicted a better outlook for 2019 than in the previous 12 months.
While findings from the index point to a variety of reasons for this optimism, changes to internal resources were a key contributor. These could be attributed to expansion within businesses, which are hiring new staff and using online tools to save money and time.
At a macro level, the federal election in May discouraged small business positivity during the first half of the year. Now the election period is over, BizCover CEO Michael Gottlieb says businesses can look forward.
"The main concern was the lack of stability, clarity and continuity of policy. After the election, I'm extremely hopeful we will see the beginning of a government providing an environment of certainty, which hasn't been the case for years," he says.
The report also showed that 30% of small businesses that were looking to grow saw demand from customers – or the lack of it – as a major constraint. Eighteen per cent said price pressure from competitors was a constraint, 15% mentioned rising overheads, and 14% cited government charges and taxes.
When asked what the biggest concerns were, the two answers that came out on top were building the business/new customers (39.75%) and cash fl ow (30.21%).
Cash fl ow is a resounding area of concern across the small business sector, and many of the respondents to the survey called out problems with unpaid invoices. A recent study by the Australian Small Business and Family Enterprise Ombudsman found that it takes, on average, 36.7 days for a small business to have an invoice paid.
One small business owner surveyed in the index said tighter lending policies after the royal commission were a concern, as this affected client cash flow and borrowing potential. Gottlieb says this is where mortgage brokers can step in to help their small business clients.
"Among different industry sectors, over half of all business owners felt confi dence in their product or service first and foremost. The lesson here for brokers is that to connect with your customer you need to understand their value proposition and the unique selling point of their business to build rapport," he says.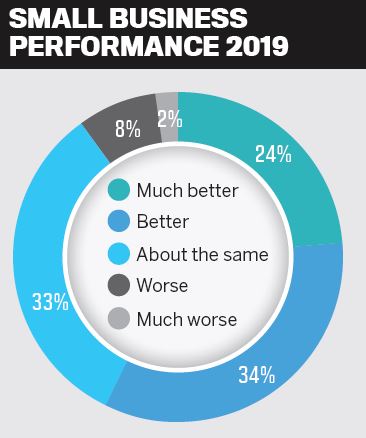 Many of the concerns raised by businesses in the report, as to what might affect their performance over the next year, may also be shared by mortgage brokers hoping to grow their own businesses.
Gottlieb says risk management is inherent in running a business, and professional indemnity (PI) insurance can provide finance and mortgage professionals with some financial protection.
This insurance protects small businesses in the case of claims against the business for losses due to actual or alleged negligent acts or omissions in the provision of their professional service or advice. PI insurance will also assist with the legal costs associated with responding to or managing claims that are covered by the policy.
"You don't need to buy all forms of insurance, apart from compulsory coverages, but you must purchase insurance to cover you when the financial risks of being uninsured are too large for you to manage," Gottlieb says.
According to the index, just less than 1% were worried about being underinsured. While Gottlieb says it is concerning that small businesses don't see insurance as a major worry, he says it is not surprising when looking at the statistics on a national level.
"To connect with your customer you need to understand their value proposition and the unique selling point of their business to build rapport"
Underinsurance is a bad habit of most Australian businesses. The Insurance Council of Australia has found that almost 20% of small businesses aren't insured for the amount their assets are worth, and 13% don't have any insurance at all.
Gottlieb says, "We believe the best way for a small business to avoid being underinsured is to do a health check on your business. Have you recently added more employees? Expanded your product or service offering? Or increased your revenue? What is the true value of your asset holdings? As your business grows, so does your risk profi le, so it's important to review your cover, just like you would review your finances."
Insurance is particularly important for businesses, even mortgage brokers, as they look to expand, because there is a huge risk in playing catch-up with policies.
It is important to insure a business against the kind of events that have the singular power to fi nancially ruin it, says Gottlieb.
"As your business grows and your investment becomes more and more signifi cant, the amount of risk you take on can increase exponentially. Insuring against expensive legal claims should be a major priority and your starting point. From there, it's in your best interest to do a full risk audit and decide what other special insurances your business needs."