Pour the "cup of frustration": How to handle irate customers

And separate the reasonable from the unreasonable
Pour the "cup of frustration": How to handle irate customers

And separate the reasonable from the unreasonable
SPECIAL REPORTS
2018 Commercial Lenders Roundtable
Top 10 Brokerages 2018
2018 Brokers on Aggregators
Deciding to outsource can be a big move for business owners who are so used to doing it all themselves that they are not sure how to relinquish control. This was certainly the case for 1st Street Financial director Jeremy Fisher, who says he was a "control freak" used to being hands-on and overseeing everything.
But Fisher's business was growing yearon- year, and he had already moved offices three times to keep up with recruiting new staff over the past eight years, so he gave outsourcing a go.
A couple of years down the line, he says he would not look back.
"I was the last person I'd have ever thought would look to outsource. But outsourcing has enabled us to continue to work efficiently and grow our settlement volumes without the additional compliance and paperwork getting in the way," Fisher says.
Wanting to maintain control of his business, Fisher says he rolled out tasks slowly so his team members in Manila could fully understand each process before moving on to the next.
He works closely with outsourcing provider Loanworks, which helps with the day-to-day management of the offshore teams, as well as providing the IT structures, human resources and training.
Loanworks customer relationship manager Jason Goodacre says the control aspect is something brokers bring up a lot, but control is not compromised any more than if the broker hired someone in the same office.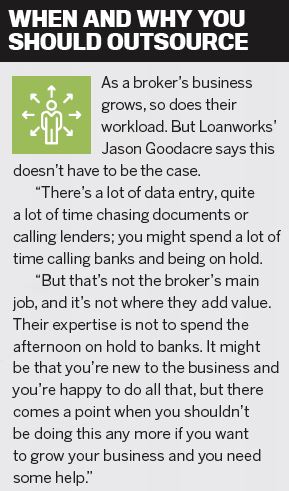 With the broker controlling what tasks to send over and what pace they are sent over at, the dynamic varies from business to business.
"We have clients where the outsource person is just in the background and everything goes through the broker. So the broker is there for that hero moment, first of all when they're meeting the client, presenting different options, and then when their loan is approved," he says.
"The broker is there for those great moments, but there are lots of moments in between which are not client facing. Some brokers do have the outsource person interacting with the clients, others do not, but either way the broker controls that process."
"Where the outsource person is just in the background and everything goes through the broker … the broker is there for that hero moment" Jason Goodacre, Loanworks
Part of the team
While outsourcing can be done on a per-deal basis, hiring a permanent member of staff means they can be trained to fully understand your business and you won't have different people working on different deals.
Melanie Cunliffe, owner and founder of Indigo Finance, also uses Loanworks for outsourcing. She decided to outsource because she wanted to open up more time with her clients and have someone take on the back-end administration.
She says she has taken on some "amazing" and passionate staff, and ensures they feel just as much a part of the team as those based in Australia. Not only are they involved in all the staff messages sharing memes, but she has been to visit them in Manila.
"One of the best things we've done is go over there and spend time with the staff on training, and also getting to know them more on a personal basis and seeing the environment they're working in," Cunliffe says.
She also ensures that her dedicated staff are fully trained so they can go on to train other staff members that join the team.
"For each individual area we built training modules. We had one person initially, and now we use that one person as we're growing the team to train others within the team. There are also some instances where team members in Manila train our members in Sydney."
Not left in the dark
While it may seem daunting to hire someone so far away and trust them with your day-today tasks, Loanworks is on hand from the beginning, right the way through. The group is a specialised outsource provider, so most of its clients are in lending, and it fully understands the various tasks associated with this. It does the initial recruitment of staff, vetting résumés, conducting face-to-face interviews and doing police checks and skills assessments.
Goodacre says Loanworks spends some time training recruits, then the broker meets the potential candidates to interview them like they would anyone else. Once staff have been hired, Loanworks works with both sides to ensure targets are being met and they are staying on track and getting the work done.
"We give our input, but the broker has full control. They have comfort that we're looking after the day-to-day stuff , that everyone shows up on time, that they're productive throughout the day. But the broker can tailor them to their business," he says.