MPA Young Gun hits the ground running

Smartmove's Jessica McLean successful start in the broking industry has earned her a spot on this year's MPA Young Guns list
Prospa bolsters Queensland team with new appointments

Prospa add two new recruits who are hoping to take Prospa to new heights
SPECIAL REPORTS
2018 Commercial Lenders Roundtable
Top 10 Brokerages 2018
2018 Brokers on Aggregators
Jo Croft had always dreamed of becoming her own boss and starting a business. She worked as a teacher at a Sydney girls' school and enjoyed life as an educator but felt she wanted to build something of her own.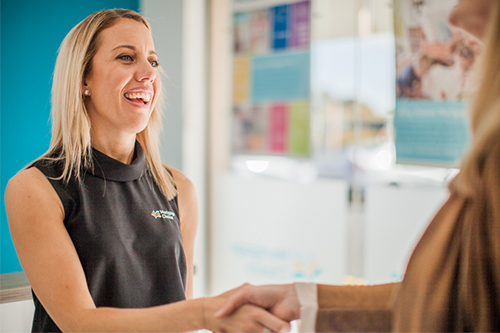 A career and sea change seven years ago now sees Jo using her experience as a teacher to educate her customers through their home loan and finance journeys. It is this hands-on approach that has seen her business grow year on year since she took over from her former mentor and boss in 2016.
Jo's journey to broking
When Jo and her husband Nathan applied for their first home loan using a Mortgage Choice broker in Sydney, they had such a positive experience that Jo thought mortgage broking could be the business opportunity she had been waiting for.
"My husband and I were in the process of buying our first home and we were so impressed with the home loan service we received that I went home and started to do some research into Mortgage Choice," she said.
"It was around this time that my husband, who led a faculty at his school was given the opportunity to transfer to a school in Brisbane. Our son was a baby at the time and we thought Brisbane would be a good place to raise him.
"I was at a crossroads in my life, adjusting to motherhood, moving cities and considering the next steps in my career. I had been offered a role at an all-girls' school in Brisbane but wanted to explore mortgage broking so I met with Ross, Mortgage Choice Queensland state manager at the time to discuss my options.
"Ross was honest with me and answered all my questions and I realised that I should probably learn the ropes of broking before going out on my own and buying a franchise. A week later, Ross reached out to say that a local Mortgage Choice franchise owner, John Harrison in Springwood was looking to hire a broker to work in his business and suggested I meet him and luckily, I was offered a job on the spot."
The next chapter
"I joined the business in October 2012 and we worked together for four and a half years. Over that time, I became really passionate about the industry and our customers. When John made the decision to retire in 2016, I knew this was my opportunity to build something of my own so I made an offer and bought the business.
While taking full ownership felt natural, Jo admits it was not without its challenges. "It was wonderful having someone I could bounce ideas off of and someone with whom I could workshop loans, so working on my own was definitely an adjustment.
"Not only am I writing loans and meeting clients, I have to run a business, ensure the needs of my staff are being met and morale is high, which isn't always easy. Running your own business can be really stressful but I make an effort to leave negativity at the door because it's my responsibility to keep a positive atmosphere in the office and keep my staff engaged.
Mortgage broking and teaching
Teaching and broking are surprisingly similar, says Jo. A significant proportion of Jo's customer base are first time buyers who have never been through the home loan journey and rely on Jo to educate them through the process.
Jo says the role of education in the home loan process is more important than ever. "The complexity in the lending environment means that some borrowers need their hands held through every step of the process. Ultimately they're trusting you to help them make one of the biggest financial decisions of their lives, which is why I feel an immense responsibility to establish a sense of trust.
"The other day I sat down with two first home buyers for our first appointment, which lasted about an hour and as we neared the end, I asked them if they had any more questions or if there was anything they felt we hadn't covered during the appointment and one of my clients said 'Did you know you'd make a really great teacher?'
"Eight months ago, I met with a couple who wanted to buy their first home. They had no savings and didn't service for a loan so I helped them come up with a plan to save a deposit and told them I'd be checking in regularly. I'd call them once a month and ask them how they were going and just the other day I submitted their first home loan application, which was incredibly rewarding.
"I pride myself on educating my clients. It's not just about finding a loan for the customer and sending them on their way, I take the time to educate them throughout the process so they leave the office feeling empowered to make informed decisions with their finances down the track," said Jo.
Women in broking
Jo has an all-female team, which consists of her, Michelle a Loan Processor and Nicole, Office Administrator and Assistant to Jo. While an all-female team wasn't a deliberate choice on her part Jo says she is process driven, detail oriented and prides herself on her ability to communicate effectively and it's no coincidence that Michelle and Nicole share the same work ethic.
"It's really important to me that our customers feel they are kept up to date at every stage of the home loan application process. We have a clearly defined system, which means we regularly touch base so they know how their loan application is progressing. If my customers have to call the office, we aren't doing our job properly.
When asked if she feels that mortgage broking is a good career for women, Jo says, "if you plan to work in this industry and you have a family you are going to need a strong support network around you if you want your business to succeed. I often work long days and after hours, which I couldn't do without the support of my husband. When we decided that I was going to transition from loan writing to buying the business, he moved from management into a teaching role, so that he could be at home with our son if I needed to work back late.
"Monday to Friday we have a rule where I can work as many hours as I need to get my work done but come Friday evening I have to switch off unless there's something absolutely urgent that requires my attention.
Outside of work Jo is a passionate dancer and is part of a Physical Culture group with her girlfriends. "It's something I love, it keeps me fit and healthy and it's a great release," said Jo.
Advice for those thinking of buying a franchise
"If you're like me and you have never worked in the industry, I think it's really important that you get some work experience shadowing a senior broker first. Get to know the job and the industry so you know what you're getting yourself into because it's a big commitment.
What the future holds
Looking ahead Jo wants to spend more time in her second broking office in Kingscliff.
Jo also recently partnered with another Mortgage Choice broker, Dawn Courage and financial adviser Sue Cavill to start a Mortgage Choice Financial Planning practice. "I'm passionate about ensuring that my customers' full financial needs are being met and it's wonderful to partner with other professionals who see the world in the same way," Jo said.
Related stories:
Youeil Shol making his mark in the Sunshine State
New aggregator manager on broker brands and a positive 2020