AFCA receives over 6,000 complaints in first operating month

Common complaints include decisions made by financial firms on responsible lending
What is the value of a Top Broker's time?

A simple calculation will help you decide when it's time to hire staff or outsource tasks
SPECIAL REPORTS
2018 Commercial Lenders Roundtable
Top 10 Brokerages 2018
2018 Brokers on Aggregators
With 2018 drawing to a close, Connective's Mark Haron shares his thoughts on the current state of broking
2018 has been difficult, often frustrating year for the broking industry. With the shadow of the royal commission looming large, it's been easy to feel that more positive accomplishments have been overlooked in the wake of bad press. Nonetheless, Mark Haron, director of Connective, believes there is still much that can – and should – be celebrated.
"I believe the industry has really done a lot of fantastic stuff, particularly in the last 12 months," he says. "We've come together as a profession to address concerns, close loopholes and tighten things up to make sure that brokers can deliver good customer outcomes more effectively."
Of course, there are still numerous obstacles to be surmounted. The final report from the royal commission has not yet been released, and accordingly its recommendations still remain unknown. But Haron believes some educated guesses can be made – commissions and other financial incentives are likely to undergo further scrutiny by regulators moving forward, due to the potential they present for conflict of interest.
Additionally, compliance and governance are likely to remain contentious issues. The banks will probably feel the most pressure in this area, but there will naturally be a flow-on effect on other players in the field.
"I think as brokers and aggregators we have to be more diligent about the brokers we are bringing into the industry" – Mark Haron, Connective
On the surface, this seems understandable. The relationship between aggregators and brokers is a symbiotic one, and a certain amount of shared responsibility around ethical behaviour should be expected. Realistically, though, ambiguity remains around how much responsibility one party can reasonably be expected to take for the other. Ideally, ASIC – which is responsible for granting licences – should include this as part of its vetting process, but Haron seems to think that's unlikely.
"It's going to mean increased scrutiny and monitoring of brokers by aggregators, irrespective of what else happens," Haron says. "At the moment, it seems as though APRA is telling the banks that they need to make sure their partners are acting appropriately. So that's created another layer of duties for aggregators, cascading down to the brokers too."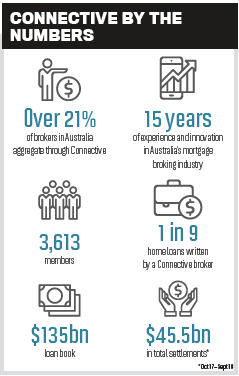 It's an inefficient solution and Haron hopes this will be rectified in the future – possibly when the final recommendations from the royal commission's report are released in early 2019. Connective has advocated for greater automation as part of this process, rather than requiring brokers to produce dozens of fi les each time a review needs to be carried out.
"As aggregators, this is going to become a very important function," he says. "From Connective's point of view, our system is much more effective for handling a variety of those functions. We want to have less physical impact on the brokers, and make compliance and oversight much easier."
Once the final recommendations have been released in the report, Haron feels that work will still need to be done to safeguard the long-term future of the industry. Restoring public confidence is crucial.
"I think as brokers and aggregators we have to be more diligent about the brokers we are bringing into the industry," he says. "And if we uncover more issues, they need to be dealt with swiftly." Importantly, there are already signs of improvement: brokers have already begun to show signs of increased conservatism around prospective clients and loans. There is greater diligence, and the broking industry is working ahead of the banks themselves to avoid the issues and bad habits that sparked the royal commission.
"Customers are looking for a better standard of service around their fi nances. Brokers who are focused on customer outcomes are in a much better position to provide that service" – Mark Haron, Connective
"There has been a little bit of overcorrection on the broker's part, and that's got to settle down," Haron says. "But that just suggests that the brokers are doing their job well. Some of the banks are yet to implement their own tougher lending requirements, which is really just another example of how the banks are letting us down a little bit."
Haron believes that these measures have left brokers well positioned to continue building their businesses. Irrespective of larger developments, people will need mortgages for the foreseeable future. With the complexity of seeking loans through the banks increasing, Haron stresses that it's now more important than ever for brokers to step up and make sure corners are not being cut.
As the year draws to a close and 2019 dawns, Haron believes this remains a source of optimism for the industry. Customers will be looking to organisations they feel they can trust, and those who provide a high standard of service and stand up to scrutiny are well placed for success.
"Customers are looking for a better standard of service around their finances," Haron says. "Brokers who are focused on customer outcomes are in a much better position to provide that service."