A snapshot of the broking industry

An overview of the figures in the MFAA's latest Industry Intelligence Service report
Create the right cultural expectations to get the most out of your team

Workplace culture has more influence over behaviour than many think, writes Ross Judd
SPECIAL REPORTS
2018 Commercial Lenders Roundtable
Top 10 Brokerages 2018
2018 Brokers on Aggregators
After an impressive ranking in last year's Brokers on Banks survey, Bankwest has risen again to take out the gold medal. General manager of third party banking Ian Rakhit talks about the non-major's relationship with brokers
Coming first in the Brokers on Banks survey is always an incredible achievement, but never more so than when the top spot is taken by a non-major bank for the first time. Jumping to gold from an already-impressive second place last year, Bankwest won over the hearts of brokers with its commission structure, interest rates, product range and communication.
But the bank's general manager of third party, Ian Rakhit, says it's the team and the collaboration between many parts of the business that have resulted in this success. With a company strategy of being the 'Best Broker Bank in Australia', all levels of Bankwest are focused on delivering brilliant customer experiences every day; and for this non-major, it follows that the broker is also the customer.
"We aspire to make every customer experience and interaction brilliant, and where we really aim to differentiate is by providing brokers with the ability to grow their own businesses by providing an outstanding customer experience," Rakhit says.
"This means great BDMs supported by teams who have brokers as their sole focus, all delivering a consistently brilliant service in answering scenarios and getting to approval quickly."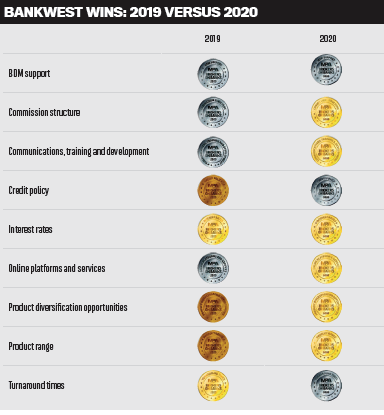 Providing support to brokers
Bankwest has invested in its BDM model, growing its BDM numbers as well as the deskbased support provided by business service managers (BSMs). It has also widened its contact centre support models to cover both
new and existing customers.
As one of Bankwest's BDMs, Michael Ponchard says he knows brokers want to be able to workshop difficult loan scenarios prior to lodgement to ensure the lender is the best fit for the customer. Because of this, he aims to be available face-to-face or over the phone so he can discuss "all things Bankwest" andprovide the right support when they need it.
The non-major has all the technology to make things easier, but Ponchard says it is also important that brokers have easy access to their BDM when they need it.
"Building the relationship and understanding a broker's business are key to ensuring long-term success," he adds.
"I think the challenge in the current environment has been to provide a consistent broker experience during uncertain times. Bankwest has worked hard to ensure we are listening to broker feedback and responding quickly to changing broker needs. From our frontline BDM/BSM team to our Validations and Credit, we are all working hard towards providing best-in-market experience."
Technology is still important, though, and Bankwest scored a gold medal for its online platforms and services.
For the past two years brokers have commended the non-major's broker portal, and Rakhit says Bankwest has continued with "the same passion and focus" to deliver further innovation over the past 12 months, such as a Policy and Postcode Tool and digital contract signing.
It has also extended its pricing tool capability to include existing customer pricing so that a broker can look up their existing customer's details – such as loan amount and LVR – and can reprice in an instant.
"The Bankwest Broker Portal remains a very popular platform; last year the portal had over 177,000 log-ins," Rakhit says. "We continue to invest in digital tools which help brokers manage their businesses so they can focus on delivering highly valued services to customers."
Ongoing relationship-building
While the Brokers on Banks survey is a fantastic way to get broker feedback, Bankwest engages in a number of different forums and sessions with brokers to ensure they are in constant communication. The nonmajor received a gold medal position for its communications, training and development.
Ponchard says communicating with brokers is "critically important" and will vary depending on the broker's business.
"Many brokers like a quick phone call or SMS to provide a simple update; however, where the message is more complicated, a face-to-face visit with the broker is generally best," he says. "This provides the broker with the opportunity to discuss the change and potential impacts on them."
After coming first in this year's survey, the bank is looking at how it can continue its strong relationship with the broker channel.
Rakhit says Bankwest has a program of initiatives to further support its partners. This includes not just strengthening its technology but also understanding what others are offering that brokers value, and providing support and solutions to help brokers deliver greater outcomes.
"Everything we have built in the past few years has been researched with our brokers and headgroups," he says.
"This level of engagement, challenge and support has ensured we have delivered what brokers want. This will continue, and we remain determined to support brokers in delivering great customer outcomes."