How getting businesses "just happens" to this broker

It switched to auto pilot after being in the industry for more than 14 years
2019 Top 10 Brokerages

Despite the challenges of the last year, these brokers have continued to grow
SPECIAL REPORTS
2018 Commercial Lenders Roundtable
Top 10 Brokerages 2018
2018 Brokers on Aggregators
Tim Brown writes about the industry's 'near death experience'
What a difference a week makes.
From near disaster for the mortgage broking industry to almost business as usual.
While we are not completely out of the woods, the future certainly looks brighter under a Coalition government.
I spoke to a number of brokers after the recommendations of the banking royal commission were published, and it was evident that few had thought the commission would recommend the banning of trails, let alone reducing upfronts. So what were the lessons learnt from this 'near death' experience:
• When our backs were to the wall we responded as one unified group with a common cause.
In my time in the industry I have never seen this happen before.
The industry response was phenomenal; even financial planners I spoke to wondered why their industry bodies hadn't responded with the same gusto when their remuneration was threatened.
• We can't be complacent with either side of politics and need to maintain relationships with both parties moving forward.
The MFAA, with the help of the major aggregators, now funds a full-time lobbyist in Canberra to ensure we are in front of the right people when decisions are being taken in relation to our industry. This is the best investment we have ever made.
• As an industry we can never stop selling the services we provide. Broker market share does not grow if brokers are not doing the right thing by their clients, so it was di cult to understand that the royal commission did not ask for an industry representative to speak on behalf of brokers. How could it make conclusions without all the facts?
• It is in everybody's interest to call out bad behaviour. At the royal commission there were examples of a small minority who did the wrong thing by their clients. We cannot turn a blind eye to this sort of behaviour and must call it out when we know it's happening. We need to uphold the highest standards to maintain our reputation.
The industry response was phenomenal. Even financial planners I spoke to wondered why their industry bodies hadn't responded with the same gusto when their remuneration was threatened
• We must support the banks that supported us in our time of need. A number of banks came out to support the role brokers play in keeping the market competitive. Where possible, the industry should support these lenders as our way of acknowledging their ongoing commitment to our industry.
• Get comfortable with new technologies; they can make you much more efficient and help with compliance.
You don't get paid to be good at admin; automate or outsource where practical.
• Diversify, diversify, diversify. I don't know how many times I have stood up in front of brokers and told them you cannot rely on the current level of remuneration. When an industry flourishes, as broking has over the last two decades, you will always come under scrutiny from competitors and regulators. Diversification does not mean just selling insurance (although when trail was removed in New Zealand most mortgage brokers became advisers and started selling life and risk). For me, commercial is still the biggest opportunity in the market and the one most underserviced by the banks. The settlement volumes are twice those of residential, and a number of fintechs are now targeting small businesses with invoice factoring and cash flow lending.
• When I was at Macquarie we had a saying: you need to get o­ the dance floor and look out from the balcony.
The world is changing so quickly, and there are endless opportunities presenting themselves daily for small businesses.
As a small business you have an obligation to constantly educate yourself on new innovations. Industry bodies do a great job of putting on events with speakers who can share with you some of these new and exciting innovations in the finance and property market.
There are also a number of industry publications that can share with you the latest and greatest in your industry.
But learn from others as well. I have often said that some of the best ideas I have ever implemented were someone else's.
• Lastly, have an exit strategy. Consolidation is inevitable, especially with the ever-growing demands of compliance and regulation.
Don't wait for someone to force you down a path with little or no choice. Get on the front foot and determine your own destiny.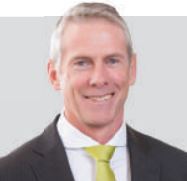 Tim Brown is the head of fi nancial services at Lakeba Group and CEO of Ezifin. He was formerly chairman of the MFAA and CEO of Vow Financial.