How to avoid mental exhaustion

Carson Tate offers three ideas for replenishing your mental reserves
New succession planning model for brokers to consider

A recent partnership has provided an optional exit strategy for one mortgage brokerage
SPECIAL REPORTS
2018 Commercial Lenders Roundtable
Top 10 Brokerages 2018
2018 Brokers on Aggregators
2019 IS a year the finance industry will not forget – one that many have described as the most challenging of their career. But while there's been a great deal of stress and uncertainty, there have been many positives. As I reflect on it, I think about three things.
1. Our customers took a stand– #brokersworkforyou
At a time when there was so much misinformation and confusion about what brokers do, it was our customers who spoke loudest.
Campaigns that were started by brokers, aggregators and industry bodies showcased scores of consumers who were keen to tell their stories of how brokers had helped them. They also expressed that they wanted to continue using brokers without paying a fee. As a consequence, we saw the community, and then politicians, respond by endorsing brokers and the role they play in driving competition.
2. The industry acted as one
Our industry bodies, lenders, aggregators and brokers came together as never before to work out solutions to questions raised by ASIC and later by the royal commission. At the heart of that was a collective commitment to make changes and improve outcomes for the consumer. We have now developed new frameworks that will give customers more confidence when they deal with brokers.
3. We accepted change
When I look back on 2019, I will think about the lesson I learned on how important it is for us to keep changing. We saw signifi cant change in lender credit policies; it took a while to adjust to them. But those brokers who adjusted the quickest prospered. Those who didn't change their processes or approaches struggled. It's a reminder that we need to constantly review and improve our systems and processes. We can't afford to stand still.
As we go into 2020 there are many reasons to be optimistic.
Best interests duty
Under the best interests duty customers will have a choice: to deal with a broker who is legally obligated to work in their best interests, or to deal with a banker who is legally obligated to work in their employer's interest. It's a clear choice that I believe will drive broker share to new heights in the years to come.
Technology
Technology will keep improving and creating new efficiencies and opportunities for quality operators. We are enthusiastic about the opportunities that open banking will bring for customers and the ability it will give brokers to provide up-to-date information to their clients.
Stronger than ever before
Perhaps the best reason to be optimistic is the fact that we have been tested as never before and have emerged stronger.
At Loan Market, our focus will be on keeping our brokers safe, saving them time, helping them grow their businesses, and fi nding and keeping clients.
As the commencement of the best interests duty approaches, we will work closely with our brokers to ensure that our office systems and technology platform consistently deliver outcomes that will prove the broker is acting in the client's best interests. By 1 July 2020, we will endeavour to have a network of brokers who feel safe with the new duty.
We also need to save our brokers time. When you are already so busy, it's hard to hear messages about having to do more. We know that Loan Market needs to help our brokers reduce the time it takes to process loans and run a business.
Part of this is delivered by better technology. For the first time, we now have brokers operating paperless processes in their businesses. We have seen brokers save time by using our online fact-find, Bank Connect, eSign and credit checks, all of which are built into our award-winning platform, MyCRM.
And part of it is driven by more automation in marketing – our brokers can generate partial applications from their websites and social media profi les, and they can stay in touch with existing clients and nurture future ones through segmented, personalised and automated communication programs.
Finally, with all the talk of scale and technology, this business is, and will always be, about people and relationships. I think brokers want to be part of a group that has their back, where they are not just a number and where their opinions and voices are respected.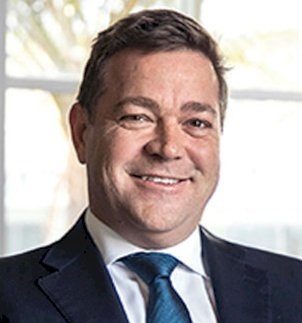 Sam White is the executive chairman of Loan Market. Proudly family-owned and led, it was founded by White in 1995.