How brokers can navigate heightened scrutiny on living expenses

Aggregator's new guide helps brokers "effectively and efficiently" assess borrower expenses and remain compliant
How CCR can help brokers verify and assess borrower expenses

CCR enables brokers to see active lines of credit, credit limits, and how well a customer has been managing their debt
SPECIAL REPORTS
2017 Aggregators Roundtable
2017 Brokers on Non-banks
2017 Brokers on Aggregators
The CEO of Heritage Bank on the impact of one-size-fits-all regulation and the positives of the royal commission scrutiny
Heritage may be Australia's largest customer-owned mutual bank, but the Toowoomba-based institution is still a small player in the greater banking landscape. And its size is what makes it vulnerable to APRA's one-size-fits-all approaches to regulatory change.
The lender didn't mince words in its submission to the Productivity Commission, criticising the "oligopolistic nature of the Australian banking sector" that gives the major banks too much power to prioritise shareholders over customers. It said APRA had advanced its objective at the expense of competitive integrity, and had put the burden of regulatory change "disproportionately" on smaller ADIs with limited resources to absorb the costs.
"The macroprudential reactions of APRA play to the advantage of the big banks and to the disadvantage of the smaller banks," Heritage CEO Peter Lock tells MPA, referring to APRA's cap on investor lending. "The problem that they were trying to address was of the making of the majors. And APRA quite rightly said it could fix that by introducing caps on investor and interestonly lending, but [it did] not [recognise] the detrimental impact on smaller players with smaller books. Any change of that puts us very close to limit."
Last September, Heritage had to pull out of the investor market for six weeks so it wouldn't breach the cap. Closing up shop on this front for more than a month had a significant impact on the bank's momentum.
"We see people coming in and telling us that they're closing accounts and opening with us, or giving us a go because of the findings of the royal commission"
"At that point we were lending and had very strong mortgage growth across all our sectors, in broker and branch. So in pulling out of investor, that obviously impacts us in the broker market because we had to tell our brokers that we were not lending in that environment," Lock says.
Heritage was upfront with brokers and didn't make any promises it couldn't keep, so it's managed to hold on to brokers' trust and support, but like anything that's stopped in motion, it will take a while to get back up to speed, Lock says.
"When you come out of the market for a little while, then you've got the royal commission being announced, a bit of a lack of optimism or confidence in the market at the moment, and you're seeing heavy media headlines on home prices … coupled with jobs [being made] redundant – confidence is a very fragile thing," he says.
"We will have a slower year in mortgage growth, which in some respects can be pinpointed back to that [APRA] decision."
The 10% benchmark for investor loan growth was effective in APRA's view. In April, the regulator announced its plan to remove it.
Lock says, if APRA does bring it back, the regulator should take into account the range of players in the market and how those measures impact them based on their size.
"I know the regulators are always concerned that they don't want to create regulatory ghettos where the regulation doesn't apply evenly … but we would caution that there is competition in the sector, and very good competition, as proven in the customer-owned banking sector."

A public relations boost
The royal commission hasn't been bad news for all banks. The Customer Owned Banking Association has been proactive about leveraging the swell of attention to showcase its members, launching a campaign to encourage customers to make the switch to one of those alternatives.
According to a poll commissioned by COBA, 17% of respondents said the royal commission had led them to consider changing banks, even if they hadn't done so already.
Lock agrees that the spotlight on the mainstream banks' misconduct has been generally positive for the likes of Heritage.
"The macroprudential reactions of APRA play to the advantage of the big banks and to the disadvantage of the smaller banks"
"In the branches, we see people coming in and telling us that they're closing accounts and opening with us, or giving us a go because of the findings of the royal commission," he says. "I'm not about to suggest that we're being inundated, but there is a trend."
There is a reason customer-owned banks are not being asked to appear in front of the royal commission, he says, and that's because they operate on a very different model than the shareholder-based banks.
Customer-owned banks put their profits back into providing better products and services for customers and the community, rather than paying dividends to external shareholders who might not necessarily be customers. They are also not listed on the stock exchange.
While Lock is happy to see the profile of customer-owned banks on the rise, he's aware that "banking is done on confidence, so you don't want to be dancing on someone's grave".
Heritage and the broker channel
Heritage has been working with brokers for 20 years, but it only established a dedicated sales and origination channel for brokers less than three years ago, says Lock.
The broker distribution arm is headed up by Michael Trencher. By investing in broker infrastructure and its back-office support, Heritage has seen its share of broker-originated loans grow to about 55%. It is now on 18 aggregator panels.
Heritage recently introduced a fast-track home loan approval process for its broker channel. Straightforward applicants can now get approval within 24 hours, with the fastest approval to date taking just 90 minutes.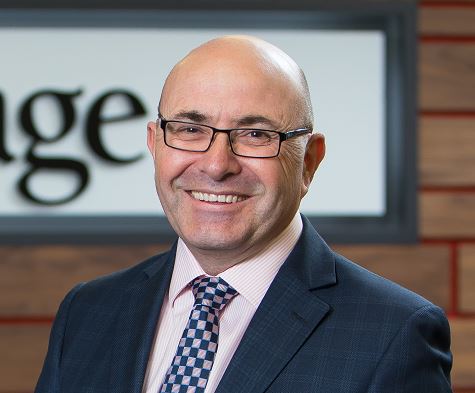 The bank trialled the process in recent months and successfully approved more than 10% of total applications received via brokers.
The new process delivers a better outcome for everyone involved and helps ensure greater certainty and comfort for brokers and their clients so they're not left in limbo wondering when they'll get approved, Lock says.
As Heritage looks to expand the bank's reach beyond its stronghold in Southeast Queensland, its next plan is to increase its branch presence in the eastern states, concentrated in Sydney and Melbourne, where more than half of its broker-introduced business comes from.
"Having that presence around we think will deepen our relationships with our clients that are broker-introduced," Lock says.