An unexpected risk of broking

This broker experienced firsthand the need for a client's renovation finance when he came to do the doc sign up
Open banking and the future of broking

A combination of open banking and best interests duty could help to bolster the broker proposition says FBAA managing director Peter White
SPECIAL REPORTS
2018 Commercial Lenders Roundtable
Top 10 Brokerages 2018
2018 Brokers on Aggregators
No broker goes into business thinking they are going to do the wrong thing, but, unfortunately, mistakes can be made, and they can become costly. Small business insurance provider BizCover offers a number of solutions that are ideal for finance and mortgage brokers, such as professional indemnity insurance, public liability and cyber liability.
In fact, the MFAA requires brokers to have a minimum of $2m professional indemnity insurance with at least 12 months' run-off.
BizCover CEO Michael Gottlieb says that while the overall number of claims against professional mortgage brokers is quite low, when they do occur they tend to be professional indemnity claims centred around a broker making an error or being negligent in the delivery of their service.
"Most claims against brokers are not due to them intentionally doing the wrong thing; mostly they have resulted from a small unintentional error, which can have a large financial consequence," he says.
"In this industry your reputation is important, and regardless of the size of the claim, if you feel that the allegation was false or misleading you will want to fight the claim and make sure that you are defended fairly."
Explaining how small errors can become costly, Gottlieb gives an example of how a broker completed pre-approval for a borrower's loan that involved guarantors. The broker failed to advise the bank that the listed guarantors were also guarantors on another loan; this was discovered by the bank just prior to settlement and resulted in the bank re-assessing the loan, leading to additional fees incurred of around $6,000. The borrower claimed that sum from the broker on the basis that the broker had inadequately advised of options to limit fees.
"Not being insured, or even being underinsured, can be financially catastrophic for a broker" Michael Gottlieb, BizCover
Negligence can be more costly.
"For example, a customer refinanced their home loan on the advice of a broker; however, upon settlement, it was revealed that there were 'breaking fees' charged by their previous bank that the customer was not made aware of," Gottlieb says. "The customer was awarded $50,000, to be paid by the mortgage broker, for the breaking fees incurred for refinancing their home loan. A PI insurance policy could protect the mortgage broker in this situation."
While it is clearly important that brokers protect themselves against situations such as these, they can also benefit from public liability and business insurance for property and contents.
So, what is the difference?
Public liability provides cover in the event that a customer, supplier or even a member of the public is injured or sustains property damage due to the broker's business activities.
"If you are relying on your cash flow to cover [court] costs, your business could come under financial strain" Michael Gottlieb, BizCover
A business insurance package can provide cover for the business assets, including contents, equipment and commercial premises, when an event like a fire, storm or theft occurs.
Something that is becoming more and more important for brokers to take note of is the threat of cybercrime.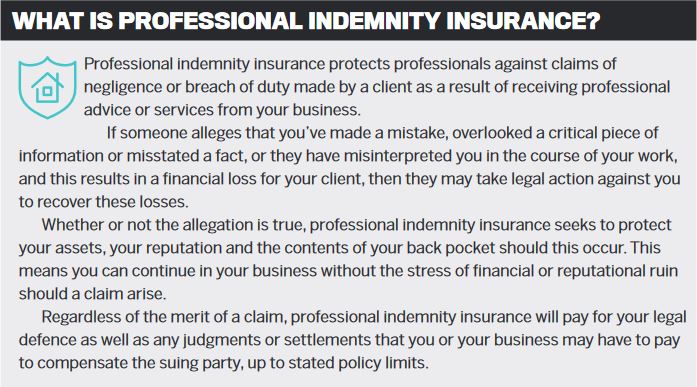 Cybercrime costs Australian businesses around $4.5bn each year, with the average cost of one cyber attack being over $270,000. Brokers, who store large quantities of customer information and rely on online systems and processes, are a potential target.
Gottlieb says brokers should be considering cyber liability insurance to help protect them from claims and support their profitability in the event of a cyber breach or attack.
"Not being insured or even being underinsured can be financially catastrophic for a broker," he adds.
"As discussed earlier, most claims are professional indemnity related claims, and these claims may mean an expensive trip to court with lawyers. Defending yourself in court can be expensive, and if you are relying on your cash flow to cover these costs your business could come under financial strain."
In fact, even if the complaint is found to be untrue, brokers may have to fork out costs.
"This is where having the right insurance comes into play, covering hefty legal costs and any potential compensation, so you can use your cash flow to keep covering your ongoing costs like payroll, rent and day-to-day expenses," Gottlieb adds.
For a broker's business, insurance is vital. Gottlieb says BizCover is a firm believer in not needing to insure "everything", but you should be insuring the things that you or your business could not afford to cover.
"Insurance is one of the few things you spend money on that you hope you never use, because if you are claiming on your policy it means that something has gone wrong," he says.
"Regularly reviewing your insurance is important, not only to ensure you are paying a fair price but also to ensure that your level of cover is right for your business. A broker from Melbourne used the BizCover service to review his professional indemnity insurance and was able to save $500 off the price of his annual policy."
*Savings made in October 2019. As with any insurance, cover will be subject to the terms, conditions and exclusions contained in the policy wording. The information contained in this article is general only and should not be relied upon as advice.