Aggregation manager slams Aussie's direct to consumer product

He says it "de-values the broker proposition"
"Branches offer cheaper rates to direct clients"

Australia's number one broker calls out the differential in pricing between broker and branch
SPECIAL REPORTS
2018 Commercial Lenders Roundtable
Top 10 Brokerages 2018
2018 Brokers on Aggregators
Social restrictions may have eased and the property market may be booming, but the impact of COVID-19 can still be felt. According to research from Finder, nearly one in three home loans is in arrears, meaning around 899,000 mortgages are behind on payments by at least 30 days.
Almost one in five mortgages (18%) are in arrears by 30 days or more, 8% by 60 days or more, and 5% are considered "seriously delinquent" as they are behind by 90 days or more.
"COVID-19 put a lot of households in a precarious financial position," said Finder home loans expert Sarah Megginson, who pointed to unemployment as one reason why people are struggling to keep up with their loan repayments.
The Australian unemployment rate, while dropping, was at 5.8% seasonally adjusted at the time of going to print. The fact that the unemployment figure is falling is not the positive that it seems either. The under-employment rate increased to 8.5% in February. It is considerably higher for females, who have been more affected by job losses during COVID-19.
According to official figures, in May 2020 almost 98,000 fewer university-educated women were working than at the start of the pandemic. This compares to 37,000 fewer young men. Despite that, men are much more likely to be behind on their mortgage repayments than women – 80% of female homeowners are up to date with their repayments, compared to just 59% of men.
Megginson said many were also concerned about what would happen once JobKeeper was wound back at the end of March.
"With some homeowners now only a few missed mortgage payments away from potentially having their homes repossessed, this is no doubt a scary time," Megginson said.
The JobKeeper program has supported more than 3.5 million workers in the past year. According to the ABS in February, more than half of those receiving the support were on the higher payment of $1,000.
Of those receiving JobKeeper payments, 73% reported receiving less income than they earned with their usual pay. With 29% reporting that they were mainly using the funds from the scheme for their mortgage or rental payments, it's no wonder people are nervous about what will happen now.
At a Senate committee meeting in March, Treasury warned that around 150,000 Australians could lose their jobs now that JobKeeper has come to an end. In an interview with MPA last year, S&P Global director, structured finance, Erin Kitson, said the real figures for both unemployment and mortgage arrears were probably being masked by the JobKeeper stimulus and mort-gage relief measures.
Not everyone is struggling with mortgage repayments, however. At the other end of the spectrum, thousands of Australians are actually joining the property market. New home lending ended 2020 at record levels, and interest rates are at an all-time low, meaning people can borrow tens of thou-sands more from the banks without a spike in monthly mortgage repayments.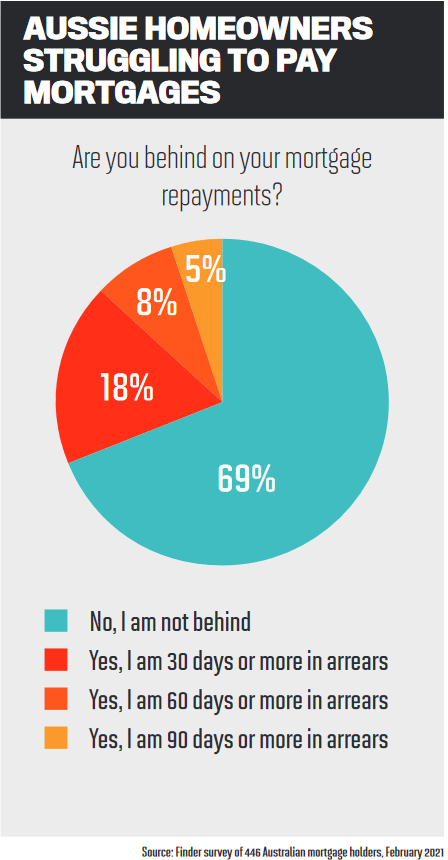 RateCity.com.au reports that the average homebuyer's mortgage repayments have dropped since the previous housing peak in October 2017.
Analysis of owner-occupier interest rates by RateCity and property prices by CoreLogic show that mortgage repayments are now $140 less a month for the average new homebuyer than they were at that time. That's because the average owner-occupier interest rate has since dropped by 1.42%, according to the RateCity.com.au database.
But the falling mortgage repayments are pushing up property prices, said RateCity research director Sally Tindall. "Ultra-low interest rates have put a rocket under the property market, and it's showing no signs of slowing down.
"While low rates are driving current prices north, predictions of up to 20% property price rises over the next couple of years are pushing people to panic buy, Tindall said. "First it was toilet paper, now it's property. People are rattled because they don't want to miss out.
"The reality is thousands of families have already, or will soon, find themselves priced out [of the market], particularly in hotspots such as Sydney and Melbourne.
"While the RBA is unlikely to raise rates to keep a lid on the market this year, the regulator could respond by putting caps on risky lending for some borrowers."
Mortgage rates look set to rise, however. ANZ has predicted that fixed interest rates will creep up. In a research note, ANZ economists Felicity Emmett and Adelaide Timbrell also said they expected property price rises of around 17% across the capital cities in 2021.
"The first half of 2021 is likely to be stronger than the second half," they wrote. "By June ANZ Research expects prices to be rising at a more moderate pace given the end of government programs like JobKeeper and HomeBuilder and a lift in fixed mortgage rates."