"Government has stepped up": The new measures for the Australian economy

The RBA and government made announcements yesterday
How to plan your ideal work week for optimal performance

As more of us work from home, how can you stay motivated and organised?
SPECIAL REPORTS
2018 Commercial Lenders Roundtable
Top 10 Brokerages 2018
2018 Brokers on Aggregators
As loan applications get more complicated for mortgage brokers, MPA talks to NextGen.Net about what the company is doing to help remove the hurdles
SINCE THE royal commission began, the biggest bugbears for mortgage brokers have been the increased turnaround times and extra scrutiny of borrowers' living expenses, but as technology grows and develops these problems should be lessening.
Going into 2020, NextGen.Net knows "there is still a lot of work to do". Last year, the technology group focused on the compliance space as the industry saw changes to responsible lending standards.
Designed around "removing friction from the lending process", NextGen.Net's initiatives included integrating the valuation process into the application, the e-signing of documents, and a new interface for the supporting documents upload.
Chief customer officer Tony Carn says there have also been developments "under the cover", like an API service available to broker groups that enables them to do an assessment with limited data to fi nd the maximum loan amount and available products.
For lenders, NextGen.Net provides bench marking reports so they can manage their consistency, turnaround times and conversion rates, which helps them identify pain points for areas of improvement.
"We've assisted a number of them with better tools to assess loans, verify supporting documents and speed up their time to approval signifi cantly. Ultimately, it ensures that better loan updates are being provided to brokers and their customers as well," Carn says.
Improving productivity
Working hard on improving turnaround times for brokers, Carn adds that NextGen.Net is focusing on getting the quality right at the point of sale, ensuring the data required is provided; that it aligns with the lender's credit policy; and that they have all the right supporting documents.
"I think there's a lot of friction that can still be taken out of that process," he says. But "smart brokers" are already using technology better to drive greater productivity.
"Brokers operate in a highly competitive but also very regulated market, and technology can make that easier and a lot safer," Carn adds.
"So brokers, they want to focus on the things that make them money and drive great customer outcomes. And we want to continue providing leadership to manage the rapid pace of change that they're seeing – and it is a rapid pace of change – and to make that application process easier."
To continue helping brokers overcome the challenges, Carn says one other thing he wants to focus on is education and training.
With the rapid introduction of new technology comes the requirement to invest in training and how to get the most out of it," he adds.
One of the changes brokers will benefit from is document verifi cation services, which lenders will begin to deploy in the first quarter of this year. They will allow the broker to look at identity documents, input the data and have it all validated in ApplyOnline, which is now integrated with a number of federal and state databases covering drivers' licences, Medicare cards and passports.
"That gives the lender the option to say, I actually don't need a copy of those documents because you've said you've cited them, and ApplyOnline has actually verifi ed that they are valid documents," Carn explains.
"That'll be a real game changer to drive better quality and turnaround times."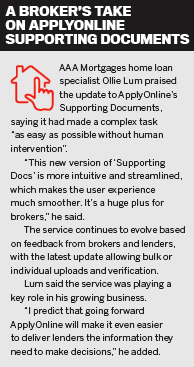 Preparing for 2020
As well as the new document verifi cation service, there are other initiatives the broker industry will be seeing in the next year. These include small initiatives, like calculating lenders mortgage insurance at the application stage, but also bigger ones like open banking.
One area Carn wants to focus on in 2020 is greater investment in managing transactions for customers after their initial settlement with a lender. This means working with lenders and brokers to provide better tools to manage loan variations, so brokers can electronically lodge an application for a product switch, a top-up, a substitution of security, or release of a guarantor.
"We've done a lot of work in driving standards for customer variations, and I think it's a really important thing for the industry to get right," Carn says. "We'll be very much shoulder-to-the-wheel on delivering that message in 2020."
But introducing all these new changes can come with difficulties as brokers work to understand how the new systems work. As a result, NextGen.Net has a dedicated team of customer success managers on the ground to help brokers better embrace the technology it's rolling out.
"There are huge amounts of changes. Lenders across the board are literally doing hundreds of changes on a monthly basis, whether that's to products, the supporting documents they need, serviceability – and the change management and training effectively for that change is critical," he says.
Related stories:
Tony Carn: Keeping compliant
Keeping compliance efficient