An unexpected risk of broking

This broker experienced firsthand the need for a client's renovation finance when he came to do the doc sign up
Open banking and the future of broking

A combination of open banking and best interests duty could help to bolster the broker proposition says FBAA managing director Peter White
SPECIAL REPORTS
2018 Commercial Lenders Roundtable
Top 10 Brokerages 2018
2018 Brokers on Aggregators
It was a recognition of the difficulty that Australians were facing in keeping on top of their money that led to the birth of smart-bank 86 400.
When asked whether Australia really needed another bank to add to the plethora already out there, CEO Robert Bell says, "Not if it's going to be the same as every other bank."
But a bank that looks different, behaves differently, provides different products and services and offers a better customer experience, all while being digital – that's a bank Australia needs, he says.
86 400 was granted its banking licence in July 2019, about a year after its public launch.
Bell was involved right from the digital bank's inception. He came to 86 400 with years of experience in banking – including in CEO roles at ANZ in Japan and the Pacific – as well as with a passion for the role that technology can play.
"We set out about building a bank with a mission to help Australians take control"
"The opportunity to build a brand-new bank from scratch, from the original design based on the customer proposition to getting the banking licence and launching – I've not had a more rewarding or more challenging role in my career so far," Bell says.
Name: Robert Bell
Company: 86 400
Title: CEO
Years in the industry: 20
Career highlight: "Launching 86 400 into the market. I mean very few people in their lives get an opportunity to build a bank from scratch, get a banking licence and launch it."
Career challenge: "I was CEO of an Australian bank in Japan during the earthquakes, tsunami and subsequent nuclear crisis. Balancing customers' needs, the wellbeing of staff, the business performance and family considerations was very challenging."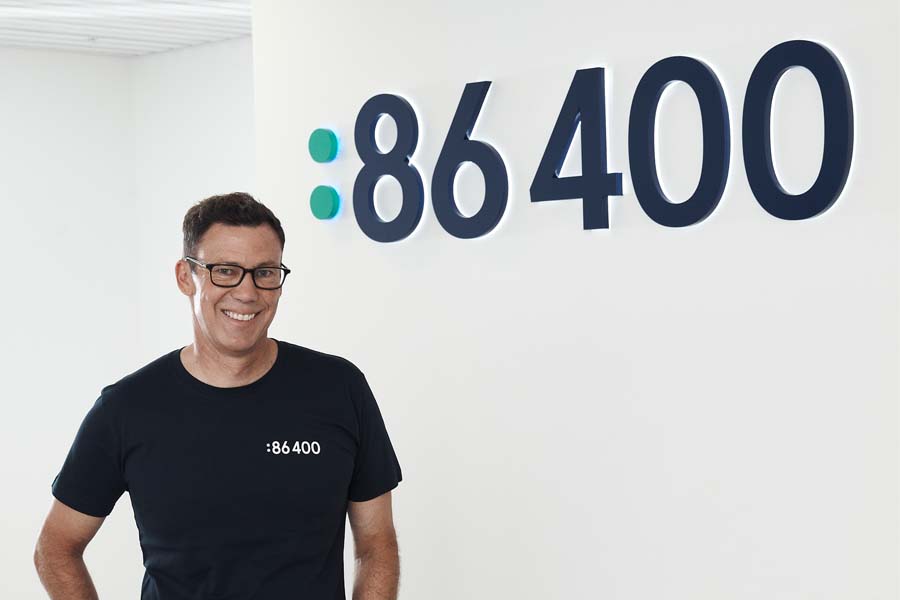 Helping customers take control
Bell was working at payments company Cuscal, which came up with the idea for the bank, and was involved in working on the business case. When he was carrying out research into what the bank would look like, Bell says three things jumped out.
The first was that Australians tended to bank with more than one bank, whether for bank accounts, credit cards or home loans.
"Straightaway banking has become more complicated because you've got multiple banking relationships," Bell explains.
The second was that there is now more money automatically coming out of people's accounts than ever before, with subscription services, memberships and other direct debits.
The third was that, with the option to tap and pay, people are less aware of what they're spending and there are now more transac-tions in a day than ever before.
"The combination of those three things meant that people don't feel in control of their money and often actually feel stressed or worried about money," Bell says.
"So we set about building a bank with a mission to help Australians take control. Our name kind of goes to the heart of that because we wanted to have a bank that helps you look after your money every minute, every second of every day; and there are 86 400 seconds in a day."
To help its customers take back that control, the smartbank allows customers to do things like see all of their balances and transactions for accounts and loans at other banks. It also has a feature called Upcoming Bills that shows customers what outgoings they have coming up. Another feature sends out reminders and alerts to remind customers to put more money into their savings accounts so they can achieve a bonus interest rate.
A unique home loan offering
A big part of wanting to help its customers regain control was being able to offer mortgages. 86 400 launched its home loan products in November last year and announced immediately that these would be available exclusively through mortgage brokers.
"As it stands at the moment, the majority of home loans are written through mortgage brokers, and for good reason"
Bell says it may seem "a little strange" that the bank would choose to go through brokers for such a tech solution, but the reason was simple.
"As it stands at the moment, the majority of home loans are written through mortgage brokers, and for good reason," he says.
"We've used our technology to make the process of applying for a loan really easy for the customer and really easy for the mortgage broker. So they can spend more time doing what we think is the most critical part of the mortgage broker's job, which is chatting to a customer, walking them through their options, helping them understand what they're doing and getting the best result for them."
Instead of a customer having to ask for physical payslips and statements, or needing to physically go to a branch, the whole process is digital. Documentation is delivered digitally, and the bank's smart statements process carries out income and expense verification automatically.
With around eight million Australians predominantly using their mobile phones for banking, the need for brokers to adapt to more technological methods is growing. The COVID-19 pandemic has only accelerated the take-up of new technologies and reinforced their importance moving forward.
"I think the future for fintech is bright. For those who are like us, who have a solid plan, are well capitalised and can move quickly, it's a really good time to be in fi ntech," Bell says.
"I would encourage all brokers to try to use technology. It's a simple business tool that they can use to be more e cient; to give their customers better service and to be able to service more customers."
Over the last several months, 86 400 has been spending time with brokers, helping them understand how the smartbank works, and has employed a full-time head of broker and four business development managers.
During the COVID-19 restrictions it has been able to adapt quickly, continuing to release regular updates to its systems without delays. Being digital already, the fi ntech has also been able to seamlessly move to working from home and running virtual broker training sessions, meaning it can reach a lot more people much more easily. Bell says the online training sessions have been particularly well attended and that once brokers are accustomed to the system, "they love it".
Using mortgage brokers exclusively for its home loan offering is indicative of the bank's outlook on the broker industry. Bell says brokers will continue to be "the perfect tool" for customers for a long time to come.
"The big banks have these programs about restoring trust. I actually think it's reasonable for consumers to not trust their banks," he adds.
"It just makes sense for such big transactions to shop around, to get the right product that suits them and the price that suits them. Mortgage brokers are the perfect tool to help customers with that process."
ABOUT 86 400 86 400 is Australia's first smartbank, built for smartphones. A bank that shows customers what's actually going on with their money, so they feel in control every second of every day. All eighty-six four hundred of them. Led by CEO Robert Bell and chaired by Anthony Thomson, 86 400 became a licensed ADI in July 2019 and launched in September 2019. 86 400 enables customers to connect all their accounts (from over 100 financial institutions) in one place, giving them their full financial picture. It uses smart technology to surface the most relevant information about spending, saving and bills so customers can plan forward, as well as look backwards. Australians can open an 86 400 account in just 120 seconds, giving them great rates, no monthly fees, plus instant access to Apple Pay and Google Pay.Original Article