Josh Frydenberg: It is up to you to embrace the opportunities

"I encourage and urge you to embrace this opportunity…to ensure your very important industry continues to prosper and survive"
The four principles to helping brokers succeed

Loan Market chairman Sam White praised broker engagement at its Hobart conference
SPECIAL REPORTS
2018 Commercial Lenders Roundtable
Top 10 Brokerages 2018
2018 Brokers on Aggregators
After 34 years in the industry, Suncorp's national manager, SME and commercial, intermediaries, has learnt that change and growth encourage people, and businesses, to be the best they can be. Robynne Frost talks to MPA about how the bank is continuing its investment in the growth of its small business channel
With small and medium-sized enterprises expected to continue growing at a strong rate, the opportunities for brokers to help them with finance are expanding alongside. This area is one of the passions of Suncorp's national manager, SME and commercial, intermediaries, Robynne Frost, who is working to build the bank's offering for these businesses, as well as its support of brokers.
The mum-of-one rejoined Suncorp six years ago, having spent 14 years at the lender earlier in her career, before working at a number of other companies over the next 10 years. She says she came back to an organisation that had "grown up significantly".
"It was like leaving a small organisation and coming back to a large one," she adds.
A vibrant, sociable person, Frost says she is strong on connecting with people and being creative; she not only uses that creativity as an artist to paint big colourful canvasses but it has also served her very well in the many strategy-based roles she has had.
"A lot of that time was spent looking at large customer bases and how we could cross-sell financial services to unique organisations. I love being creative and strategic," Frost says.
"We're really committed to helping Australians, supporting their families, their homes and small businesses. That piece really links into my allegiance with the brand"
Allegiance to the brand
As a result of the royal commission, trust in financial institutions has diminished, and business lending has been particularly hauled over the coals. Suncorp is working to rebuild trust and trying not to be "just a financial services organisation" but instead to look at more ways it can help its customers, which Frost says the bank is really passionate about.
"We're really committed to helping Australians, supporting their families, their homes and their small businesses. That piece really links into my allegiance with the brand. It's a great place to work," she says.
In response to the new Banking Code of Practice, Suncorp is also assessing how it looks after vulnerable customers and deals with situations in which a customer is made to feel vulnerable.
"Some of the things we have implemented as an organisation are phenomenal, and it shows we're genuinely committed to helping customers in vulnerable situations. We really looked at empowering, educating and increasing awareness of our customers," Frost says.
PROFILE
Name: Robynne Frost
Company: Suncorp
Title: National manager, SME and commercial, intermediaries
Years in the industry: 34
Career highlight: "In my time at Suncorp I've been proud to grow a national team that started off with three staff. We built customer demand and grew that team to 65 staff in just 18 months."
Career lowlight: "When you see obvious opportunities but organisations aren't courageous enough to invest and commit to an opportunity."
"It might be simple things, so instead of filling out a form we have a large team of people who can have a conversation with a customer to understand their situation. We're looking at complex processes that involve customers where they could have different interpretations."
Even earlier than the royal commission, Suncorp realised changes needed to be made in the small business lending space. Four years ago, Frost was appointed to set up the small business channel.
Before that, small business lending had always been integrated into Suncorp's home lending sector, and residential BDMs would support its brokers. Recognising the opportunities for small business growth, the bank created the specialised channel to cater to the unique needs of small businesses and the brokers who service them.
"The future is business. The industry has seen a decline in home lending because of many things, predominantly legislation changes and the royal commission. Business is predicted as the growth engine for brokers and the Australian economy," Frost says.
"Our commitment to the broker community is underlined by the fact that we now have a dedicated team of BDMs working across small business."
"With brokers looking to be seen as adding more value to the customer base, it's integral that they own their customers and be empowered"
Educating the industry
Continued investment in the channel has given Suncorp the chance to identify needs across the whole industry, and it has ramped up its investment in education. The lender has launched an SME Education program to support brokers at any stage of their diversification into small business.
Having a dedicated team of small business BDMs also means brokers can now be supported by people with the right skills base to educate them.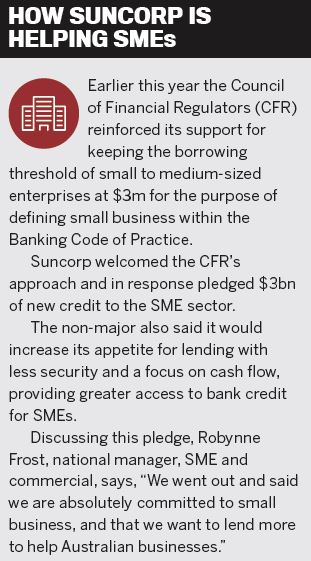 "I'm really proud of the team we have. I think they're best in the market," Frost says.
As part of Suncorp's 'Power of Partnership' distribution model, those BDMs are also aligned with aggregators in order to gain a stronger understanding of their approach and get to know the brokers better.
Another opportunity the lender has embraced is a "high-touch model" that allows brokers to write the transactions themselves instead of having their customers taken away.
"My team provide a model that involves being there, holding their hands through the process, and helping them build the confidence to write the transaction themselves," Frost says.
"I think it's the right model and the right model for the future. With what's happening across our industry with brokers looking to be seen as adding more value to the customer base, it's integral that they own their customers and be empowered and have the appropriate skills across multiple products."
Frost talks about her own learnings on a personal level after 34 years in the financial services industry.
"Probably for me the biggest thing I have learned is that change is constant. We need to anticipate it and embrace it," she says.
This industry in particular is especially competitive, and in all of her roles Frost has learnt that you cannot afford to become complacent, particularly in the intermediary market, which has been no stranger to turbulent change.
"With the broker market now being the most major distribution channel for lending products, the pace is so fast and dynamic, and it dictates that we need to be the best that we can be. That's what I have learnt, but it's also what I have loved," she says.