30% of Australians would choose robots for financial advice

Established banks are poised to lose more clients over FinTechs when open banking fully comes to play
Other Life: Conquering waves

Pure Property Investment director Paul Glossop talks about his love of surfing and how it makes him a better person
SPECIAL REPORTS
2018 Commercial Lenders Roundtable
Top 10 Brokerages 2018
2018 Brokers on Aggregators
How a broker helped a WA disability support service thanks to one fintech
Despite compromising more than 90% of companies in Australia today, small businesses have frequently struggled to get the recognition they deserve in the wider marketplace. And rarely has this been truer than when it comes to finance, says Matt Bauld, general manager of sales and business development at Prospa.
"It's always been tough, and it's becoming even tougher for small businesses to get the funding they need, with many lenders more cautious in 2019," says Bauld. Despite their vast number, he explains, small businesses have been overlooked by the big banks and second-tier providers for some time now. Many of the available products on the market are simply unsuitable.
"Small business owners are often told they need to provide security to access finance by putting their family home on the line, increasing the risk and stress attached to running their business," says Bauld.
"Ever heard the phrase 'all your eggs in one basket'?" This issue extends to brokers, Bauld says. Many are small business owners themselves and understand the different challenges and pressures of running their own ventures.
They understand that small business owners work long hours, often six or seven days a week. That extra red tape or lengthy application process not only takes up precious time but can mean missing out on a great opportunity, or even closing up shop.
But the advantage they have is that they know the ins and outs of the financial system. Accordingly, they can really help other SMEs, says Bauld.
"Small business owners need brokers, and so do we. We need this kind of support and understanding in the sector, and when we combine it with solutions like ours, the impact is enormous," he says.
Focused Supports
Bauld points to a recent example of where a broker partner was able to provide a much-needed funding solution to Focused Supports, a Perth-based business that provides care and support for those with disabilities in the surrounding community. Founder and owner Cinci Dymock says, "We started Focused Supports because there was a gap in services, and we really felt we could make a difference."
"We couldn't have done this without the broker community who help us reach many more small business owners than we could on a direct basis" Matt Bauld, Prospa
In 2018, Dymock had an opportunity to grow her business, which would have allowed her to provide her clients and their families with better care. However, she found it difficult to access funding from traditional lenders, largely because she was deemed to have not been in business for long enough. "As a new disability service provider, we hadn't been operating for a full year, and a lot of the banks weren't interested in lending to us," said Dymock.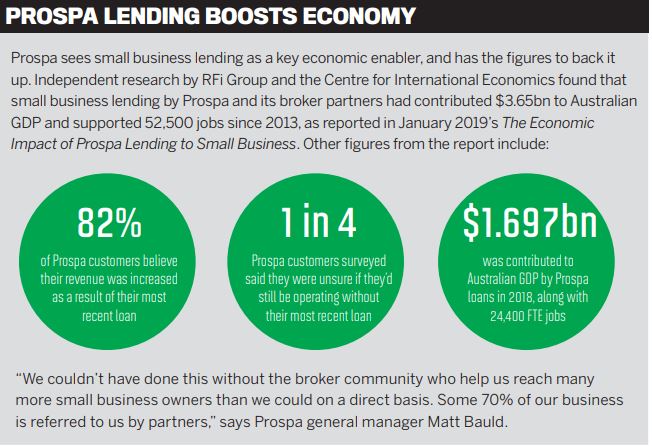 "When we were looking at establishing offices and expanding, there were limited options to get the financial support." Dymock sought the assistance of Michael Deegan at DO Financial, a Prospa broker partner who is passionate about providing finance for small businesses that require it.
"My wife and I have been working on our business together," says Deegan.
"We love being in small business, and we have a strong belief that the SME space is the backbone of the Australian economy." But in 2016 economic times were tough in Western Australia. With only two years as a residential broker, Deegan hadn't had much of an opportunity to build up a significant home loan portfolio.
"Getting into the SME space – hand on heart, not overexaggerating – saved me from closing doors and getting a job back at a bank," says Deegan. "If I hadn't had the revenue, I wouldn't be speaking to you now as a broker." Deegan recommended Prospa to Dymock, and she described the subsequent process as "painless and quick".
"We're not a generic type of business, so it's really good that Prospa actually looked into what we do, what our needs were, and supported us with that funding, rather than saying, 'Oh, that doesn't fit in the box – sorry, bad luck!'" says Dymock. Fortunately, Prospa was able to help.
After reviewing the performance of Dymock's business over the previous six months, the lender found it could provide the necessary funds until government grants came through. This finance ultimately made it possible for Dymock to purchase a property that was perfect for providing short-term accommodation and respite services for her clients.
Deegan believes that was a vindication of the hard work that goes into broking. "It's incredible," he says. "When we can provide assistance to a business and it helps them grow, or get over a hurdle and keep going, it reminds you of why we do what we do." Particularly with a business like Focused Supports, he says it was crucial Dymock had the funds to continue.
"She had an opportunity to take on new clients. Had she not had funding come through she almost would have had to have said no. We're talking about clients that have disabilities. It's heartbreaking for something to be lined up and then a provider says no, we can't take you on. The impact on that person and their family would have been huge."
Educating brokers
Not only does Deegan love being part of the space, in which he can help businesses grow and succeed, but he says brokers have "a responsibility" to fi ll the gap as a number of lenders pull back from the SME market. "As brokers first and foremost, you're doing your client an injustice if you're not putting yourself in that space and making yourself a subject-matter expert in that lending," says Deegan. But for many brokers the leap into SME lending is one they are not yet willing to take. Deegan says he has been surprised by the number of brokers he speaks to who want to stay in the residential space.
"Getting into the SME space – hand on heart, not overexaggerating – saved me from closing doors and getting a job back at a bank" Michael Deegan, DO Financial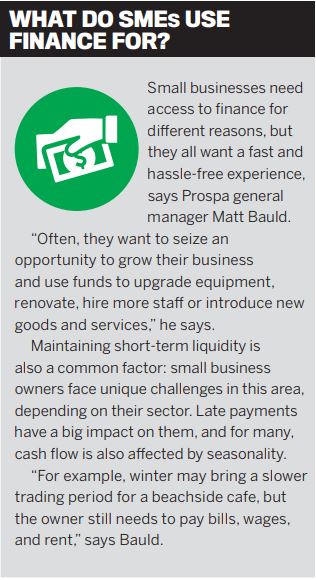 "The amount of brokers and colleagues that I have spoken to – I'm talking long-term brokers, guys that have been in the industry 15 years – and they are not doing SME lending. I'm saying it's not that difficult," Deegan adds. "I don't know, I'm really surprised there aren't more brokers in this space, and I think more brokers need to be getting their head around it and offering it to their clients." "Being a broker it's about using our skill set to help a business owner keep that cash flow going, taking the stress away so they can go on with running their own business and concentrating on what's important.
It feels pretty good," he says. "Yes, it's great for your own business, but now is a time where more than ever brokers need to stand up and position themselves as true advice providers in the credit space, and we need to position ourselves as solutions providers for that broader market in the SME space, not just for home loans."
Prospa makes it a priority to educate brokers on moving into SME lending, including providing them with marketing tools and support. Deegan says the lender's process was "seamless" when it came to putting through the application for Focused Supports.
"The guys were awesome. I ran it quickly past the BDM here in WA, and he was like 'yep, that's something we can help with'. The response time that I had was phenomenal. It was two days and Cinci had the cash in her account – she couldn't believe it. Those guys have done a great job of turning it around," he says. "In terms of the way Prospa operates, the relationship with the broker is first class. I can't fault the process. It's been great."
Financing Australia's future
This need for finance hasn't gone unnoticed. The government has recently established a $2bn securitisation fund to make the finance that's available to small business owners more affordable by lowering the wholesale cost of funds for alternative lenders like Prospa.
"The fund will create a more diverse and competitive finance market and bring forward capital market acceptance of the 'small business unsecured loan' asset class by two to three years," says Bauld.
Additionally, Bauld says, Prospa believes the government initiative will improve awareness among small business owners that they can switch from traditional lenders, which will help improve competition in small business lending.
"While awareness of alternative lenders is growing, the number of small businesses who would consider using an alternative finance provider like Prospa has remained steady at around 15%," says Bauld.
"This inertia around switching remains, despite there being limited innovation in small business banking."