30% of Australians would choose robots for financial advice

Established banks are poised to lose more clients over FinTechs when open banking fully comes to play
Other Life: Conquering waves

Pure Property Investment director Paul Glossop talks about his love of surfing and how it makes him a better person
SPECIAL REPORTS
2018 Commercial Lenders Roundtable
Top 10 Brokerages 2018
2018 Brokers on Aggregators
A recent report provides insight and data on how brokers can help those upgrading their homes
A lot of emphasis is placed on the nearly 60% of borrowers who turn to mortgage brokers for their home loans – and for good reason – but there is another figure that should be celebrated. Of borrowers who have used a broker in the past, 81% have used or plan to use a broker again for their upgrade, said ING's Upgraders Homeownership Survey Report.
According to one 'upgrader' at the launch of the bank's report last month, "I will be using the broker that helped me buy my first house. It's just a trust issue.
I engaged with a few brokers for my first house, and he just simplified concepts for me that were very complicated.
So I'm not even going to shop around so much this time, which is probably really bad advice, but I just trust him. And I also want the process to be quick."
The survey, which was conducted by GalKal in March 2019, shone a light on the kinds of people mortgage brokers might be helping to upgrade – and how you might struggle to stop them from going on date nights even if they want to save money.
The bank surveyed borrowers who were already upgrading, as well as those looking to upgrade. Unlike a first home buyer, upgraders have the burden of selling their home in time to move and juggling the finances involved in that.
Using a stopgap
To combat that challenge more than half (59%) of all survey respondents said they had used or planned to use a stopgap between selling their old home and buying a new one. This was made up of almost a third (30%) who had rented or planned to rent, while nearly a quarter (24%) had moved in with friends and family or planned to do so, and 5% had used or intended to use a hotel or motel.
"Taking on a larger mortgage and having to consider the needs of others … are additional things that upgraders may have to contend with" Melanie Evans, ING
ING's head of retail banking, Melanie Evans, said there were many reasons why managing finances at this time weighed on the minds of upgraders.
"Taking on a larger mortgage and having to consider the needs of others, such as a spouse or children, that may not have been in the equation during the last purchase are additional things that upgraders may have to contend with," she explained.
"The fact that Aussie upgraders are making temporary living arrangements between selling and purchasing suggests their actions are very considered and done to help ease the financial stress of upgrading."
With tighter credit and a heightened focus on living expenses after the scrutiny of the banking royal commission, brokers are more conscious than ever of their customers' finances.
But if upgraders are easing their financial stress by using this stopgap between homes, perhaps the broker can rest easy? Unfortunately not. The report shows there is still a way to go in educating property buyers on how to manage their expenses when applying for finance. According to the report, 46% of respondents found organising finances and getting a loan to be the most stressful part of upgrading, suggesting they needed a little help. Forty-one per cent said the financial strain and saving money was one of the biggest stressors.
Don't take away date night
We've also heard in recent times that banks, for example, are refusing credit based on food delivery services appearing on an applicant's bank statements, yet the ING report showed that most upgraders were unwilling to give up these lifestyle pleasures.
"We're trying to be more proactive in seeing clients early on so when they go for the application they're not going to get stung" Mardee Blackwood, 1st Street Home Loans
A huge 77% of respondents said they had not given up taxis or Ubers or would not do so to afford an upgraded home.
Seventy-six per cent said they had not given up date nights or would not do so; 75% said the same for going out with friends, and 68% for beauty luxuries.
One broker told MPA she found it funny that many customers were unwilling to give up their lifestyle. People aren't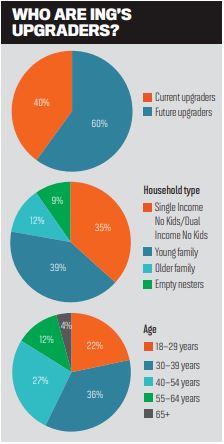 budgeting as much as they should, and when they eventually put pen to paper to work out their expenses, they're shocked, said Mardee Blackwood from 1st Street Home Loans. Still, she often finds they will cut down in other areas as long as they can keep eating out and going on date nights. But with the banks focusing more on those living expenses, it means she has to approach clients more proactively.
"We used to have the clients disclose what they were spending, and we would always go through the bank statements and make sure they were on target with what they were telling us," Blackwood said. "The banks in the past just didn't need to see the evidence they do now.
"How we approach it is we get everything up front so we can give the proper advice about what is going to possibly affect what they can borrow going forward. It might be that we met them in May but because of what we've seen we say we need this to be curbed or we need to look at this in a couple of months when we can show you're not eating out every week.
"We're trying to be more proactive in seeing clients early on so that when they go for the application they're not going to get stung. It's a case of educating the client and making sure they're aware of what banks are looking for."
Despite borrowers not wanting to give up certain spending habits, making higher repayments on an upgraded home was the biggest concern for respondents, ahead of feeling isolated and regret over leaving a home.
This was followed by a concern about having their finance application declined.
On a more positive note, the ING survey showed that 82% of mortgage holders are paying down more than what's required most years, and 45% expect to pay off their mortgage at least five years early.