Broker: The majors don't really like us

More than 80% of business through brokers goes to the majors – something this broker-run committee wants to change
Lenders to address brokers on turnaround times

Leaders from the big four will talk to brokers about channel conflict and approval times in industry-first panel
SPECIAL REPORTS
2018 Commercial Lenders Roundtable
Top 10 Brokerages 2018
2018 Brokers on Aggregators
Corporate regulator ASIC has charged ME Bank with criminal charges over what it claims are false and misleading behaviour.
In the Federal Court move, ASIC has taken drastic steps against the bank which was sold to the Bank of Queensland for $1.3 billion earlier this year. ASIC has released a short statement in which it accused the formerly superannuation-owned bank of breaching sections 12DB(1)(g) and 12GB(1) of the Australian Securities and Investments Commission Act 2001 (Cth) and sections 64(1) and 65(1) of the National Credit Code (Cth), between 2 September 2016 and 3 September 2018.
12DB regards false or leading misrepresentations;
12DB False or misleading representations
(1) A person must not, in trade or commerce, in connection with the supply or possible supply of financial services, or in connection with the promotion by any means of the supply or use of financial services:
(g) make a false or misleading representation with respect to the price of services
Although the court has not set a date yet, the Commonwealth DPP has taken up the case.
Just a few weeks ago, the Banking Code Compliance Committee sanctioned ME Bank "serious and systemic" breaches of its rules by making unannounced changes to redraw limits. The changes affected nearly 20,000 clients who found they could suddenly no longer access tens of thousands of dollars. Chief executive Jamie McPhee left shortly after the outcry.
Once finalised, ME Bank's acquisition by BoQ is expected to help BoQ diversify the geography of its loan portfolio.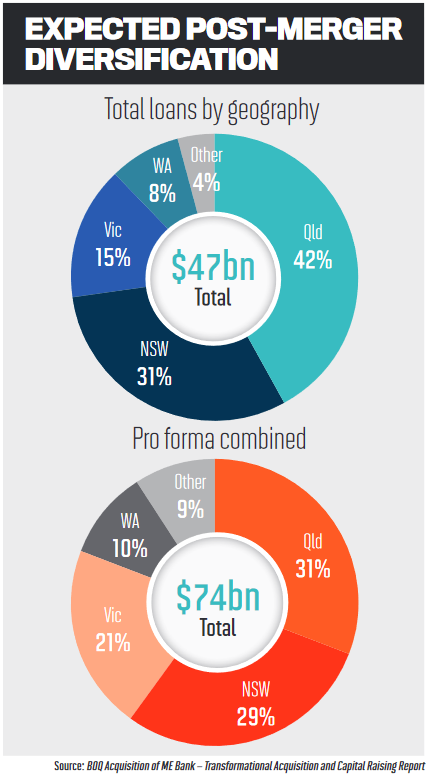 BoQ shares have slipped following news of the charges.