The women spearheading progress

Celebrating 12 women from across the lending and broking spectrum who are reinventing the industry's image and revitalising broking
Chinese real estate investment in Australia drops by nearly 30%

The decline partly has to do with banks restricting funds to offshore buyers and increased taxes
SPECIAL REPORTS
2018 Commercial Lenders Roundtable
Top 10 Brokerages 2018
2018 Brokers on Aggregators
While the number of women in broking is growing, more needs to be done to make it inclusive
The MFAA recently conducted a survey to gain insight into how industry participants perceive gender diversity in broking.
More than 700 people took part in the research. The answers were divided into male and female responses to get a better sense of how their opinions compared on such topics as barriers in the workplace for women, business challenges, inclusion and representation in broking.
While the majority of both sets of respondents said businesses benefited from having more diverse people working in the industry, nearly half of both males and females were unsure whether the industry was adequately leveraging this advantage.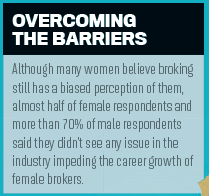 "The ultimate objective of having a diverse industry is to ensure you actually reflect the diversity of your customer base," said the MFAA's research consultant, Jane Counsel.
"By reflecting the diversity of your customer base, you're better able to anticipate and understand what their needs are."