Royal Commission impact will be "far and wide"

An SME lender has voiced concerns about the future of business lending
12 banking trends to anticipate in 2019

Artificial intelligence and attracting multi-generational talent are some of the things we should look out for
SPECIAL REPORTS
2018 Commercial Lenders Roundtable
Top 10 Brokerages 2018
2018 Brokers on Aggregators
Major banks hit their lowest market share in the middle of 2018, while brokers continue to climb high
The MFAA's latest Industry Intelligence Service report (6th edition), which covers the six months to March 2018, shows how brokers continue to drive greater competition by using lenders other than the major banks and their affiliates.
"The latest findings reinforce the value proposition of mortgage brokers, creating choice and competition in the mortgage market by placing business with a wide set of lenders, many of which do not have a branch network," MFAA CEO Mike Felton said in a statement.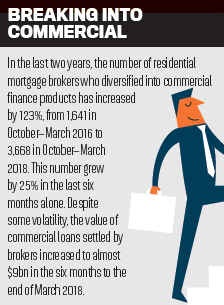 The report also revealed a significant rise in mortgage brokers diversifying into other services. The number of brokers offering commercial loans increased by 25% – over the six-month period, brokers wrote close to $9bn in commercial loans.
According to the report, data also suggests the industry is entering a consolidation period, with some key per-broker and industry performance indicators slowing or contracting.