Working with savvy people: Why this broker prefers complex deals

His team focuses on four areas to achieve continuous growth
Working with savvy people: Why this broker prefers complex deals

His team focuses on four areas to achieve continuous growth
SPECIAL REPORTS
2018 Commercial Lenders Roundtable
Top 10 Brokerages 2018
2018 Brokers on Aggregators
After the year the broking industry has had, diversification is a bigger talking point now than it has ever been. Lenders and aggregators are working to ensure a smooth transition for those brokers who are considering the move
It only took a few months for finance broker Faris Dedic to realise he was missing out by just offering mortgages. Having started out in 2017 as a home loan business, a commercial deal landed on his desk and opened his eyes to a whole new market.
The deal did not go through, thanks to the banks tightening up; in fact, he says it took him "through the ringer". But it did show him how lucrative the space was, and he even found it more interesting.
While he was exposed to the commercial lending space early on in his career, he says other mortgage brokers may not have been.
"Everyone says brokers need to do this with commercial lending, but they're not being told when they first enter the industry what it is," he says.
Q: Why should a broker diversify?
One of the biggest benefits of commercial lending for Dedic was that client relationships go beyond the one transaction of a home loan: "They're a client for life."
Dedic's aggregator, Connective, supports brokers who are diversifying and walks them through their initial transactions.
Head of Connective Asset Finance Brent Starrenburg says the royal commission really highlighted that a mortgage broker's trail could be taken away in "one foul swoop". Diversification is a way for brokers to futureproof their business.
"If you've got all your eggs in one basket, if that one basket suddenly is not there any more, what do you do?" he says. "You're better off diversifying now; make sure you're across all the different areas of what finance offerings you can do. In that way, if one of those avenues changes or the income stream reduces, you've still got the other income streams going strong on the other side."
Starrenburg says there is a huge benefi t not just to the broker but to the client of being able to offer more than just one service.
"If you talk to anyone in this day and age, they're always busy," he says. "That works for a customer as well; they're in the exact same boat as everyone else.
"If I as a customer have to go to one broker for my mortgage and another broker for my business and another broker for my asset, I've got to explain my business and my income to three different people and three different scenarios."
There is a relationship aspect as well. Buying a home is known as one of the biggest financial decisions in a person's life. If the customer can trust a broker with that transaction and they have built up a relationship with them, it makes sense that they would want to stay with the same broker for all other financial business.
Peter Vala, general manager partnerships and distribution at commercial lender Thinktank, says there is a "natural expectation" that the broker will be able to assist the client with other finance.
"The maturing of product distribution channels allows a contemporary broker to occupy a very similar role to that of a traditional relationship manager in a major fi nancial institution in proactively helping to meet a wide range of a customer's financial needs," Vala says.
"Critically, however, brokers are not driven to cross-sell from a singular institutional platform and are essentially unlimited by way of product offering, recommendations and eventual selection."
For the broker, Vala says diversifying is a retention play to defend against potential loss of the relationship. "Looking after your customers' broader fi nance needs is a proven and effective way to ensure they have no reason to look elsewhere," he says.
Agreeing with this, ANZ's GM commercial broker, Angelo Manos, says customers have a variety of needs and "if customers have a need, you should build your business to assist your target demographic".
"By diversifying, you will find yourself integral to the end-to-end customer experience, which ultimately adds value to your customer base," he adds.
"It's important for brokers to consider diversification to capture and service the full range of customers' needs. It will not only help them build a strong rapport with customers but also mean they become a problem-solver for them."
"You're better off diversifying now; make sure you're across all the different areas of what finance offerings you can do" Brent Starrenburg, Connective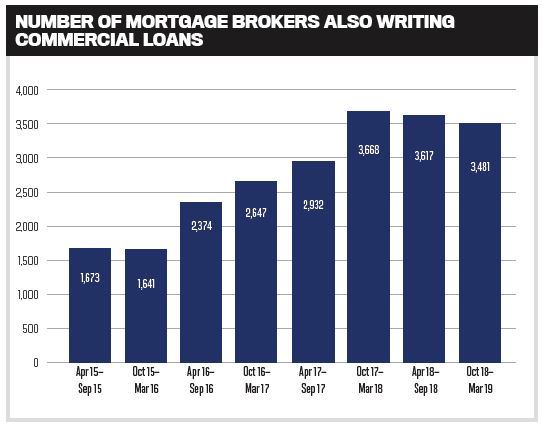 Q: What do brokers need to know about commercial lending?
Dedic warns that commercial lending is "extremely difficult". Not only are the clients often busy, making it difficult to get hold of them and their documentation, but the complexity of the transaction is far greater.
"There have been heaps of times I have said it's too hard, but at the same time it's long-term gain and we need to stick through it," he says.
While some mortgage brokers try out commercial lending, thinking they can do it because they can write a home loan, Dedic says there is more that brokers need to know.
"If I take three steps back, it's the same thing. We're getting money for something. But take one step forwards," he says. "For someone who's self-employed there's a significant difference in the way we look at their income. Then most lenders knock back deals because the client owes money on their tax.
"Once you take more and more steps forward, there's more and more hurdles to start crossing.
Although brokers are being advised to diversify as a way of improving their revenue stream, Dedic says there is actually less commission paid on a commercial deal.
"It's more work for less payment, but once you realise you bank the client and they come to you for everything, that's a completely different story," he says.
Starrenburg says commercial and asset finance is "a different beast" to mortgage broking, and brokers who do want to make the switch should ensure they do the right research. Commercial deals are more onerous than home loans because of all the complexities of understanding a business, he says.
"That's where you would have a company with trusts and trustees and you need to understand how it all ties in together and where the money comes in, where the outgoings are," he explains.
"If you talk to CAFBA [the Commercial and Asset Finance Brokers Association], who are specialists – this is what they look after – they'd be of the same opinion that you can't just wake up one day and start going, 'I'm going to do commercial and asset'. You need to have some sort of understanding of it."
It is important to remember as well that there are different areas of commercial lending. It includes commercial property transactions, cash flow lending and asset and equipment finance.
Depending on the transactions, timing is generally not the same as for residential purchases, which have fairly predictable time frames, says Thinktank's Vala.
"Some commercial transactions are very quick to settle, such as short-term cash flow providers, whereas others may take months or even years to come to fruition, such as a complex construction or development loans," Vala says.
"We recommend taking care with regard to how much time might be invested in a transaction, and assessing whether the return will be realised and be worth it.Because of the varied nature of commercial lending, Manos says he sees a lot of successful brokers specialising in one particular area. He adds that, because commercial deals are not as structured as residential lending, brokers often tell him that commercial lending seems too complex.
"It cuts both ways," he says. "Commercial brokers are often afraid to step into regulated lending. With that in mind, I'd like to encourage brokers to embrace the challenge of broadening their skill set."
New-to-commercial brokers can also be nervous about jeopardising their relationships with their customers by providing commercial services before they are confident about their ability, Manos adds. So the major bank has focused on its education program in 2019.
Q: What is your advice on helping brokers diversify successfully?
Naturally, education is the big piece of advice from across the board. Dedic warns that if a broker does not know what they are doing in the commercial space, they will be caught out fast.
"You need to understand what an overdraft is, understand how trade finance works, how invoice finance works, how the tax office works, how corporate structures work. You need to educate yourselves," he says.
To do just that, Starrenburg says brokers should partner up with someone who does it already so they can "pick their brains" and understand what they are doing and how they are doing it. He talks about learning the basics, such as understanding how to read profit and loss statements and balance sheets. On top of that, he says brokers should speak to BDMs.
"These are people that deal with these transactions on a day-to-day basis," he says. "Start talking to those commercial BDMs, start talking to your aggregator and understanding what commercial events they put on, or even the industry body, so you can have those conversations with like-minded brokers to understand the nuances, the ins and outs, so you can better prepare yourself."
Agreeing that brokers should be talking to BDMs, Vala says it is important to develop networks with three or four relationship managers "who are willing and experienced in helping to structure and shape transactions for you to suit your clients' circumstances or needs".
"By diversifying, you will find yourself integral to the end-to-end customer experience, which ultimately adds value to your customer base" Angelo Manos, ANZ
One of the big hurdles for mortgage brokers is building up their client base, but Vala says it is important that those who already have clients should let them know they are expanding their offering.
"Let your clients know that you are not just their broker but their trusted finance partner, and that the lending solutions and lender partners you can provide them with access to are essential elements in helping to achieve their financial and wealth goals," he says.
Manos reiterates the essential need for education but also for brokers to dedicate time to investing in themselves. ANZ has a team of BDMs on hand with experience and knowledge who can connect brokers with the right people.
"We recognise that in order to receive quality customer outcomes, brokers need to be educated on the product options, and therefore must invest in themselves," he says.
"Finally, consistent, regular exposure is key to becoming an expert at any skill. Don't be afraid to jump in."
Q: How can brokers use their existing residential client base when looking for commercial customers?
If a mortgage broker is considering diversifying, the first place they should look is at their own database of clients. Starrenburg says segmenting their database is something every broker should be doing regardless of whether or not they diversify.
"They should understand that a client's business or lifestyle is enough to be able to say this person is self-employed or this person is a business owner, or they're a tradie, whatever it might be. You should be able to gauge from that alone how much potential business you've got," he says.
Using their database, brokers should also be marketing to clients. Vala says brokers can send out regular reminders to their database so customers know they have access to other finance solutions; this marketing can even go a step further.
"Cultivate and distribute relevant content about different solutions, such as with case studies, while being sure not to step over into the licensed territory of providing financial advice," he says.
Vala would also ask the broker whether they had met their customer's accountant or financial planner; if they had a list of their current asset finance commitments, residuals and expiry dates; and whether they had conducted an annual review with them regarding their future needs.
Customers value the service brokers provide, Manos adds, which is why a broker's greatest asset is their existing customer base. He encourages brokers to analyse their books, look at where they're growing and look to build on that.
He recommends looking for things like a customer's ABN to see if they might have some form of business lending requirement.
"Be curious about what the customer is telling you, because there might be an underlying business that you can support," he says.
"For example, when you look at your customer base, do you have a natural affinity towards a specific industry or profession? Is this something you can build on and leverage to further grow your business?"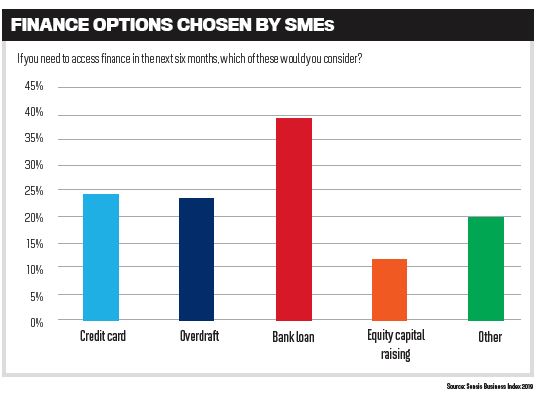 Q: Are there any warnings you would give to brokers who think they can just jump into writing new loans?
As someone who has been doing commercial lending for around two years now, Dedic has seen how complex the space is.
"You can't be a yes man in commercial lending," he says. "You need to understand the client and have all the information from the client upfront. It's a completely different ball game; you can't just pick up the ball and do a commercial loan if you want to be the best. And there's no point operating in this space if you don't want to be the best."
In the same vein, Starrenburg says one of his biggest warnings is, "If you don't know, don't pretend you know". Instead, say you don't know and then find out.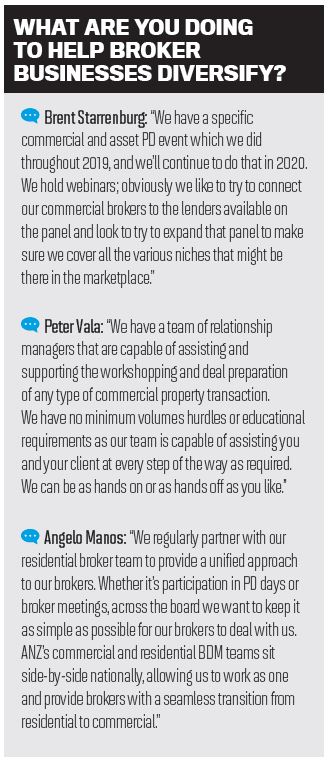 "It's the age-old don't overpromise and underdeliver type of thing," he says.
Starrenberg also reiterates the importance of partnering up with someone and going to events to talk to like-minded people and learn from their mistakes.
"There's enough business out there that we don't have to fi ght each other for it," he says. "I think that most brokers are very willing and able to have those heart-to-heart conversations and happily share information and knowledge that will put somebody else in just as good stead as they are."
"Looking after your customers' broader finance needs is a proven and effective way to ensure they have no reason to look elsewhere" Peter Vala, Thinktank
Continuing on the same theme, Vala stresses the importance of having a support network of lender relationship managers around the broker.
"None of us travel this journey entirely alone," he says. "They can be an excellent resource, not only for achieving lending solutions but also in being able to provide a quick third party sanity check on whether a transaction is likely to be successful."
As an extra warning, Vala says the broker needs to make sure they are not being "shopped".
"Mandate the customer where possible, which doesn't necessarily mean charging extra fees. If you are unsure how an effective mandate strategy works, we recommend you speak to your aggregator or one of our team members who can explain what this looks like and how to implement it effectively."
From ANZ's point of view as a major bank that is receiving the end application, Manos puts an emphasis on application quality. He says "a good application tells the whole story".
He adds that it is important for brokers to lay the right foundations in terms of their experience and education.
"This applies particularly to long-standing residential brokers who have built trust over time, as they often don't get a second chance," Manos says.
"To help drive better customer outcomes, brokers should also work to further understand the customer and understand the problem they are trying to solve."