Experience in opening bank branches helps broker build her business

She started from scratch and made it without relying on a franchise brand
Maintaining a five-star experience

Brokerage owner was able to build a business with intrinsic goodwill value via various online digital platforms
SPECIAL REPORTS
2018 Commercial Lenders Roundtable
Top 10 Brokerages 2018
2018 Brokers on Aggregators
Pepper is evolving with the times to provide the right tools for brokers
Over the years, Pepper has built a reputation for supporting its broker partners in innovative and useful ways.
With an increasing emphasis on automation in the mortgage space to encourage efficiency, compliance and best practice, Pepper continues to evolve with the times in order to maintain this high standard.
For Aaron Milburn, director of sales and distribution at Pepper Money, it's fundamental. He is a firm believer that no customer should leave a broker's office without understanding their financial options – but to do that, brokers need to have the right tools. "Being able to afford the property a customer has their eye on is a primary concern," says Milburn.
"So understanding how much they can borrow before committing to purchase may help get them into that home sooner – that's why we developed an online Borrowing Power Calculator.
"Each customer's borrowing needs are different and specific to their personal circumstances, Milburn says. But the Borrowing Power Calculator can give them an idea of how much they can borrow within a matter of minutes.
"Based on their income and financial commitments, we can provide them with an accurate insight into their borrowing power," says Milburn.
"Accordingly, this can provide insight into whether they're looking at the right properties for their current situation, or whether they might need to adjust to suit."
Choosing the right product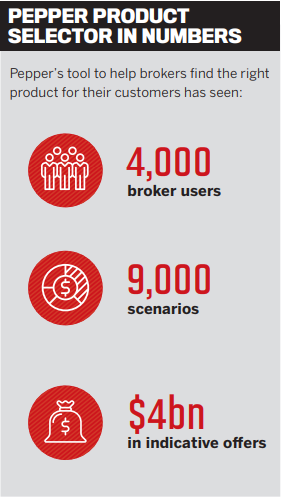 Of course, the client's journey doesn't end once their borrowing power has been determined. Brokers still need to work alongside them in order to determine the most appropriate product. Here, Pepper has stepped in again, creating the Pepper Product Selector (PPS).
Around 4,000 mortgage brokers around Australia have already used the tool, Milburn says. Pepper strives to make the process easier for brokers, simplifying the steps required and reducing complexity.
"During 2018, the PPS returned nearly 9,000 scenarios," says Milburn. "That represents more than $4bn in indicative offers to their clients, and conversion continues to grow."
The broker simply inputs their client's details and PPS will return a product match, with an indicative interest rate and associated fees, Milburn explains.
"With an indicative offer at your fingertips, you can continue the conversation with your client knowing there is a genuine solution" Aaron Milburn, director of sales and distribution, Pepper Money
The tool also completes a soft credit check 'access seeker' – at no cost. "With an indicative o­ffer at your fingertips, you can continue the conversation with your client knowing there is a genuine solution," says Milburn. "It saves you the time and e­ ort of sorting through subpar solutions."
Resolving to help brokers and clients alike
Currently, the company is also in the process of rolling out Pepper Resolve, a cloud-based conversion tool designed to provide a broker with an on-the-spot best fit alternative loan solution.
"Pepper Resolve has enjoyed considerable success in pilot groups throughout 2018," says Milburn. "We're excited for this tool to go mainstream and to see it rolled out across all major aggregators." This is designed for situations where the customer's needs may not be able to be met by their first-choice lender.
Milburn sees technological tools such as PPS and Resolve as essential to the current environment. Given the wide variety of client needs, it's something he feels can act as a democratising factor. Customers who've had relatively stable financial backgrounds gain greater access to a range of products they might not otherwise have considered.
Similarly, customers from non-traditional backgrounds may be able to obtain a level of finance they wouldn't necessarily have anticipated.
"Tools like Pepper Product Selector can help brokers o­ffer their customers a home loan solution when other lenders have said no," Milburn says.
"Everyone deserves a chance to get ahead in the housing market, and we aim to give brokers and clients alike the advantages they need."
Future innovations
Looking to the rest of 2019 and beyond, Milburn sees further innovations being created by Pepper. Given the relatively recent release of PPS and Pepper Resolve, Milburn expects further evolution of the technology as the company receives feedback from brokers as well as clients.
"We plan to continue to focus on improving the efficiency and usefulness of our broker technology," says Milburn.
"We're dedicated to ensuring that brokers and borrowers have access to the very best tailored solutions – fast and efficiently."
Most importantly, Pepper's core mission of helping brokers and clients succeed remains unchanged. Milburn acknowledges that the best approach to this will naturally change over time, but there are core components in place that will allow Pepper to continue with this mission.
Working closely with brokers will remain a key factor.
"We want to support mortgage brokers to help more customers succeed with their financial goals," says Milburn.
"Our technical tools, coupled with the in-depth relationships we have with our partners, allow Pepper to continue to do what we do best."