The women spearheading progress

Celebrating 12 women from across the lending and broking spectrum who are reinventing the industry's image and revitalising broking
Challenging childhood motivates this broker to rise above

He educates and helps his clients prepare for the future, so they always have a place to call home
SPECIAL REPORTS
2018 Commercial Lenders Roundtable
Top 10 Brokerages 2018
2018 Brokers on Aggregators
The high-stakes business of broking is taking a toll on the personal lives of some women brokers
Several women brokers say they've been unable to reach their full potential because they're overburdened by being both the primary breadwinner and the primary caregiver at home.
In an anonymous survey conducted by Astute Ability Finance Group in partnership with MPA, a small group of women revealed the toll that the high-stress demands of broking have taken on their personal lives and professional pursuits.
The survey of 10 women provides a snapshot of some of the issues and challenges women face as they juggle their ambitions in business with being mothers and partners – sometimes with serious ramifications.
One female respondent said that while her husband used to say and do "all the right things publicly", privately she found that the more successful she became the more threatened he felt, which led to arguments and jealousy.
"I would work longer hours and travel more to avoid being at home. We did end the marriage in 2014," she wrote. And while there were other factors, she believes her career was the main driver behind the breakdown.
Another woman said her "role was seen as secondary and less important to my husband, irrespective of being the primary income earner and holding a more senior role".
Women brokers are not a rarity in the industry any more, but they still make up only 27% of the broking population. Sixty per cent of women believe they continue to face barriers in the industry, namely around unconscious beliefs about gender, and an exclusive industry culture, according to a recent MFAA diversity survey.
The concerns these brokers expressed about feeling like they had to work twice as hard as men for recognition are not unfounded, nor are they unique to broking.
Australian women still spend significantly more time on unpaid work than men, yet they are more educated. In 2016, working-aged women averaged 20 hours per week on housework and 11 hours per week on care, while men averaged 13 hours on housework and five hours on care, according to the latest Household, Income and Labour Dynamics in Australia (HILDA) Survey.
"Most women are the caregivers, so some days before we even leave the house we have done a day's work," said another broker.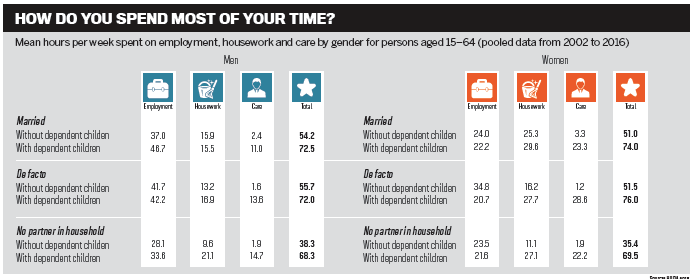 In terms of paid employment and commuting time, men spent 11 hours more per week on this than women but were more satisfied than women with the division of unpaid labour, the HILDA Survey found.
However, women still surpass their male counterparts when it comes to education, with more women having diplomas, bachelor's degrees and graduate diplomas.
"The disproportionate involvement of women in unpaid work arguably limits their labour market availability and career options, and contributes to a persistent gender pay gap," the HILDA report said.
One woman broker said she had to turn down professional opportunities for fear of disappointing her family by having more time away. "On reflection, I let myself down by not following my professional goals," she wrote.
Another broker said employers past and present advised her to sacrifice her social life and sporting activities because her career was more important.
Women are also dealing with their own or sometimes others' pressures, perceptions and expectations of how a dutiful mother should behave.
One working broker who wants to have children said she was concerned about being seen as a "bad mother".
"I would be worried about people talking, mainly from mothers who aren't in the industry and choose to stay home. I'm not planning on staying home for years, more like three to six months, and even working in between for a day or two."
Another woman said she'd put plans of having children on hold for her career. "I have been unable to find someone who understands the time commitments and travel, and [it's difficult] finding time to have a career gap."
Jane Counsel, principal consultant at Executive Central Group and lead researcher for the MFAA's diversity survey, said there were not just structural issues involved in equal labour participation of the genders but long-held cultural beliefs. "[These] have been formed over years and years of unconscious socialisation around genderised work roles."
These stereotypes also negatively affect the progress men are making. "I've seen men very happy to take a backseat and become the primary carer while their wife's career has stepped up. But it's all the discrimination, questioning and commentary that they suffer from their own social group that makes that challenging for them," Counsel said.
One broker said how lucky she was that her husband has been the full-time carer, allowing her to pursue her career. "[It's] a very different model to many of our friends and family; I am sure some still don't fully understand."
With more women graduating in higher numbers from university, rising in the ranks at work and earning more than men, gender dynamics are at a tipping point.
"It is creating a bit of an identity crisis for both genders around the historical roles that they've performed, and I think we have to have a really mature conversation about this and recognise what is actually going on and what is getting in the way of progress and opportunities," Counsel said. "This is why solving this issue is not a simple thing; it's a complex issue."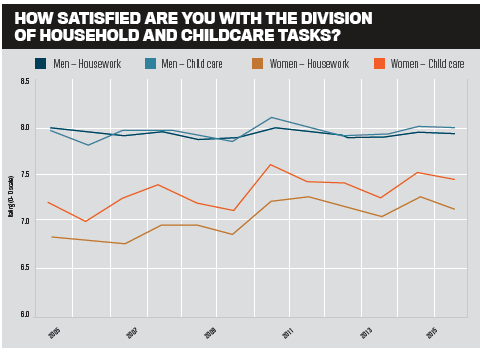 Making it work
While some women in our survey reported relationship break-ups, others praised their partners for their support and understanding and said they hadn't encountered any setbacks.
Making it work takes compromise, and it's a constant work in progress.
One broker said that, to help her partner better understand why her job was so mentally consuming, she started sharing more stories of the emotional roller coaster her clients went through to get a loan and purchase a home. "[This is] so he understands what our responsibilities are, and how important it is to be there for your client to make sure you are putting them in a better financial position," she said.
Doing that, along with hiring support staff and making more time for herself, has helped her achieve a better balance in life.
Another woman said that when she needed to work outside of office hours she did so when her partner was away or busy so that it wouldn't interfere with their time together.
In the end it's a balancing act, and everyone has different experiences and different strategies. The anecdotes in our survey suggest that when women are seen and treated as equals, and the workload is divided fairly between partners, they're happier and more productive as a result.
"I think understanding, no judgment, flexibility and support will go a long way. If we're expected to be everything to everyone, we deserve more flexibility and understanding when situations arise, and respect for the decisions we make," one respondent said.
When asked how they coped, many of the respondents said they relied on strong support networks.
"Never be afraid to ask for help. For me, I love what I do and I'm very passionate about the industry and the opportunities it has offered me," one broker said.
Another said: "I always go to my network of like-minded friends, both male and female, to get their opinions. The biggest sufferer in all of this is that you don't make time for you. It is a juggling act, and some days are worse than others, but we do it because we love it; it drives us to do better and be more successful."
Despite the hardships that one broker encountered in the early days of starting her business and raising two children as a single parent, she said she wouldn't change anything.
"Being in a position now where I'm financially secure from building my business is one of the greatest feelings as a female. If you do work hard in the early days and you manage your money properly, it does pay really well. It is a good job and there are a lot of benefits to it."