Experience in opening bank branches helps broker build her business

She started from scratch and made it without relying on a franchise brand
Maintaining a five-star experience

Brokerage owner was able to build a business with intrinsic goodwill value via various online digital platforms
SPECIAL REPORTS
2018 Commercial Lenders Roundtable
Top 10 Brokerages 2018
2018 Brokers on Aggregators
How fintechs are seeing the opportunity to become known as mainstream lenders
According to research by Roy Morgan, the level of trust in Australia's banks has fallen over the past two years as the public has reacted to the failings highlighted during the banking royal commission. For non-mainstream lenders, this is their time to shine and to work with brokers to ensure customers know about the alternatives on the market.
One such group believe they will soon be known as 'mainstream', instead of by the buzzword used to refer to them at the moment: the 'fintechs'.
An amalgamation of finance and technology, fintechs do what the name suggests and offer a more technological way of accessing or using money, whether it be through the digital systems that work in the background or the apps used in the foreground by customers.
Fintechs can be lenders providing loans for small businesses or homebuyers; they can be the companies behind tap payment systems; they can help you invest or save money by simply using an app; or they can provide solutions when it comes to verifying a customer's expenses.
Regardless of the type of financial technology a fintech might produce, one thing remains consistent among them all: they are working to make customers' finances easier and faster to manage. With lengthy turnaround times one of the key bugbears of brokers who put in hours of work for long assessment times and currently a higher rate of decline, fintechs are offering real solutions.
Particularly in the SME space, where business owners are time-poor and need cash flow fast, brokers are turning to the fintechs to provide their customers with the best outcomes.
In a recent report, one such fintech lender found that its lending to small businesses helped maintain 52,500 full-time equivalent jobs and contributed $3.65bn to the Australian economy – and that is just the impact of one fintech. As the industry comes out of the royal commission and prepares to build up trust again, education on the alternatives is key.
Fintechs hope to soon be part of the mainstream offerings, rather than singled out as 'fintechs', and this year could spark that change – because as one of the brokers participating in MPA's recent Fintech Roundtable said, "when there's adversity, there's opportunity".
Representatives from leading fintechs Prospa, Moula and OnDeck discussed the adversity the industry is facing and the opportunities that could come out of that, as well as the challenges they face as individual lenders, at the roundtable event in February. Read on to find out more.

Q: What opportunities and challenges are there in the fintech space at the moment?
"It's always been hard for small business owners to get finance from traditional lenders, and it's getting harder," said Matt Bauld, general manager, sales and business development, at Prospa. "So the opportunities in my mind are to step into that gap.
"It's a massive opportunity. The small business market, for example, is huge; there are 2.2 million SMEs in the market. We haven't scratched the surface."
Agreeing with Bauld, Moula co-founder and CEO Aris Allegos said, "You've got 75% of small businesses that are still effectively being turned away from the majors. Even those that are approved, there's 50% that look at the mainstream process as being ineffective, or di cult or frustrating.
"So that's probably the opportunity for us, because we solve the problem." Michael Burke, head of sales at OnDeck, anticipates an exciting couple of years ahead for the industry.
"Awareness without a doubt continues to grow," Burke said. "It's grown signifi cantly over the last 12 months. I think the trajectory over the next two years is very strong within the industry."
Giving the broker's perspective, Abhishek Maharaj, general manager of Winquote Finance, said the opportunity that fintechs provided was "another string to the bow" for brokers as the major banks pulled back from the SME space. "We've got another broker offer," Maharaj said. "We can find a home for our customers who are getting no's from the banks. We're able to provide them a solution."
"We'll continue to do what we've been doing for the last four years … to enable our brokers to continue to do what they have been doing" Aris Allegos, Moula
Nancy Youssef, founder and mentor at Classic Finance, said fintechs offered more of an opportunity for brokers to be solutions-based rather than just 'transactional'. "What the royal commission is showing is that the broker who is focused on transactions is not going to be the broker that will survive the new landscape," Youssef said.
"So, by taking a solutions-based approach, it's imperative for brokers to know what lenders are out there.
"It's not just important to know it from a product and policy perspective, but I also think they need to know it from a positioning perspective."
And what about the challenges fintechs are facing? Allegos said, "In terms of challenges, I think the two things we really need to focus on as an industry are, one, creating awareness – we are not necessarily an alternative but a mainstream offer for SMEs; number two, instilling trust in the customers that we are again a mainstream offering that can be trusted."
Youssef agreed that creating awareness and educating brokers and customers was important.
"Some of the education that fintechs can provide is around how you actually position that solution to clients who only know of mainstream lenders or who have never heard of these fintechs," she said. "Clients don't know what they don't know. They come to you with a problem; our job is to find a solution and really understand what your solution is all about and take it a step further into the sales process and how to integrate that effectively."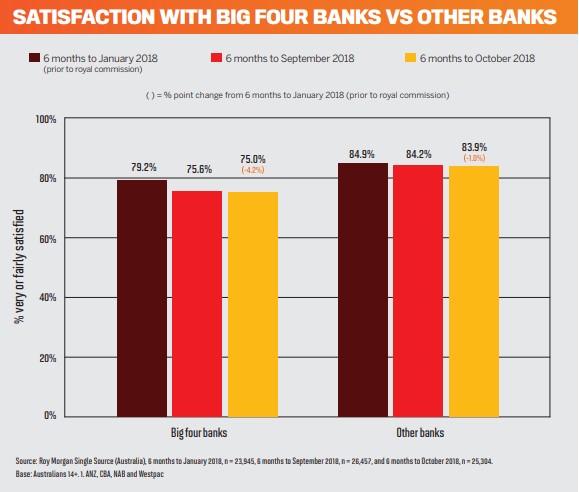 Q: How has the royal commission shown that borrowers need to look at fintechs?
"The report highlighted the absolute necessity to put customers first," Bauld said. "At the end of the day, good customer outcomes are what need to occur, and I think fintech companies are in an amazing position to lead here. We're challenging ourselves to deliver better and better outcomes." The focus on customer outcomes resonated with Allegos.
"When you boil it down, Hayne was really driving the point that greed and profit were driving bad decisions," he said.
"So, when you look at the platforms we've all built, the way we've differentiated ourselves from mainstream is very much by putting customer outcomes first. And those customer outcomes are achieved through the ease of process, through the transparency of the products we o‑ er, and just through the general simplicity versus the mainstream offering." Burke said OnDeck's position on brokers had remained consistent.
"We see brokers as a very relevant part of the Australian fi nancial services landscape full stop," he said.
"If I have to say I feel love from fi ntechs, yes, I do – because they're a service provider to us" Abhishek Maharaj, Winquote Finance
"They're positioning themselves as trusted advisers to their customers; that doesn't change. What does change is the emphasis on creating diversity from an income perspective, and that's where I think the fintech space becomes a very sound strong alternative to what may have been core income streams historically."
For the broker, Maharaj said there was now a benefit to being able to educate their clients on the alternative solutions available.
"If there were a fee-for-service model, dealing with fi ntechs allows us to justify that fee even more, because sometimes the customers won't have access to lenders or won't know about them," he said.
"If we're educating our clients, we're becoming more relevant, guiding them through the process. The cash flow financing solution is one of the strategies amongst a number of products in the market.
"We understand there are short-term goals for our clients, medium-term goals and long-term. In the fintech space with the solutions that OnDeck, Moula and Prospa are providing, it's that short-term solution that allows us to provide that oxygen for our clients." Youssef said, "I think the royal commission has highlighted that, despite all the arguments about commission or fee-for-service and all those things, ultimately it's about really knowing your customer and knowing your client and being there to offer solutions at the varying stages of their life cycle or business cycle."
Q: How are fintechs making brokers more relevant to their customers?
Burke said it was about "being able to provide timely and workable solutions so customers could benefit and grow their organisations. That's fundamentally what it's about. We speak to brokers, we spend a lot of time in the market talking to brokers, and it is the frustration with mainstream, not just around time, but also decision."
Allegos believes time is a crucial factor. He said, "Having that capability of bringing that time frame to really service their customers is critical. The broker channel is so critical to all of our businesses. We don't have the awareness of these established brands, so how do we get to market in an e cient manner? We use brokers."
All three fi ntech lenders said they had been building tools to help brokers and their customers. Bauld said, "We know for an SME customer they're time-poor and potentially they're online at three in the morning. So how do we make the broker relevant in that transaction? "We've all got fantastic people; we're all educating, training, we're building tools, not only to service customer needs and to deliver a fantastic outcome but to help a broker get to market.
"I think we're making a genuine impact, both in the broker community and for the customer, which is pretty cool." Youssef said one of the best things about using fintechs was the consistency, which could be a problem when using the bigger banks. "Yes, we can all talk product and policy and rate and solutions and all those things, and that's great, but it all comes down to consistency," she said. "When I say to a client, we're going to have an answer for you in 48 hours, we want to confidently say that.
"One thing that hasn't changed is the relevance of the broker in the Australian financial landscape. We passionately believe that's not going to change" Michael Burke, OnDeck
"When we say we're going to try to make this easy for you, we want to say that without saying, 'I'm also, more than likely, going to ask you for a whole stack of missing information next week, in addition to everything I've already collected'.
This is the area where fintechs play a really important part with their streamlined processes, because when you're relying on technology platforms there's less chance of that process not being followed, or of more mistakes and human error." Maharaj added, "I think from the fintechs' perspective to a broker, I feel like our business has a sales force behind it with the support that they provide.
If I have to say I feel love from fintechs, yes, I do – because they're a service provider to us. Our responsibility is to then make sure we give them good-quality transactions.
They have really mastered the piece in looking after us as brokers, because I feel like I am a person there and I have a say."
Fintechs are competing against other lenders with branch networks or larger advertising revenues, but Maharaj said that just allowed brokers to serve as the 'branch'.
"We become that presence for them, and that's where we see that benefit coming in, where even if other lenders open up more branches, who is taking that three-o'clock-in-the-morning phone call? Or the branch is closed on Sundays.
"It's simple things like that where we tend to be that front office and we have a whole bunch of solutions, including what the fintechs can offer." Burke joked that, while simple relationship building activities like picking up the phone and talking to customers might seem "crazy" in this digital era, they were still a big part of OnDeck's business. He said, "An important equation is: fintech does not equal no customer contact. I think in all our organisations it's still very much about providing customer service – having a point of contact, picking the phone up, building relationships."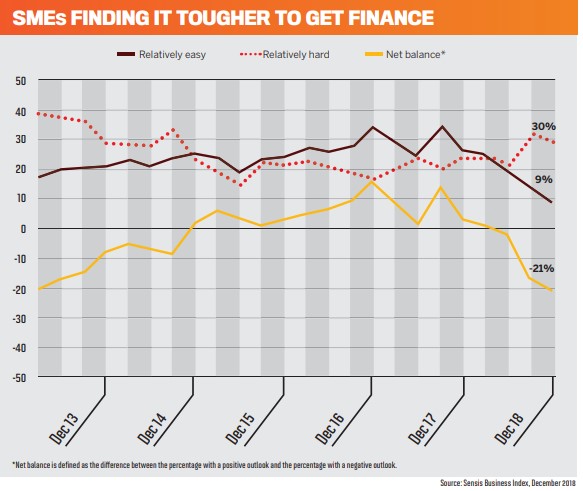 Q: How are you planning on working with the broker industry in 2019 and into 2020?
The three fintechs agreed that the changes to the residential side presented some "ambiguity" in terms of how the broader lending space would be affected.
Moula's Allegos said it made things cloudy, but from his company's perspective nothing would change.
"Specifically within the commercial broker category, if anything people are buoyant, they are reinvigorated; this is an opportunity for everyone," Allegos said.
"So, from a Moula perspective we'll continue to do what we've been doing for the last four years, whereby it is an ongoing investment in the education, in the tools, in the platform, to enable our brokers to continue to do what they have been doing."
Bauld said he recently sat down with his team at Prospa and told them that the one thing they needed to do right now was listen.
"There are probably different ways people are going to take the news, and that's just human nature," he said.
"Some people are going to go, wow, my life is over. For those people, we wrap our arms around them as best we can and try to help them see a future for their businesses.
"At the same time, I was at an event last week and I heard a lot of buoyant behaviour from brokers who have been around for a while, saying 'when there's change, there's opportunity, and we're going to build a better industry through this change'.
"I don't want to create the solution for every broker. I want to, broker by broker, work with them to understand what they're trying to achieve."
Burke said OnDeck was focused on continuing to educate. "I think one thing that hasn't changed is the relevance of the broker in the Australian financial landscape. We passionately believe that's not going to change.
As a consequence, we feel as though we've got a responsibility to, as each of the other fintechs have, help educate and create greater awareness around our product and our process to help small businesses grow."
Looking forward to the future as fintechs and brokers both continue to grow and develop, Bauld said, "2019 is a time of big changes. But ultimately we've positioned ourselves well for those changes. And I think we've invested a lot and customers have seen the impact.
I see this as a huge year for all of us in this room.
"The intermediary market, the brokers, absolutely need to say, 'There's an opportunity in front of me'.
"We've only just scratched the surface of the actual challenge we're trying to solve. So, is there an opportunity for a broker? Absolutely. Are we backing that? One hundred per cent, like we have from the beginning."