BDM in the Spotlight: Tanya Brimblecombe

This Adelaide Bank BDM says it is quite a thrill when a tricky deal finally gets across the line
Commercial property deals plummet in 2020 as COVID-19 affects demand

Commercial real estate activity has dropped 58% according to recent statistics
SPECIAL REPORTS
2018 Commercial Lenders Roundtable
Top 10 Brokerages 2018
2018 Brokers on Aggregators
Many first home buyers are actively house-hunting, and many are preparing to buy their first home, according to new research commissioned by Genworth and undertaken by CoreData.
Brokers can help FHBs who find the buying experience challenging, as applying for a loan is still the most daunting part of the process and borrowers are turning primarily to family and friends for advice.
"The experience of buying a first home can be challenging, with obtaining the right loan and reviewing the contract being key concerns. This highlights the value … that mortgage brokers provide" Pauline Blight-Johnston, Genworth
Recent purchasers, however, clearly recognise the value of using a broker, rating them as their top source of information on loan options and suitability. This presents an opportunity for brokers to demonstrate their value to FHBs earlier in the buying process and to embed their position as their 'guide of choice'.
Genworth's research shows that, even in these uncertain times, FHBs are still keen to enter the property market, and in fact they feel a sense of urgency about buying soon.
Amid more favourable purchasing conditions, FHBs remain active: more than seven in 10 having now been house-hunting for three months or more, and four in five think it's a good time to buy.
FHBs are better prepared to buy
Australian FHBs are adopting a new mindset and taking significant steps to accelerate their homeownership plans. In an effort to be better prepared to take advantage of a buyers' market, many FHBs are cutting back on lifestyle expenses or working overtime to fast-track their savings, and a growing number are now comfortable about purchasing their first property with a deposit of less than 20%.
One in three FHBs is now contributing more than 30% of their income towards a deposit, while two thirds now expect to buy their first home with less than a 20% deposit in hand, up 11% from this time last year.
FHBs are also making adjustments to expedite deposit savings, including working more and cutting back on discretionary spending. Reducing lifestyle expenses is the top-rated behavioural change, followed by one in three FHBs working or planning to work overtime. One in five is even delaying starting or growing their family to achieve their homeownership goals.
In an effort to be better prepared for when the right property comes along, there has been an uplift in loan pre-approvals, which now stand at almost 38%, up from 30% a year ago. Most have also established their borrowing capacity. Brokers can assist FHBs in setting them up for borrowing before they find their property, so that when they do find the one they want, they can go ahead and make an off er.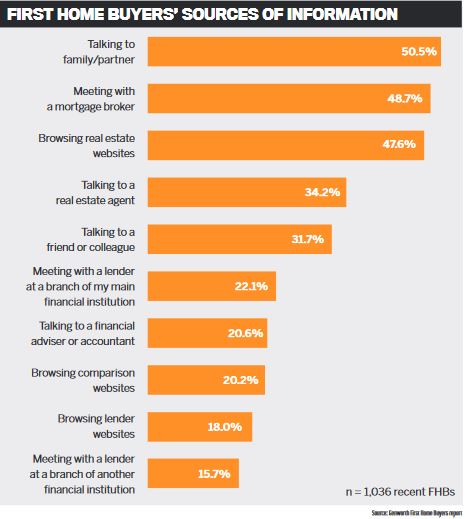 Support during the buying process
Many first home buyers aren't confident about getting a loan. For prospective FHBs, applying for a loan (44.3%), reviewing the contract and any legal paperwork (44.3%), and determining the right loan for their needs (41.3%) are the top three areas in which some support would be valued.
Similarly, for recent FHBs, reviewing the contract and any legal paperwork (47.3%), applying for a loan (42.0%), and determining their borrowing capacity (33.9%) are the top three areas in which they would value some support.
Research shows that applying for a loan is still the aspect of the homebuying process that FHBs find the most uncomfortable – equal to reviewing the legal paperwork and followed by finding a loan that suits their needs. Close behind that is negotiating the sale (41.1%), so broker support is needed at all stages of the buying journey.
Brokers can support their clients early in the buying process where there is a need for guidance on the loan process and the loan most suited to their individual circumstances – in addition to having the support of a solicitor or a conveyancer in working together to assist the buyer.
Information gathering for FHBs
First home buyers want the process of finding information to be easier. Almost seven in 10 (69.4% of ) prospective FHBs find it 'very' or 'somewhat' difficult to do research on who to see for a loan and which loan to obtain for their first property.
Family and friends are a top source of loan information for FHBs. When prospective FHBs are looking for information on the homebuying process, their first stop is real estate websites (52.4%), followed by talking to family (47.2%), talking to a real estate agent (39.8%), and, lastly, meeting with a mortgage broker (35.5%). The opportunity therefore presents itself for the mortgage broker to position themselves earlier in the information-gathering stage.
When it comes to finding out who to see about a loan and which loan to obtain, 38.4% of prospective FHBs said they would talk to family or a partner, slightly more than the 34.6% who said they would meet with a broker; whereas 47% of recent FHBs said they would speak to their mortgage broker, followed by a significantly lower 33.4% who would talk to family about the loan.
"The experience of buying a first home or investment property can be challenging, with obtaining the right loan and reviewing the contract being key concerns among first home buyers. These concerns highlight the value of support that mortgage brokers can provide throughout the buying process," said Pauline Blight-Johnston, CEO and managing director of Genworth.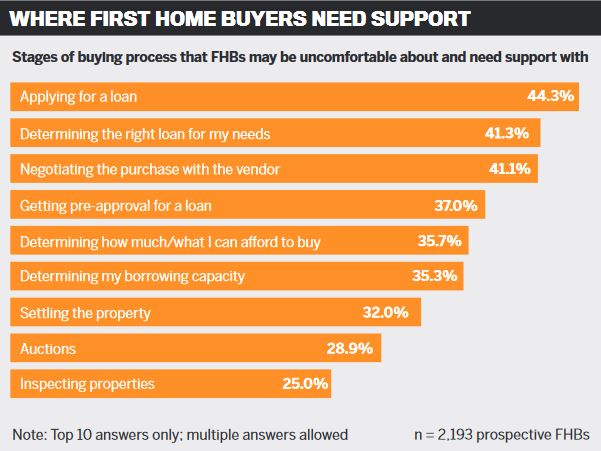 Getting the best advice
Prospective FHBs indicate that they are shopping around, with almost one in three contacting three lenders or brokers before making a decision. This is to ensure they make an informed decision by getting the best advice, and find the best deal by having a variety of options. Of recent FHBs, nearly two thirds went only to their lender and broker. Those who contacted alternative lenders and brokers wanted to be certain they were getting the best deal and to be flexible in their choice.
Recent FHBs weren't looking further afield; nearly 60% contacted only one alternative lender or broker before deciding which one to choose, and a further 23.2% contacted two.
For recent buyers, mortgage brokers were the top-ranked source of support. One in two recent FHBs said they saw a broker to get an understanding of loan providers and options, though more have gone to their bank directly compared to last year.
Interest rates are still the top factor that FHBs consider when deciding on a home loan, but less so than in 2019. Ongoing fees and loan flexibility round out the top three factors driving their choice. However, the majority are determined to get into the property market regardless of the mortgage rate, as 77.7% of prospective FHBs would still be looking for their first property.
Brokers can support their clients early in the buying process where there is a need for guidance on the loan process
Value of lenders mortgage insurance
The research shows an increase in levels of awareness and understanding of lenders mortgage insurance as well as application intention. Recognising the value of LMI, more than four in five (82.7%) prospective FHBs proposing to pay less than a 20% deposit were 'very' or 'somewhat' likely to use LMI to buy their first property, compared to 80.8% last year.
The value of LMI is evident to those who have used it. Almost three in five (55.7%) recent FHBs with less than a 20% deposit using LMI and more than two in three (67.2%) LMI users said it had been valuable for them.
The most common reasons for using LMI are 'I wanted to buy my first property as soon as possible' and 'It would have taken me too long to save a 20% deposit' (47.7% and 47.5%, respectively), further highlighting the prevailing sense of urgency among prospective and recent FHBs alike.
Value of brokers to FHBs
Although prospective FHBs are proactive and ready to buy, the experience of buying a first home can be challenging for both prospective and recent FHBs, who may find elements of the process are unfamiliar and may need support from others, including brokers and conveyancers.
Obtaining the right loan appears to be a particular area of need for FHBs, especially given job security worries on the back of the ongoing COVID-19 pandemic.
These areas of importance highlight the value of borrowers having support from a mortgage broker early in the homebuying process, and their role as 'guide of choice' for buyers. Their personal service and understanding of the individual's situation is important to FHBs.