The women spearheading progress

Celebrating 12 women from across the lending and broking spectrum who are reinventing the industry's image and revitalising broking
Vast majority of brokers opt to retain CBA accreditation

Brokers who hadn't settled a loan with the bank in more than 12 months were required to complete an e-learning module
SPECIAL REPORTS
2018 Commercial Lenders Roundtable
Top 10 Brokerages 2018
2018 Brokers on Aggregators
Better serving your clients takes an aggregator with a proactive approach to diversification, FAST's CEO explains
There is perhaps a misconception that women brokers shy away from writing more complex commercial deals, but FAST CEO Brendan Wright says he hasn't seen that at all.
"There are many high-performing female brokers in the industry, and they provide fantastic customer service and understanding of business lending. FAST female brokers have for many years provided a broad spectrum of lending services across business, asset and equipment finance and home lending," Wright says.
As of August 2017, a third of the aggregator's brokers were women. And today a third of all business loans in Australia are originated by FAST brokers. Clearly, FAST's strategy to enable and empower all of its brokers to write business loans is working.
"We are passionate about this proposition and have made this our priority because we believe the most successful brokers are those who can capture diverse revenue streams and have strong systems and support that enable them to meet their clients' broader financial needs," Wright says.
"There are many high-performing female brokers [who] provide fantastic customer service and understanding of commercial lending" – Brendan Wright, FAST
With 40% of their customer base being self-employed or small business owners, it makes sense for brokers to offer a wider range of finance options to better service their clients and grow their own businesses.
Like with any new business decision, choosing to diversify into the complex landscape of business lending can be challenging, which is why brokers first need to really understand their clients' business models, Wright says. With FAST's assistance, support and training programs, brokers can learn how to start those conversations, collect the right information and get the process going.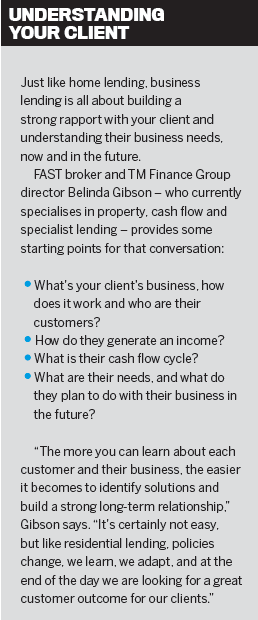 Women and commercial finance
Just four years ago FAST broker and TM Finance Group director Belinda Gibson was one of the only women at commercial finance broking events.
"This has since changed and I am now lucky to have a strong network of both residential and commercial women finance brokers supportive of each other's growth. Between us there is a huge amount of knowledge and expertise, so if we are stuck for a solution help isn't too far away," she says.
FAST has long been a proponent of diversity in the workplace. In 2013 it launched its Women in Business event series to support and encourage more women to join broking and finance. Now in its sixth year, the annual event offers brokers a chance to gain insights from their professional peers and award-winning speakers.
"By embracing diversity you can get different perspectives [involved] to solve problems in a complex and ambiguous environment, and we are certainly in that now," Wright said at the Sydney event in August.
To help brokers navigate the challenges in the market, FAST offers an extensive PD and training program throughout the year. "We have developed specific capability programs for commercial and asset finance lending by partnering with industry bodies like MFAA and CAFBA, as well as lenders, to help brokers step into this environment, further develop and master commercial and equipment finance," he says.
"The key for any broker is to identify opportunities and capabilities that they need to build to deliver good customer outcomes. Personally, I believe success is driven by individual e­ ort, education and training, and has nothing to do with gender."
Gibson, who came from a commercial banking background and had both male and female mentors, has the same view.
"When trying anything new in lending … ultimately you adjust. It's about having the confidence and backing yourself " – Belinda Gibson, TM Finance Group
"There aren't any gender-specific barriers in the industry. When trying anything new in lending, you need to learn the policy, and ultimately you adjust. It's about having the confidence and backing yourself, knowing your client and their needs," she says.
With many women having, by nature, good interpersonal skills, they can build strong relationships quite easily by listening to clients and reading their cues, Gibson says.
"Even though many women brokers have the qualifications, expertise and customer relationships to start writing commercial loans, they may end up holding back their plans to diversify into new revenue streams due to a lack of experience or knowledge gaps," she says.
However, once they identify the need, FAST can help them advance the deal to the next step. One way it does this is through its Commercial Broker Forums, which allow new commercial brokers to network with more experienced brokers, meet panel lenders and ask questions.
"This may be overwhelming to someone starting out, but by empowering yourself with knowledge and utilising your BDMs for support, opening up to your networks and asking questions will make the process a whole lot easier," Gibson says. With a panel of more than 36 lenders, a robust BDM support system and a proactive and encouraging approach to diversification, FAST has helped hundreds of brokers gain a reputation as leaders in commercial finance.