30% of Australians would choose robots for financial advice

Established banks are poised to lose more clients over FinTechs when open banking fully comes to play
Other Life: Conquering waves

Pure Property Investment director Paul Glossop talks about his love of surfing and how it makes him a better person
SPECIAL REPORTS
2018 Commercial Lenders Roundtable
Top 10 Brokerages 2018
2018 Brokers on Aggregators
A Big Interview with Specialist Finance Group managing director, William Lockett
Specialist Finance Group has no shareholders and no complicated management structures.
It prides itself on being independently owned, with one sole owner and shareholder who has a direct relationship with all of its brokers. That sole owner is managing director William Lockett.
A broker since 1986, he took over what became Specialist Finance Group in 1991.
In the last few months, as the uncertainty has grown following the banking royal commission's final report, the group's direct relationship with brokers has enabled it to ramp up its communication with those who are worried about the industry.
Despite the recommendations from Commissioner Kenneth Hayne and the potential changes to follow, Lockett expects the broking industry to continue to be "strong and vibrant", just like it is now, even though he feels the recommendations sought to disrupt the third party channel.
Even now, while we wait for certainty on what will happen to broker remuneration, brokers are not able to move forward, Lockett says.
Brokers as small businesses are always looking ahead to plan their growth, whether its through hiring new staff or expanding their office space. However, while it seems that changes to broker remuneration are not an imminent threat any more, brokers are still pausing to find out what will happen next.
"If the core focus is always on the best outcome for the client whilst recognising the value of the third party channel, that's the best outcome for all parties"
"Most broking businesses have had to put a lot of their forward planning on hold until they are absolutely certain about what's going to happen and how much it affects them.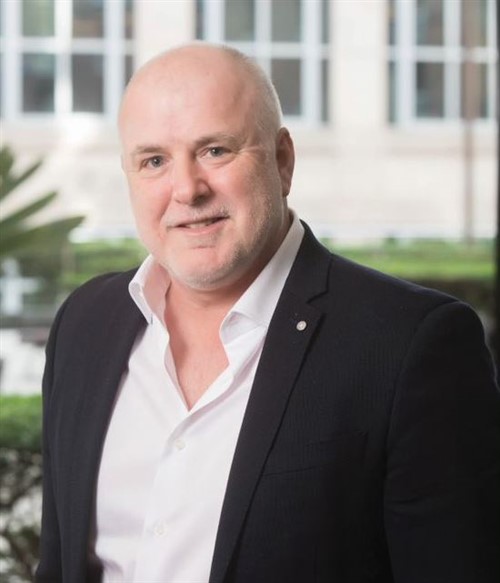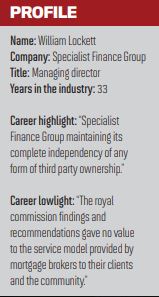 "Wherever the uncertainty lands, when something does land, it is only then that they can have certainty about how to adapt and move forward." Staunchly against the recommendations laid out in the final report, Lockett says the current remuneration structure has been supported in all previous reports and by the low number of complaints against brokers.
He adds, "How can something be broken when a broker provides a service the consumer wants, and the consumers knows how the broker gets paid and they continue to use the broker? "Brokers provide a service banks don't provide.
If you use a broker you have the luxury of calling them on your mobile; quite often they'll come to your house after hours. Banks don't do that. Brokers do that."
Not only worried about his own brokers, Lockett is also part of an aggregator's forum that meets to discuss how to support and work with brokers across the country.
"Whilst we may be competitors within our industry, we're certainly not enemies," Lockett says.
"When industry-related matters come up, we all band together. We have 14 aggregators working together for the benefit of all brokers."
Lockett believes there will be some benefits out of the recommendations as the industry works together.
"Like any industry or business, you strive to be better today than what you were yesterday," he says.
"There's a wise old saying, 'What I know would fill a book; what I don't know would fill a library'.
If you have that approach, then we never stop looking for ways to improve and get better at what we do.
"The issue is we don't know exactly how [future changes are] going to shape and define the industry. But one thing we do know is that it will shape and define it.
"If the core focus is always on the best outcome for the client whilst recognising the value of the third party channel, that's the best outcome for all parties."
"The buying public already clearly value the service proposition that mortgage brokers provide. Mortgage brokers should take great pride in this fact alone"
Another positive of being a boutique aggregator is the ease of adapting its business models to work around brokers.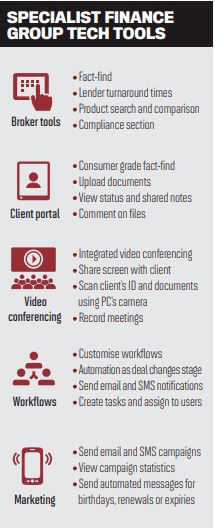 Specialist Finance Group offers four different models, but these can be tailored to suit the broker's needs and changed as a broker's circumstances might change. This adaptability is something Lockett believes in strongly, and he encourages brokers to grow and adapt their business models.
"In terms of what brokers have to do, they simply have to improve the scope of services they provide," he says. "Are they solely residential lending? Should they look to expand to commercial or personal lending? "If they're doing an analysis of their business and they find it has slowed down, they should say this is an opportunity to evaluate my business model and improve it.
"If you're in business today, you can't say I'm going to do the same thing in my business in six months or 12 months and not think about change." Despite the claims against mortgage brokers and the recommendations in the final report, Lockett says this experience should encourage brokers.
The industry has pulled together over the last few months to educate policymakers and the Australian public.
One of the biggest examples is the MFAA's advertising campaign, backed by lenders and aggregators and showing the impact of mortgage brokers. Brokers and borrowers alike also signed a petition to save the broking industry, with broker customers sharing their stories on social media.
"Brokers should be optimistic and encouraged about the support they're getting from our industry partners, particularly the MFAA and FBAA, who are standing united with all brokers Australia-wide, in protecting the value proposition they provide," Lockett says.
"They should be encouraged also by the feedback they are receiving from their clients who want to maintain the third party channel and their relationship with their broker.
Equally, or more importantly, they should be optimistic and encouraged purely by the fact there's almost 60% who choose to obtain a housing loan through a mortgage broker.
They choose to use a mortgage broker rather than deal directly with a bank.
"The buying public already clearly value the service proposition that mortgage brokers provide. Mortgage brokers should take great pride in this fact alone, regardless of what others might state."