Vast majority of brokers opt to retain CBA accreditation

Brokers who hadn't settled a loan with the bank in more than 12 months were required to complete an e-learning module
Repayment history will help brokers better match clients to credit

In his last column on CCR, Equifax's Australian MD explains how some clients' risk may be reclassified as a result
SPECIAL REPORTS
2018 Commercial Lenders Roundtable
Top 10 Brokerages 2018
2018 Brokers on Aggregators
Celebrating 12 women from across the lending and broking spectrum who are reinventing the industry's image and revitalising broking
The women in this list are brokers, business owners, leaders, role models, mothers and industry advocates. They're spearheading progress in their lives, workplaces and the sector at large, and leading the industry's evolution.
Their stories, which we've captured here in part, represent only short snippets of their incredible lives – the successes they've achieved, the hardships they've encountered, and how they are rising above gender stereotypes and other barriers to make the industry a more welcoming and inclusive environment for everyone.
Both men and women sometimes look at 'women only' events with disdain and ask how equality can be achieved if the sexes are segregated. But the truth is, the industry has long been – and continues to be – dominated by men, which means they have the upper hand simply by being in the majority. They are in the positions of power and privilege; their voices and stories are heard and represented in the media and at awards shows more often than those of women.
That's not to say that men don't deserve their time to shine; it's just that they have more opportunities to do so than women. In fact, many women profiled in this Special Report paid tribute to the male mentors they've had along the way and asked that they be commended for their support.
One common concern was expressed by the women featured in this issue: many were overly conscious of not wanting to come across as 'bashing' their male colleagues. While that is not the goal, perhaps this reinforces more than anything else that women still feel very much in the minority and are sometimes apologetic about accepting the praise they so clearly deserve.
This Special Report is about giving women their own platform and levelling the playing field. It's about celebrating and recognising the contributions of a small group of individuals, with the intention of inspiring others. And best of all, it's just a small sample of the many stories that are out there.
SIMONE TILLEY
ANZ
As the only only woman currently leading a major bank's broking channel, Simone Tilley has made her mark on the industry, following the lead of her trailblazing mother. Tilley's mother started an adhesive-label business in 1992 and was the first female flexographic printer in Australia to do this type of work, she says.
"She was fearless and I learned a lot from her."
Having that kind of role model might explain why Tilley is a leader in her own right. But so does her strong work ethic and positive attitude.
From a very young age, Tilley got used to living outside her comfort zone. Her first job as an agricultural science graduate took her to a remote part of Victoria, where she lived with no television for years and was forced to deal with isolation and appreciate her own company. In other words, Tilley learned how to adapt.
That skill has helped her navigate her 20-year banking career spanning just under 10 years at ANZ, where she has worked across various departments, including small business, corporate, institutional and regional/commercial banking.
"Living the values, being equitable and treating others well are all incredibly important to me. Hopefully my legacy will be that I'm someone who's had the courage to zig when others have zagged"
In between, she ran the manufacturing business that her mother founded, and later started a packaging business with her sister, before selling it to a multinational prior to the GFC. She and her husband, a Victoria police officer, also had two boys under two while running the family business.
So Tilley knows what a lot of women brokers are going through as they juggle their business, marriage, children and household.
"Running any household, irrespective of the dynamics, takes teamwork and communication, and I think when we look back we feel extremely grateful and fortunate," she says. "Men play an instrumental role in supporting women, and fortunately in today's society the majority know that."
As part of Tilley's ongoing initiative to help women find their voices and speak their minds through the ANZ Doyenne, Women in Broking program, she hopes to also be a role model and provide a platform for women to share their thoughts, like her mother did for her.
"I want to be seen as someone who is authentic and true to myself; who's been adaptive over time. Someone who has been a thought leader, made a fundamental contribution to industries that I have served in, who has taken calculated risks along the way. Living the values, being equitable and treating others well are all incredibly important to me. Hopefully my legacy will be that I'm someone who's had the courage to zig when others have zagged."
MHAIRI MACLEOD
Astute Ability Finance Group
Mhairi Macleod has become one of the most well-known faces and most vocal advocates of the broking industry.
That's because MacLeod is focused on the bigger picture: how to make the industry more inclusive and welcoming to women, and how its members can give back to the community by teaching financial literacy and entrepreneurship to young people.
Last year she commissioned a survey on gender equality in three traditionally male-dominated industries: mortgage broking, professional sports and the motor trade. She put the survey questions to 20 men and women and had a psychologist review their responses and publish the findings.
This year Macleod conducted another survey about the influence Generation Z and corporate social responsibility can have on recruitment and business growth.
"If we're to survive in the financial services industry, particularly in the aftermath of the Hayne royal commission, we must commit to social responsibility"
MacLeod has long had an interest in gender-related issues in the industry. At 19 she started working in car dealerships and quickly figured out that she could do what the rest of the guys did just as well, if not better. She learned how to write vehicle finance and volunteered to work on weekends, something her peers were more than happy to hand over. She soon started surpassing targets and expectations. At the time she was one of only three women between Sydney and Newcastle working in motor dealers as finance managers.
Yet even as one of the best writers in the region and a manager in her own right, Macleod had to deal with men asking for her boss, and undermining her skills and expertise. The experience allowed her to build resilience and solidified her can-do attitude.
In 1998 she left to start her own broking business, Astute Ability Finance Group, which has grown to include asset and equipment finance, home and small business lending and personal loans.
Many awards and accolades later, MacLeod is part of a number of initiatives and has started some of her own that aim to elevate the industry's profile by contributing to the community. Today she is championed by associations, aggregators and others as an influential industry role model.
RACHEL MORRISON
CBA
Many women worry that saying no to some events or opportunities could be career limiting. That's certainly something that Rachel Morrison, CBA's state sales manager for Victoria, has considered in the past. She says one of the greatest challenges she faces is balancing having both a family and a career.
Morrison started her career in banking as a teller at NAB and quickly discovered her passion for lending and leadership. After 14 years at NAB, she joined CBA and became responsible for a team of 15 branch lenders. Having accumulated several years' experience in retail banking, she jumped at the chance to work with brokers.
"Thankfully, times have changed and businesses now o­ffer great flexible working arrangements to suit all employees, regardless of their gender or career stage. Gone are the days when women needed to adapt to a male-dominated field. Today, industry leaders welcome diversification and actively find better ways to connect with employees on both a business and personal level," she says.
"I regularly have conference calls and other meetings with brokers – both men and women – who are on their way to an appointment, working from home, picking the kids up from school, or at their children's sport practice. This move towards greater workplace flexibility has helped build a more supportive and inclusive industry."
Her biggest piece of advice for new entrants is to be true to yourself and believe in yourself.
"Being successful in your chosen career is determined by the individual, not their gender," she says.
"Success doesn't happen overnight, and it is often paired with passion, commitment, strong relationships, as well as a solid business plan and goals. There will be hurdles along the way, so learn how to overcome them quickly and confidently, and partner up with others who can help you to grow and develop your business."
ROSE DE ROSSI
Diversifi
When Rose de Rossi started Diversifi with her business partner, Tracey Lea Gilbert, she found she had very di­ erent struggles to her male colleagues.
She'd recently left her job working as a lender at a bank to become a broker, and was hoping to have more flexibility to take care of her child at home. But it was harder than she anticipated.
"Initially, it was quite tough to juggle business and family life, especially when you aspire to have a team and office," she says. Her male peers didn't always understand her need to prioritise family.
"My husband ended up being a Mr Mum for eight years during this time to enable me to grow and prosper. Financially it was really tough, but we knew the rewards would be there in the long run. Just being able to attend school assemblies or sports day was such a bonus back then. Now my kids are adults and I can concentrate on my personal career development and taking Diversifi to the next level."
While the industry has become more welcoming and accepting of women brokers, De Rossi, who is on the MFAA's national board of directors, says it's important to be mindful of the toll such a solitary profession can have on mental wellbeing – especially if you're a working mum.
"Having access to your peers for support can help detract from loneliness and frustrations."
Both the industry and consumers' preferences have evolved since De Rossi's early days. Now many clients are eager to speak to a woman broker.
"We guide, nurture, explain and take a more personal interest in our clients. We can become emotionally invested in the client. I believe this shows the client that we are on their side and working in their best interests," De Rossi says.
While men and women brokers have di­fferent needs and strengths, women brokers don't want to be treated any di­fferently than their male counterparts.
"We have the same role as men. We may execute it a bit di­fferently, but in reality female brokers are brokers."
RENEE BLETHYN
Suncorp
Renee Blethyn doesn't speak last any more.
"The biggest thing I've learned is needing to get comfortable with the feeling of discomfort that you may have about speaking up in a room where you have a di­fferent idea or opinion," says the national partnerships manager at Suncorp.
This hesitation to speak is sometimes perceived as a gender issue. But Blethyn doesn't think it's something only women face.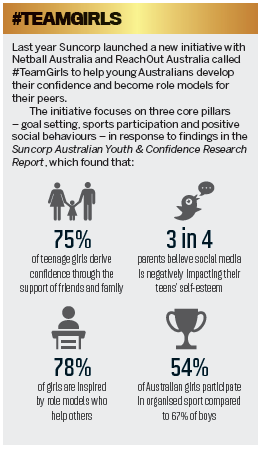 What it is indicative of is the importance of building workplace cultures that accept, welcome and value diverse opinions.
Once Blethyn realised that even if she did have an opposing point of view it was well received and seriously considered, she became more confident about speaking up first.
Blethyn grew up surrounded by female role models. Her parents owned several women's clothing stores that were managed by women. She didn't realise that systemic gender-based biases existed until she took her first corporate job at a major telecommunications company at 18. Rather than feel obstructed by her gender, she decided to stick with the values she'd learned growing up.
"Provided you have the skills, confidence and you actually add value, there are no limitations to what you can do," she says.
One challenge a lot of women face is overcoming the need to be perfect. "There is a common conversation that if there's a job vacancy women will look at it and feel they need to meet all 10 criteria to apply. I encourage more women to back themselves and say, 'I have five; that's fi ne – I can build the other five'," she says.
While achieving gender balance and diversity is a great accomplishment for any company, it needs to extend beyond numbers to incorporate workplace attitudes and culture.
"If you don't create an environment where people feel safe and comfortable to contribute their di­fferent viewpoints, you're not actually going to achieve anything," Blethyn says.
"For me, we actually need to look wider when it comes to diversity, and not just at gender. It's about inclusion."
GABRIELLE MOSCATI
ALI Group
Leadership positions have traditionally been associated with long hours, travel and nights away from home, making them much less appealing to women, especially mothers.
Gabrielle Moscati, national sales manager at ALI Group, knows this well. She once turned down a national role because she didn't want to spend time away.
"At that stage of my life, I felt I needed to put my teenage daughters' needs first, and I still believe it was the right thing to do at the time," she says.
With technology making flexible work possible, Moscati says women shouldn't automatically count themselves out of the top jobs.
"If you're the right person for the job, and the job is right for you at that time, hopefully you can find a way to make it work," she says.
Businesses need to be more open about accepting women's transitions between roles as their needs change, Moscati adds. "Women shouldn't feel that they have to conform to a traditional path. Part-time work, self-employment, time out of the workforce studying, and working from home can all be part of the journey."
At ALI Group, there are three women, including Moscati, and two men in leadership positions. "Unsurprisingly our approaches are different, not based solely on gender but also on personality profile. The differences really work for us as we each bring a different perspective to the table. I think a balance of genders has been beneficial to the business."
For the most part Moscati says she doesn't think about the fact that she's a woman. "I only really notice it when I am at a work function and it's a sea of suits. I think that the same principles apply to everyone: be customer-centric, deliver on your promises, treat your employees well, empathise, plan, the list goes on."
ROOMA NANDA
All R Loans
Rooma Nanda had been working for companies like Yellow Pages and IBM for almost eight years when she started "visualising a better and bigger world". After a fateful meeting with an Aussie broker, she decided to become a broker in 2014. She's now considered one of Australia's elite brokers, having made it into MPA's Top 100 listing in 2017.
"I believe that building a business is about reinventing yourself over and over again, whether you are a man or a woman," she says.
Despite spending years in the male-dominated corporate world, Nanda says she's never felt like she had fewer opportunities than men. In fact, she thinks the main challenge for women is often battling their own mindset.
"On the contrary, we have more inner strength than men, and we can create more opportunities for ourselves," she says.
In saying that, though, Nanda also realises that double standards still exist, as illustrated by this story she tells about PepsiCo CEO Indra Nooyi.
On the day Nooyi was appointed to the position, she left work early to go share the good news with her family. When she arrived home at 10pm, her mother stopped her in the driveway and before she could say anything asked her if she'd pop out to buy some milk. When Nooyi asked why she hadn't sent Nooyi's husband, who'd been home for a couple of hours already, to buy the milk, her mother responded, "He was tired".
While traditional gender roles still exist, that's starting to change thanks to parents who are raising boys and girls as equals, Nanda says.
Nanda has played a role in encouraging young girls to become entrepreneurs by showcasing the cupcake and candlestick business of two local girls, who set up their wares at her home loan health check booth at St Ives Mall.
Over the years, Nanda has seen the broking industry evolve for the better for women. "I would personally encourage more and more women to enter this field and serve the community with their caring skills," she says.
"We live in a free society, and there are opportunities waiting for women to grab! People like me can show them the ropes and help them grow with professional support."
TANYA SALE
Outsource Financial
Tanya Sale's advice to young women when they walk into a room full of men is to always act like professionals and be themselves.
"Do not drink because you feel you have to drink to be part of that culture. Do not act any di­fferent to how you would normally," says Sale, CEO of Outsource Financial, the only independent aggregator in Australia that's owned and led by a woman.
"Whether you are male or female, you want to be respected, and it is that respect that will see you go to great heights in any industry that you have chosen to be part of."
Sale has experienced the boys' club mentality of the broking industry and has had to jump through many more hoops than her male peers. She's also seen less qualified men obtain roles that more qualified and better-suited women had applied for. But she believes the number of 'old school' thinkers in the industry is starting to dwindle.
"Whether you are male or female, you want to be respected … that will see you go to great heights"
When she started her independent boutique aggregator, Outsource Financial, she received tremendous support from the lenders she got on her panel.
"I put that down to the relationship I had with them, and they knew of my success, etc. They didn't care that I was a woman – they actually cared if this was going to be a positive and successful situation for both parties, and to this day I can't thank them enough."
But there were still the cynics. "When I was starting up Outsource Financial, I was being told that I would never get it o­ the ground and it would never survive, let alone succeed," she says.
Once the business started to grow and expand, she was criticised by another aggregator head for "mollycoddling" her brokers too much.
Call it mollycoddling or call it caring, that's what's made Sale's business and brokers so successful. "I care about their success. I care if they are getting too stressed.
I care when something happens to them out of the ordinary – all of those things. I listen when they say that they need things to set them apart from the rest. The relationship I have with our members is very strong, no matter if they are writing one loan a month or 10."
NICOLE CANNON
Pink Finance
When Nicole Cannon struck out on her own to form Pink Finance in 2009, she was told by another broker that she wouldn't be able to make it on her own – a belief she held for some time. She'd just left her partner as she was starting up the business and had little financial support.
"Cash flow was a huge issue and barrier for me at the start of my business, but I dug in deep and kept chipping away and slowly built up my business," she says.
"Thanks to having incredible mentors around me, I worked through that belief so that I came to value the ability to run a financially sound business."
Cannon not only built a successful business but one that also gives back to the community. She donates 10% of her trailing commissions to the McGrath Foundation. By 2016, she'd donated more than $50,000 to the foundation, which went towards supporting breast care nurses as they educated young women in rural and regional Australia to be breast cancer aware.
"[Being in business] is a roller coaster, and that will never change; it is your attitude and how you tackle the turbulent times that determines your long-term success"
At the time Cannon founded her business, broking was being portrayed in the media as a greedy industry, and she wanted to do something to prove that wrong.
"The media was really saying that our industry is only in it for the high commissions. This is not true for 99% of us brokers. I wanted to make a point by giving a significant portion [of my commission] back to the community to prove we do care – about our clients, the community," she says.
Over the last 15 years, Cannon has seen the industry become more diverse. When she first started, there were only ever one or two women at any function. "It is great to see so many more women acknowledged and recognised in this industry," she says.
While loan applications are no longer handwritten and faxed, the challenges of starting a business remain. Cannon says her mentees don't believe her when she tells them it will take at least 18 months before they start making a stable income.
"Loans are harder to get across the line, take longer to settle, and having cash flow to fund your business is critical."
NATASHA JANSSENS
Women With Cents
A few months ago, Natasha Janssens, founder and director of Canberra-based Women with Cents, asked her business community what they considered to be the biggest obstacle holding them back from playing a more active role in their finances. The top response was mental load.
"Typically, as mums we're overwhelmed with everything we need to do; money falls by the wayside. Everything to do with investing or with super are all things down the track, we're so focused on the immediate," says Janssens, who is an accountant, financial planner, broker and mother of two. "We're literally prioritising laundry over our super, and that's something I'm working really hard to shift." Janssens learned an important lesson about dealing with her own mental load a couple of years ago. She was trying to do everything by herself: run her business, be there for her kids and her husband, and look after the household. Finally, she'd had enough.
"We're literally prioritising laundry over our super, and that's something I'm working really hard to shift"
She asked her husband to take charge of the meal planning and the grocery shopping and told him, "I don't care what we eat; just put something in front of me. Don't even ask me what I want for dinner". As soon as he did that, her stress levels started to taper and she could focus on more important things.
"Don't be afraid to ask for others to help," Janssens says – especially if it's asking a partner to share more of the load.
"Men aren't as intuitive as women. They will be there and they'll help you out, and in most cases they'll do anything you ask them to do, but they're not as good as women are at seeing that someone is struggling with what they have on their plate and proactively saying, 'Let me help you with that'. As women we need to get better at saying, 'Can I have a helping hand?'"
Janssens' business was born in 2016 out of the realisation that women wanted and needed fi nancial guidance but didn't know where to turn. "It never occurred to me that my clients, especially female clients, might feel intimidated about coming to see an accountant or feel silly if they asked the wrong question."
Now Janssens' finance firm offers workshops and online courses and has grown into a community approaching 8,000 members. She'll soon be releasing a book, and has released a podcast called Cents and the City, which plays on the fact that money is sometimes an even more taboo subject than sex.
NATALIE SHEEHAN
Better Choice
Early on in Natalie Sheehan's career, she was overlooked for a management course because her manager thought it would be wasted on someone of "childbearing age".
"Yes, that actually happened," says Sheehan, who is now GM of sales and distribution at non-bank lender Better Choice.
And that's not the only tale she has about working in the male-dominated industries of banking, construction, insolvency and mortgage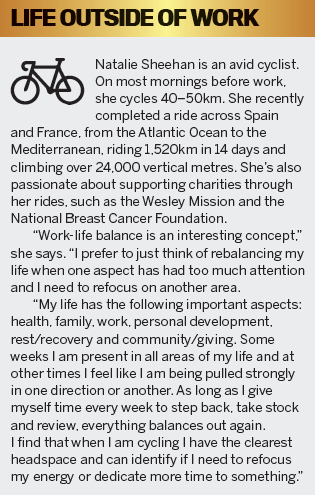 broking.
On another occasion she was mistaken for a manager's assistant and was asked to make the coffee when she was actually the manager of the entire bank branch.
Despite her success, there have been times when Sheehan has felt intimidated and has doubted her abilities. "I have had to fight for my place at the table," she says.
"Being able to adapt and bounce back when things don't go as planned, acknowledging a tough situation, learning from my mistakes but continuing to move forward, have been the key lessons learned to date."
One of the hardest things she's ever done was raise two children as a single parent while working full-time and studying.
"I have also been very fortunate to have some wonderful mentors both professionally and personally who have supported and advocated for me along the way. The interesting fact is that my mentors to date have all been men."
Sheehan's mentors taught her to think differently and pursue opportunities she never would have put herself forward for.
Creating formal mentorship opportunities for women, offering flexible working arrangements, and providing safe work-places where women feel comfortable about challenging inappropriate behaviour and intimidation are some of the initiatives companies should be adopting to create fairer workplaces, Sheehan says.
"Cultural attitudes are changing. It is an ongoing process and there is still more to do, but there really are some great success stories starting to emerge."
IVANA PIPIC-BATAR
Fast
Encouraging brokers to consider diversifying into business and commercial lending isn't always easy.
"It's still challenging for women who work in industries that are traditionally male-dominated. In an industry where women represent 27% of brokers, sometimes we may feel we need to go over and above in order to be seen as equal," says Ivana Pipic-Batar, a partnership manager at FAST.
"Getting out of their comfort zone and going into business and commercial lending is stressful enough – and some women may feel the added pressure of having to do it right every single time, even if they're doing it for the very fi rst time."
Pipic-Batar says listening, learning and understanding a client's needs are key qualities of a successful commercial broker.
"It's so important that brokers look at the big picture and find a solution to a problem or a challenge their client may have – and women are great at this," she says.
Pipic-Batar still remembers writing her first commercial property loan for $5.5m.
"It was a really exciting moment for me. Commercial and business lending has its challenges and complexities, and there is absolutely no reason why more women brokers shouldn't be doing it."