From teacher to broker of the year, Freeman treads a different path

Unlike many mortgage brokers, this one didn't start with a finance background
When should new brokers take on an assistant?

This Top 100 broker puts his success down to the team he has behind him
SPECIAL REPORTS
2018 Commercial Lenders Roundtable
Top 10 Brokerages 2018
2018 Brokers on Aggregators
The property investor market has been on a "rollercoaster" for the last two and a half years, says mortgage broker and property investor David Merison, but there have been signs of a recovery.
"With the advent of the interest-only caps placed on lenders' balance sheets, investment lending almost became a dirty word, and lenders priced this area of business accordingly," the Vault Plus Mortgages broker says.
"This, with a slowdown in the economy, meant that investment lending really stalled. In more recent times lenders have got their balance sheets back 'in order' and, in line with the requirements of ASIC, investment lending is continuing to play a role in both brokers' and lenders' portfolios."
The investor market began picking up again after APRA removed its 30% cap on new interest-only loans in December 2018. The cap had been introduced in March 2017 in response to concerns about an oversupply of interest-only loans. This led to a marked reduction in the proportion of new interest-only lending, taking it down below the 30% threshold.
"Investment loans are less emotion- based than owner-occupier loans, and borrowers may be more pragmatic about the purchase" Melissa Christy, 86 400
On the current state of the market, smartbank 86 400's lending lead, Melissa Christy, says, "There seems to be a healthy demand for investment properties in prime locations, with a few surprising results related to renovation projects to be ultimately be rented out after substantial remedial work.
"Interest-only scenarios are still sought but are becoming less frequent, largely in reaction to financiers making them less widely available."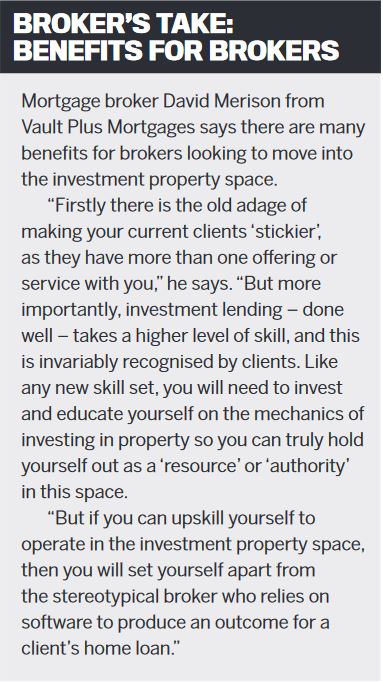 Differences and challenges of investment lending
Although a property investor still requires a home loan, there are different scenarios that lenders and brokers need to be aware of. Christy says 86 400 actively targets investors that have small portfolios and secure most of their income from PAYG sources rather than investment income.
Another factor to keep in mind is that providing evidence of serviceability can be more problematic for investors, in that lenders need to check whether they can afford all of their commitments, not just the investment loan in isolation.
"Brokers play an important role in providing guidance and key information to people who are looking to buy a home or invest in property" Pauline Blight-Johnstone, Genworth
Christy also has some advice for brokers working with property investment clients. "Investment loans are less emotion-based than owner-occupier loans, and borrowers may be more pragmatic about the purchase," she says. "First-time investment borrowers should be taken through the process and explained what they will be liable for going forward in relation to water, council rates or strata fees, and understand that they might also have periods when they won't have any rent coming in, and during these periods of time their investment loan would still need to be paid."
One of the challenges of the property investor market is the lack of understanding of what would be payable by the landlord and what would be the tenant's responsibility, Christy adds.
"Similarly, a lack of diligence in reviewing tenants can catch investors out, and a desire to maximise rental income might see an inexperienced landlord accepting a very short-term higher rent over a longer-term more stable but slightly less attractive arrangement," she says.
From a broker's perspective, Merison says one challenge faced when working with property investors is that of education, adding that it's not in his DNA to provide an investment loan to a client and say, "Off you go!"
"The premise of our business here at Vault Plus Mortgages is that we help people," he explains. "We make sure as best we can that the risks are mitigated, and we ensure clients have a Plan B if certain events happen.
"The biggest fear for nearly all property investors is, 'will we be able to lease the property out?' and 'will we be able to make our repayments?' These two concerns are easily accounted for when you know what you are doing and you have experience to draw upon, and we provide these resources to our clients as part of our service."
Supporting brokers
Although new to the market, 86 400 has come in ready to provide fast turnaround times and support property investors. The neobank launched its home loan offering towards the end of 2019 and distributes its products exclusively through brokers, with no need for the paperwork that many other banks require: everything is collected and signed electronically.
For brokers looking to help their property investor clients, the bank has a team of BDMs who meet with brokers to provide assistance. But it doesn't stop there: 86 400 also focuses on education and speed of communication.
"We run group training, conduct webinars and have a comprehensive broker website with information about our products, our application process and training resources," Christy explains. "Our entire company uses Slack, which is utilised by the BDMs to get immediate responses from our credit team on scenarios and potential deals from brokers."
"We make sure as best we can that the risks are mitigated, and we ensure clients have a Plan B if certain events happen" David Merison, Vault Plus Mortgages
Property investors, just like owner-occupiers, can also benefit from lenders mortgage insurance. Pauline Blight-Johnston, CEO and managing director at Genworth, an LMI provider that works with more than 100 lenders, says the group appreciates the relationship it has with brokers.
In support of the industry, it off ers training and education so brokers can understand how the insurance works and where it may be applicable to potential borrowers. LMI can offer a property investor the opportunity to get into the market with a smaller deposit – as little as 5% – so they can start building their portfolio and equity.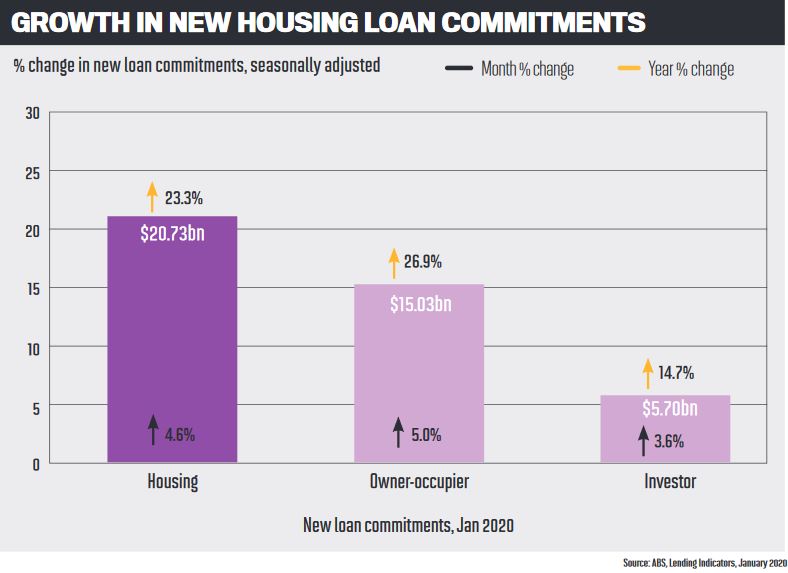 The benefits of LMI include being able to purchase a property sooner than would otherwise be possible. It also allows the investor to borrow more and invest more into a property; to claim the cost of LMI as an expense against the property and receive a tax deduction; and to save on upfront costs by using the option of capitalising the LMI premium into the loan amount.
Genworth participates in personal development training days and industry broker roadshows at which teams are available to answer brokers' questions. Through its long association with key industry bodies, it also works collaboratively to develop tools that can assist brokers in helping their clients.
The Genworth It's My Home magazine is a lifestyle publication that includes information on the homebuying process, a checklist for moving, different home loan options, and much more. There is also a dedicated resource centre on the Genworth website where brokers can access marketing material, FAQs and videos to help them explain the benefi ts of LMI to their clients.
"Brokers play an important role in providing guidance and key information to people who are looking to buy a home or invest in property," Blight-Johnston says.
"We work closely with our broker network to ensure they have the resources and assistance they need so they can advise their clients when lenders mortgage insurance may be appropriate for them."