A snapshot of the broking industry

An overview of the figures in the MFAA's latest Industry Intelligence Service report
Create the right cultural expectations to get the most out of your team

Workplace culture has more influence over behaviour than many think, writes Ross Judd
SPECIAL REPORTS
2018 Commercial Lenders Roundtable
Top 10 Brokerages 2018
2018 Brokers on Aggregators
NOT ONLY did the royal commission call out bad behaviour by the banks when it came to lending money, but the industry has been subject to other reviews and scrutiny, such as from the Productivity Commission and ASIC.
Commissioner Kenneth Hayne, in his interim report released in 2018, noted the banks' use of the Household Expenditure Measure benchmark. He said this "can lead only to the conclusion that in many of those cases the broker has not taken any effective steps to inquire into, or verify, the expense information supplied by the borrower".
Since the

n, some have criticised banks for going too far the other way, requiring an increased amount of documentation to support their expenses, and in many cases they conduct extra follow-ups to scrutinise borrowers' expenses.
There may be light at the end of the tunnel, though. In our recent Brokers on Banks' survey, one broker said banks had "spiked to the harsh end of the spectrum and then dropped back a little".
Another broker said it had become "ridiculous". "It has slowed down processing of loan applications. The broker has to enter itemised living expenses at least three times per application," they added.
It's no surprise then that turnaround times continue to be a problem for brokers, with more than 50% in the survey saying they had worsened or worsened significantly.
For some respondents, it was not just the increased workload making turnaround times worse. A number pointed to the banks reducing their staff and the impact this had.
When asked what technology had helped improve turnaround times, one broker said, "Upfront valuations have helped, but the staffing at banks continues to be a problem." For others, technology had made much more of an impact. "Bankwest has continued to provide excellent turnaround times. Their platform and having a single file owner gives them consistently high service levels, which they meet," another broker said, highlighting the bank's use of electronic signatures for loan contract documents.
This was not the opinion across the board, however. Many brokers said turnaround times were not improving. "Technology seems to create situations where you have to repeat processes," said one broker.
Macquarie came top in both turnaround times and BDM support. Here's what Ben Perham, Macquarie's head of personal banking had to say:
MPA: You've jumped from eighth position to second place in the last year, with a medal in every category. How does that feel, and why do you think that is?
BP: We're delighted to see these results and to know our offering is resonating with brokers and their clients. These results reflect our ongoing dedication to the broker industry over many years, and our relentless focus on delivering the best client experience. We've made large investments in building our teams of people who work with brokers and assess loan applications. We've also invested in technology that delivers a seamless application process, an outstanding client experience, and leadin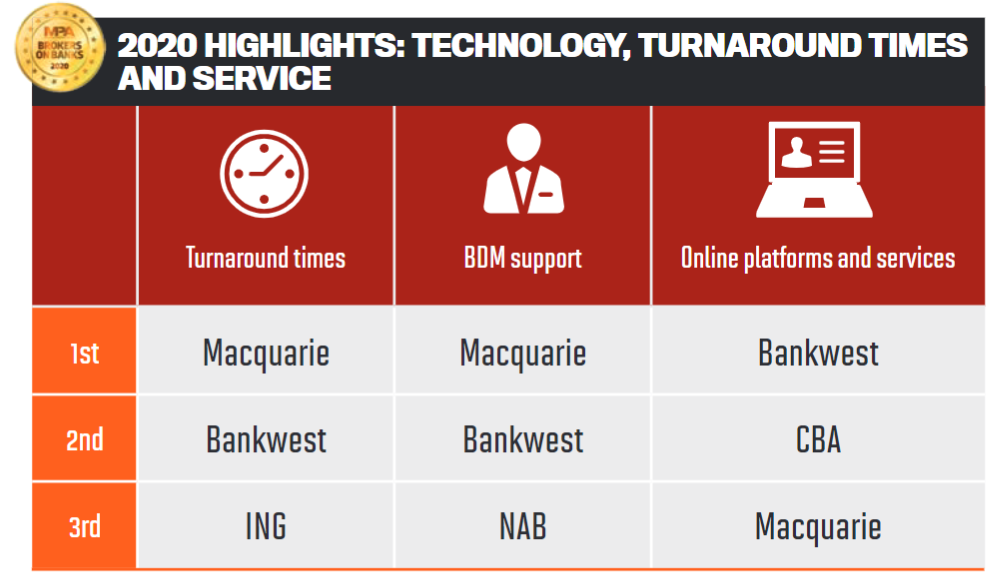 g product features.
Over 90% of our home loan applications come from brokers, so we're really focused on making sure the experience we deliver to brokers and their clients is the best it can be.
Our mindset is one of constant improvement, so this year we're continuing to invest in making our offering even better for clients and brokers. We're doing this across the full breadth of our offering – including both the application experience and the experience of being a customer.
MPA: You grabbed a gold medal for turnaround times. This is such an important area for brokers – why is this something you have succeeded in?
BP: We know turnaround times are hugely important for brokers, which is why we've invested so heavily in making sure we get them right. When an application comes to us with all the information we need, we're regularly issuing formal approvals within a couple of hours – we get a lot of feedback from brokers who are thrilled to be able to tell their clients so quickly that the loan has been approved.
Transparency is one of our core principles, so we're always very clear when it comes to turnaround times. Every Monday we send an email letting brokers know our timings for that week for file pick up and time to assessment, so they'll always know where they stand when working with us.
Our BDMs also work closely with our broker partners to help them get the best experience from our application process.
MPA: You also achieved a gold for your BDM support – what is it about your BDMs that brokers love?
BP: We think our BDMs do a fantastic job and it was wonderful to see them get this recognition from the industry. We know ongoing support is one of the most important things when it comes to brokers running their business, so we've invested heavily in our BDM team to make sure our broker partners are getting world-class service as well as the support they need every time we work together.
We talk about partnering with brokers, because that's how we see it – it's a partnership. That means working together, listening, and understanding each other – all with a view to securing the best possible outcomes for clients.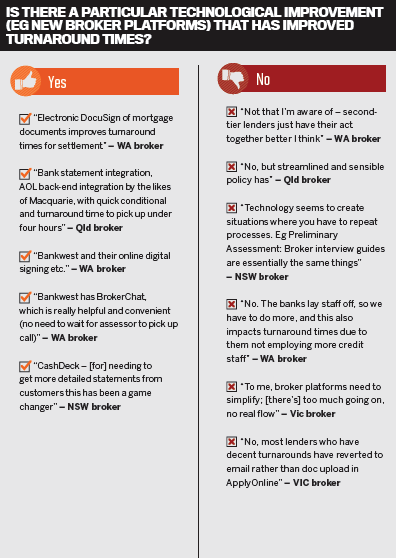 Related stories:
Non-major takes the top spot
What you said about banks' products and pricing
Brokers on Banks 2020: The results